PRISM named 'Best LGBT Initiative': 2019 Legal Island Northern Ireland Equality and Diversity Awards
Queen's University's LGBT+ Staff Network, 'PRISM', has been named 'Best LGBT Initiative' at the 2019 Northern Ireland Equality and Diversity Awards.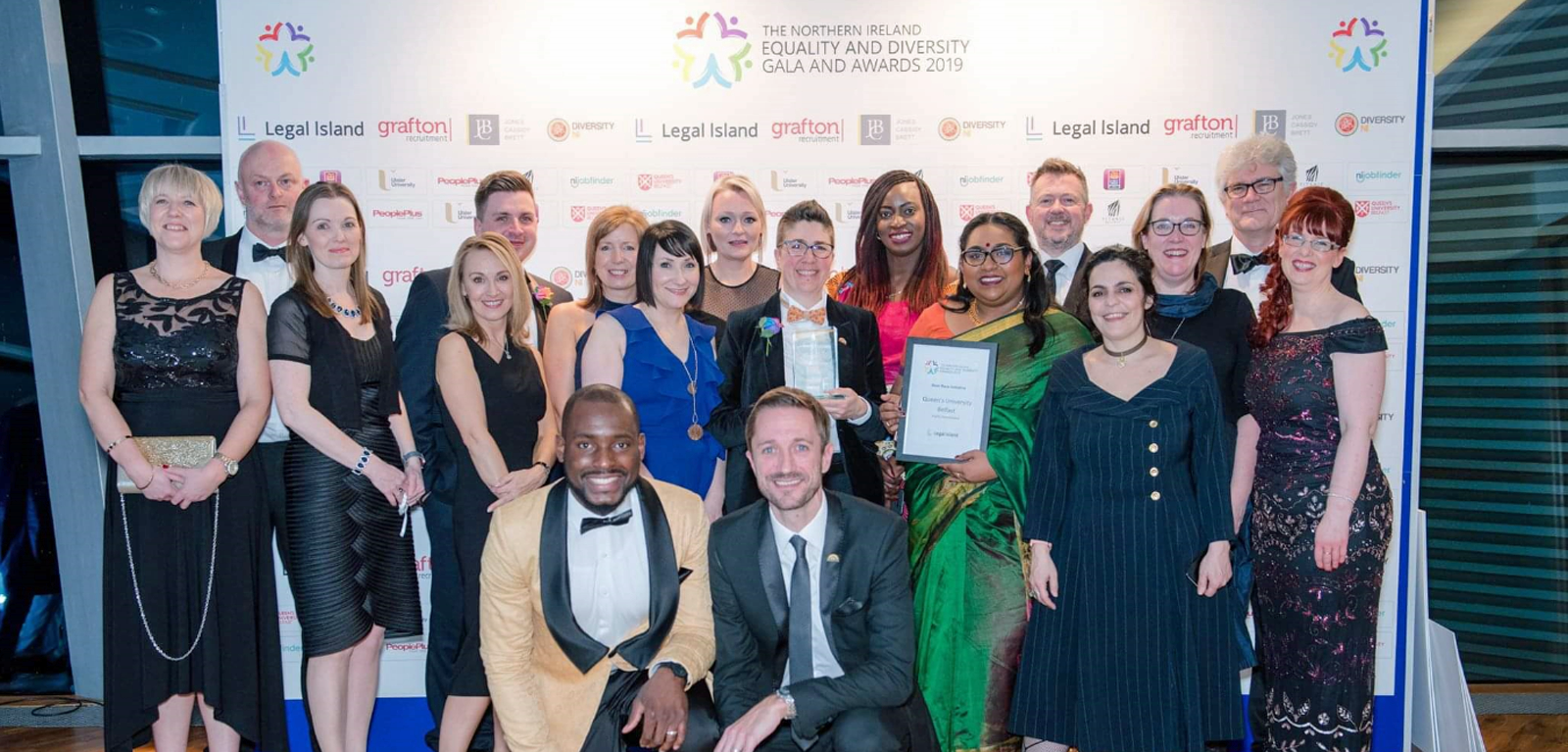 Organised by workplace compliance company Legal Island, the Northern Ireland Equality and Diversity Awards provide local employers with an opportunity to showcase their commitment to embedding equality, diversity and inclusion in the workplace.
The winners were announced at a prestigious ceremony in Titanic Museum, Belfast on Friday 5 April 2019.
Less than a year old, PRISM provides a safe, welcoming space for LGBT+ staff in Queen's to meet on the last Friday of every month, during work hours, to discuss work related issues, outreach and to plan social events both on and off campus.
Sally Bridge, Borrower Services Librarian and Co-Chair of PRISM, commented:
"My co-chair and I were delighted to receive the 'Best LGBT Initiative' award at the Legal Island Diversity Gala on behalf of the Queen's Staff LGBT Network, PRISM, and we are very grateful to Legal Island for this important recognition. PRISM would also like to extend our thanks to People and Culture for instigating the network a couple of years ago and, in particular, to Brian Parkes, Conor Curran and Fiona O'Connell for their individual help and ongoing support."
Richard Robinson, Co-Chair of PRISM, added:
"It is wonderful to take this opportunity to reflect on the progress we have made and to celebrate members of PRISM for recognising the importance of belonging to the network and its positive impact on both staff and students throughout the University."
PRISM, which represents one of the ways in which the University demonstrates its commitment to equality, diversity, inclusion and respect for all staff, provides support for LGBT+ staff in a range of ways including:
• Raising awareness of LGBT+ issues and supporting staff training and information sessions each year

• Working alongside, supporting and advising management and staff on LGBT+ workplace issues

• Identifying LGBT+ and Straight Allies as role models and points of contact for staff

• Helping coordinate and organise staff attendance at LGBT+ events associated with Belfast Pride each year

• Developing relationships with other LGBT+ friendly employers as part of the Working With Pride Network and the Stonewall Diversity Champions Programme

• Working alongside community support organisations such as The Rainbow Project, HERE NI and SAIL NI
Brian Parkes, Director of People and Culture, said:
"We are determined that Queen's will continue to maintain a fully inclusive culture which reflects all of society. I know that our people feel and perform better when they can be themselves and feel included, respected and supported. I therefore place great value on the contribution of PRISM to the Queen's community – particularly as engaged partners inputting into decisions made at the University about inclusivity, training and policies."
Reflecting on the significance of the award, Conor Curran, Head of Diversity and Inclusion at Queen's, said:
"The PRISM Network is a staff-led initiative that exemplifies Queen's University's commitment to promoting equality, respect for diversity, and creating an inclusive and respectful environment for staff and students. The award is an important endorsement for the network, our leadership and all of our people who champion LGBT+ inclusion every day. I was also delighted to see our Students' Union's Black History Month campaign recognised at the awards, where they were Highly Commended for 'Best Race Initiative'."
The University's commitment to equality, diversity and inclusion was reflected in it being shortlisted for two other awards – one for its work on Black History Month ('Best Race Initiative') while Conor Curran, Head of Diversity and Inclusion, was also shortlisted in the 'Individual Diversity Champion' category.
HOW TO JOIN THE PRISM STAFF NETWORK
If you would like to register your interest in joining the Staff LGBT+ Network please email prism@qub.ac.uk, indicating in your email whether you would like to be invited to (a) forthcoming meetings of the Network and/or (b) events organised by the Network.
PRISM is keen to grow their membership and particularly encourages contact from any staff who identify as belonging to the LGBT+ community.
All emails will be treated in confidence.
Follow @QUBLGBTSN on Twitter for information on upcoming events and other activity.
Delighted for our colleagues ⁦@QUBLGBTSN⁩ who just won best LGBT initiative ⁦@legalisland⁩ Equality & Diversity Gala! pic.twitter.com/MKYLeMAVVD

— @QUBEqualDiverse (@QUBEqualDiverse) 5 April 2019