People and Culture team win Inspire Workplace Wellbeing Award for promotion of menopause awareness
The team behind Queen's University Belfast's Staff Wellbeing initiative have won the award for Excellence in an Outstanding Employee-Led Initiative at the Inspire Workplace Wellbeing Awards.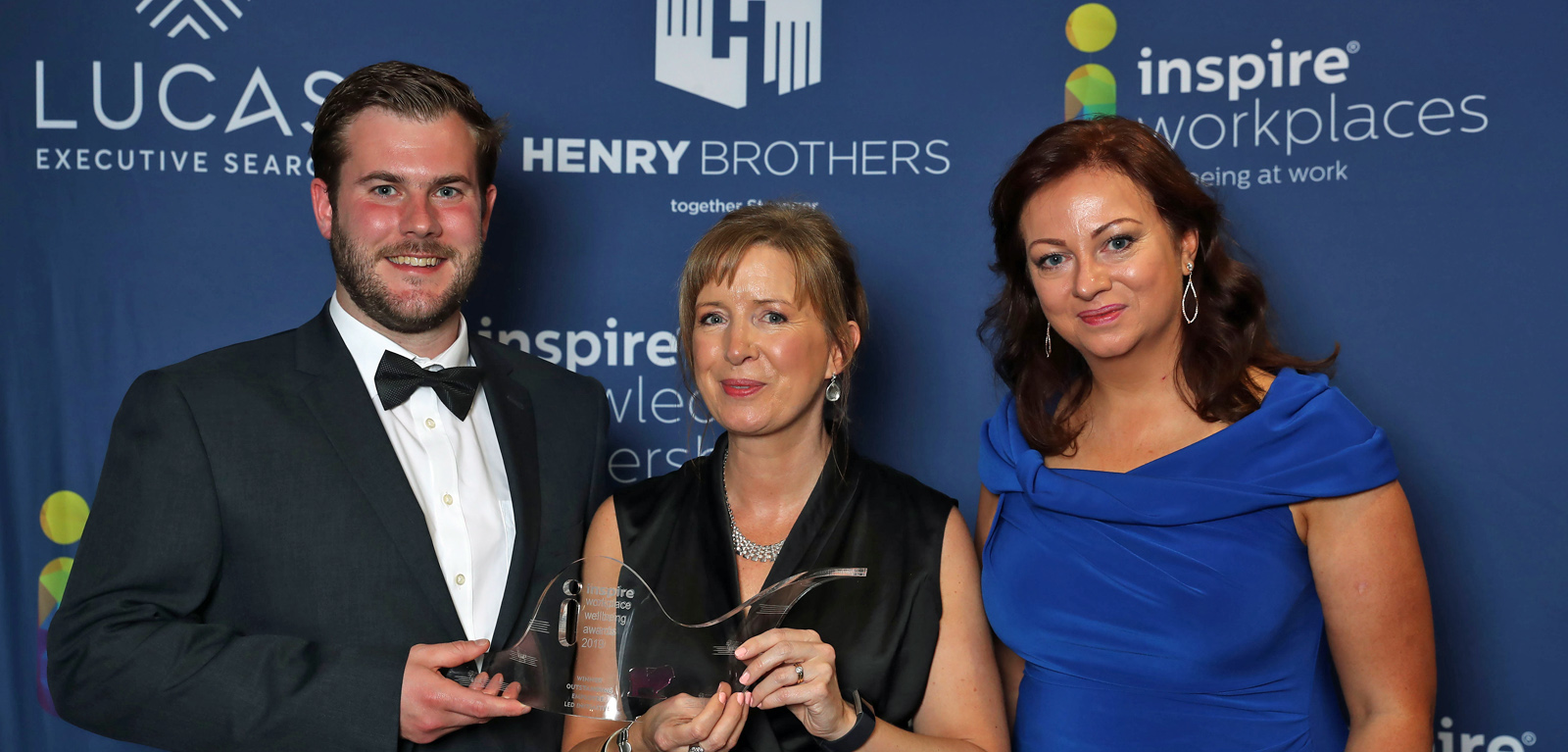 The Awards, which champion innovation and commitment to wellbeing at work by employers who believe in protecting and nurturing the mental health and wellbeing of employees, are now in their second year and took place in the Crown Plaza hotel on Thursday 20 June 2019.
The Reward and Performance team was recognised for its work to nurture a workplace environment at Queen's in which the menopause can be talked about openly and without embarrassment. This included hosting multiple Menopause Awareness sessions as part of the Wellbeing programme which were co-created with staff.
"By talking about it we can empower women and help to reduce stigma."

- @QUBelfast academic GPs @drjennyjohnston & @DrHelenReid on today's #Menopause Info Session for staff.
#LoveQUB #LoveQUBstaff
@WellbeingQUB ​​@QUBPeopleFirst​@QUBWorkHere pic.twitter.com/YVi95pVuKh

— Queen's Staff (@QUBstaff) 16 November 2018
Menopause Awareness sessions highlighting the impact the menopause can have on women at work were delivered by two of the University's own academic GPs with a keen interest in women's health, Dr Helen Reid and Dr Jenny Johnston – both from the School of Medicine, Dentistry and Biomedical Sciences.
The sessions were designed to reduce stigma, prompt conversations in the workplace and inform staff on what to expect and when and how to seek help around issues relating to menopause. Initially planned as a standalone event, demand from staff for places was so high that further sessions were added.
Joyce Johnston, Head of Reward and Performance (People and Culture Directorate), said:
"I am thrilled that we have been recognised for our work to destigmatize the menopause in the workplace through engaging with staff to design a collaborative wellbeing programme that responds to the needs of our people. Being awarded the Inspire Workplace Wellbeing Award for Excellence in an Outstanding Employee-Led Initiative is a great achievement and reflects the work and contribution of a large range of people.

"A key commitment set out in our people strategy, People First, is to work with staff to co-create a better employee experience for all. So it was wonderful to draw on the outstanding expertise on menopause and women's health that we have readily available among our academic staff and I would like to extend my thanks to Dr Helen Reid and Dr Jenny Johnston for their inspiring talks and important contribution to promoting discussions around the menopause here at Queen's."