Queen's Professors Elected as Members of the Royal Irish Academy
Four professors from Queen's University Belfast have been elected as members of the Royal Irish Academy (RIA) in recognition of their exceptional academic achievements.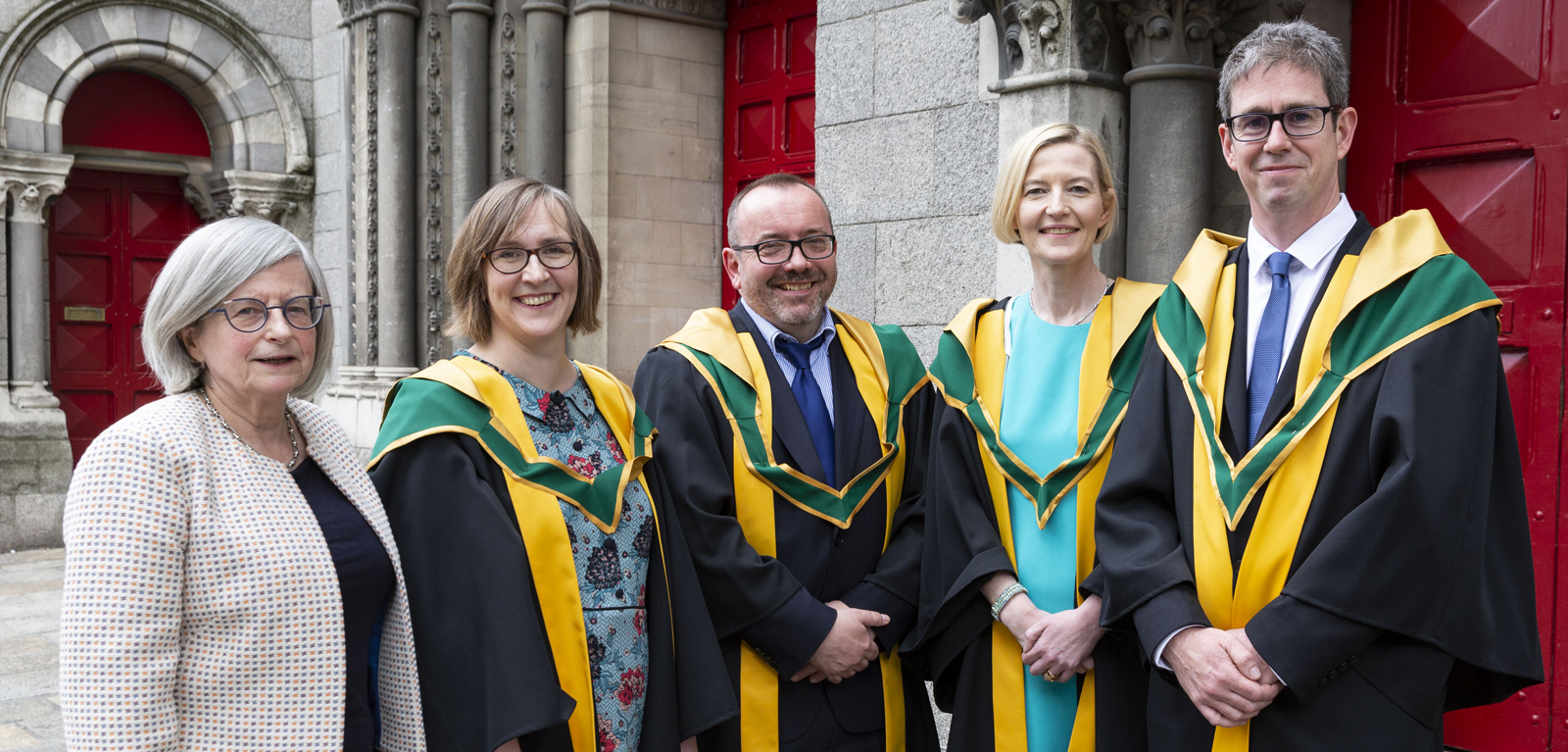 Professor Moyra Haslett, Professor Kieran McEvoy, Professor Fearghal McGarry and Professor Isabel Torres were elected to the RIA alongside 23 new members at an event in Dublin on 24 May.
The members were elected on the basis of outstanding academic achievement.
Isabel Torres, Professor of Spanish at the School of Arts, English and Languages. She has an international reputation in Spanish Renaissance ('Golden Age') Literary and Cultural Studies; her major contribution has been in the field of Renaissance and Baroque poetics. She holds a personal Chair in Spanish Golden Age Literature.

Kieran McEvoy, Professor of Law and Transitional Justice at the School of Law and a Senior Research Fellow at The Senator George J. Mitchell Institute for Global Peace, Security and Justice. He has conducted research in over a dozen conflicted or transitional countries on topics including politically motivated prisoners, ex-combatants, victims, amnesties, truth recovery, human rights, restorative justice, the role of lawyers in conflict transition and apologies and dealing with the past.

Moyra Haslett, Professor of English at the School of Arts, English and Languages. Her research comprises two main areas, both within studies of the 'long eighteenth century' (1680-1820): women's writing in English and Irish culture and literature.

Fearghal McGarry, Professor of History at the School of History, Anthropology, Philosophy and Politics. A leading historian, his recent research has focused on the revolutionary era, particularly the Easter Rising. Through his work with museums and the media, he is extensively involved in commemoration of the Decade of Centenaries.
Also elected as members were BBC broadcaster and Queen's University Belfast honorary graduate, William Crawley and Professor Paul Moynaugh, Head of the Department of Biology and Director of the Maynooth University Human Health Research Institute who works with the Centre for Experimental Medicine at Queen's. Fionnuala Ní Aoláin, a Professor of Law at Queen's and a Regents Professor at the University of Minnesota, was admitted as an Honorary Member of the Academy.
The Royal Irish Academy is an all-island independent forum of peer-elected experts. Membership of the Academy is the highest academic honour in Ireland, and election is open only to those resident in the Republic of Ireland or in Northern Ireland.
The organisation makes a significant contribution to public debate and policy formation on issues in science, technology and culture. It brings together academia, government and industry to address issues of mutual interest by providing an independent forum. RIA leads important national research projects, particularly in areas relating to Ireland and its heritage.
Queen's University Belfast Vice-Chancellor, Professor Ian Greer, said: "It is wonderful to see these highly esteemed academics being recognised by the Royal Irish Academy. Each one of them has built an international reputation through outstanding research and I warmly congratulate them."
Peter Kennedy the President of the Royal Irish Academy said: "These individuals have made exceptional contributions in their fields of endeavour. We are delighted to recognise their achievements."
The RIA currently has 606 members. Past members include Nobel laureates WB Yeats, Ernest Walton, Erwin Schrödinger and Seamus Heaney.
In case you missed it, four Queen's academics have been elected as Members of the Royal Irish Academy in recognition of their exceptional academic achievements.

Congratulations to our colleagues!

– Full story on the Staff Gateway: https://t.co/32xS7lyYgz#LoveQUBstaff pic.twitter.com/t0wjgIWWNZ

— Queen's Staff (@QUBstaff) 28 May 2019