Queen's recognised at the Universities Human Resources (UHR) Awards 2019
Queen's University Belfast have won the award for Equality and Diversity at the Universities Human Resources (UHR) Awards 2019 in Manchester.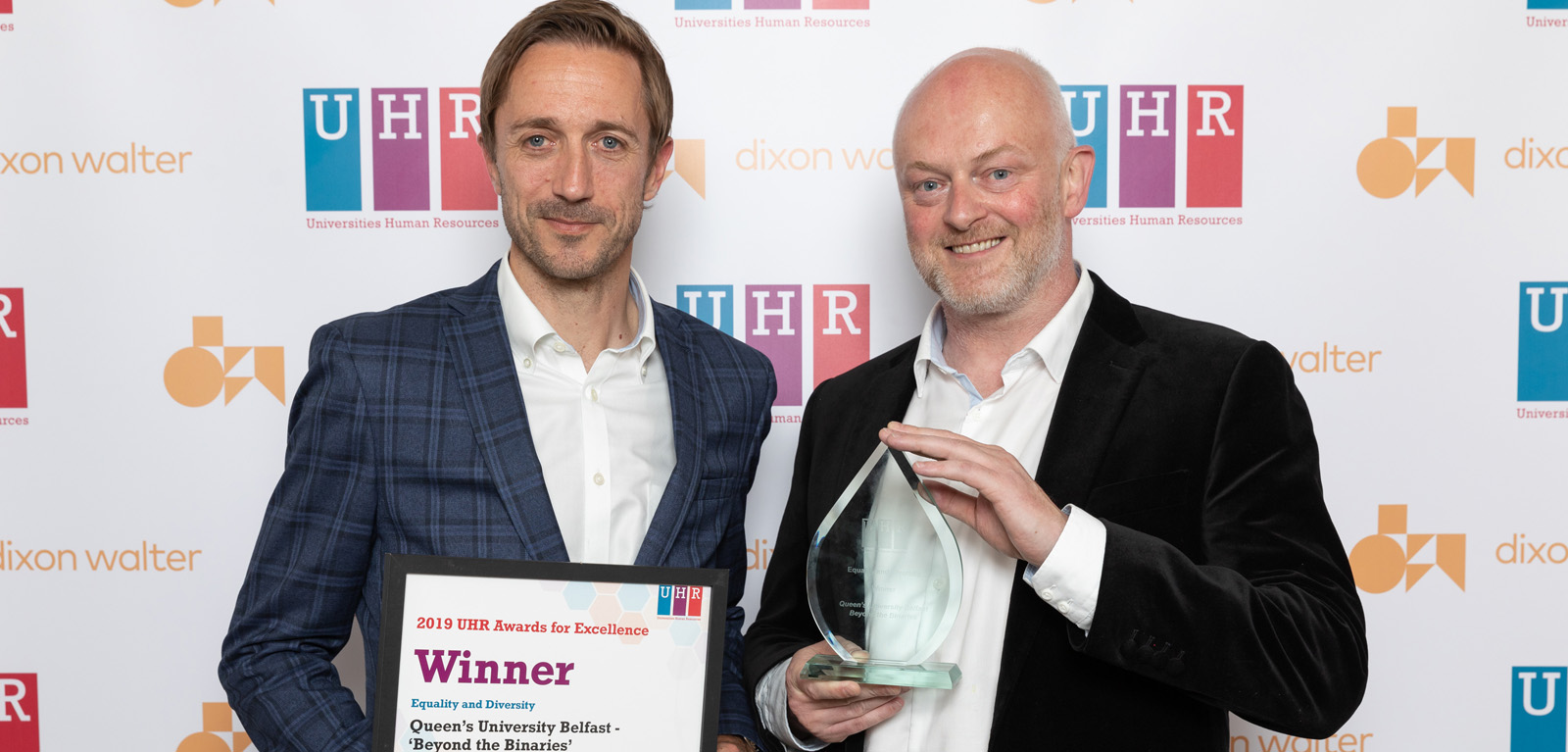 The national Universities Human Resources (UHR) Awards recognise HR best practice in UK universities and, announced at the end of UHR's 2019 Conference in Manchester, the award for Equality and Diversity went to Queen's University Belfast for its work in raising awareness around Transgender issues in the workplace.
This work commenced three years ago when the University approved a new Trans Equality Policy, which had been developed by the Diversity and Inclusion Unit (HR), Trade Union representatives and Trans students at Queen's.
Since then staff and LGBT+ students and others have worked together to deliver innovative initiatives with external community organisations and Transgender support groups in the Greater Belfast Area.
This has involved the introduction of regular lunchtime training workshops for both staff and students on Transgender rights delivered by SAIL NI, the introduction of 14 All Gender Facilities on campus, supporting the Student LGBT+ Society in the delivery of the 'Beyond the Binaries' Programme. This week-long programme of events focused on showcasing the talents of trans students and staff, with an art exhibition, choral performances, a comedy night, musical performances, and practical workshops on transgender rights in the workplace and 'budgeting on a shoe-string' – empowering trans students and staff to be more visible, confident that they were being supported by the University.
The impact of the initiative has been significant, with Queen's now recognised as a leader in this field.
The University has recently supported 15 students who requested to officially change their gender – the second highest rate among UK universities. And this work has led to greater awareness and acceptance of trans and non-binary staff and students at the University, having been supported by the Senior Management and civic leaders. Queen's staff can now access Transgender Awareness training sessions four times per year. These are delivered by Dr Ellen Murray, a former student at the University, transgender woman, and highly respected policy advocate who is based in Belfast with SAIL NI.
Conor Curran, Head of Diversity and Inclusion at Queen's, said: "Winning the national UHR Award for Equality and Diversity was fantastic recognition of the work undertaken by many people at Queen's, and from SAIL NI, to raise awareness about Transgender rights and ensure that all those working and studying here feel welcomed, valued and supported – regardless of their gender identity."
Helen Scott of UHR spoke on behalf of the judges: "This was an impressive entry, with impact in an area where it's difficult to get traction, in a challenging environment. We felt the impact was very focused, and Queen's have shown demonstrable impact leading to change."
This year's awards were sponsored by executive search company Dixon Walter.
More information on the awards can be found here.