Queen's wins at Belfast Ambassador Awards
Three Queen's staff were recently honoured by Visit Belfast for their work in bringing major international events, worth millions to the local economy, to Belfast in the coming years.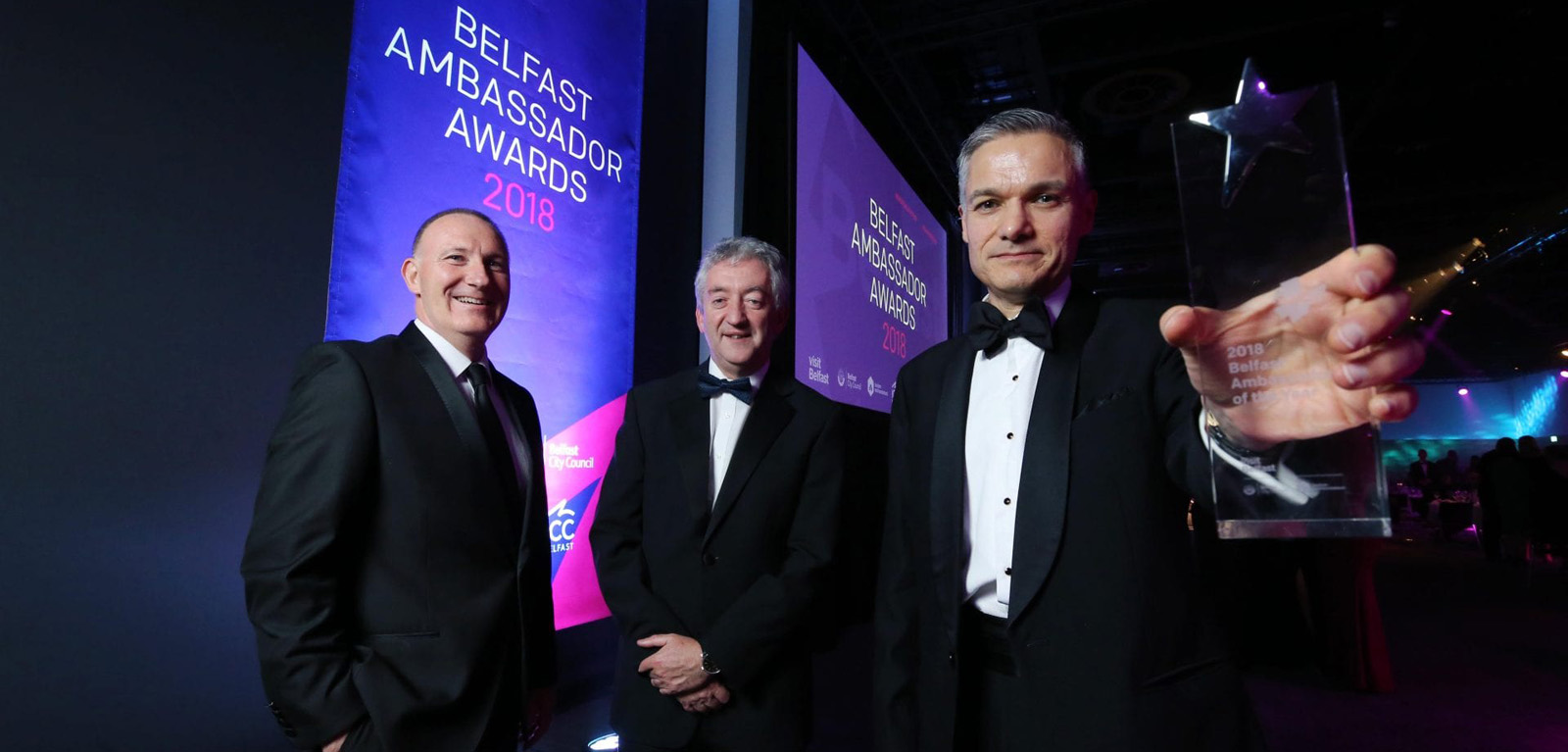 Professor Brian Falzon (pictured above right; School of Mechanical and Aerospace Engineering) was awarded 'Belfast Ambassador of the Year' for his role in bringing the 23rd International Conference on Composite Materials to Belfast in 2021, while Professor Chris Elliott and Dr Katrina Campbell (Institute for Global Food Security) were recognised for their efforts in bringing the Mycotoxin Forum to the city in 2019.
Speaking about his award, Professor Falzon said:
"It is wonderful to be recognised by Visit Belfast through this award. Winning the bid was a fantastic example of teamwork with the Advanced Composites Research Group, Visit Belfast, Conference Partners International and Queen's Strategic Marketing and Communications Directorate coming together to mount an unbeatable bid."
And Professor Elliott summed up his feelings on the award:
"It's wonderful to be bringing so many international visitors to Belfast, many for the first time. I hope they enjoy the conference and want to come back to our wonderful city and great university many times in the future."
Congratulating all the award winners, Gerry Lennon, Chief Executive of Visit Belfast, said: "Tonight's awards celebrate the talent of our city and significant contribution that our 1,200 strong network of Belfast Ambassadors make to the growing tourism economy in the city. Attracting conferences and events to Belfast are not only a welcome boost for our tourism and hospitality industry, they play an important role in developing our knowledge economy; showcase the city as a great place to visit, work, do business and invest."
Congratulations to our colleagues on this well-earned recognition.