Queen's Professor among leading biomedical and health scientists elected to Academy Fellowship
Queen's Pro Vice-Chancellor for the Faculty of Medicine, Health and Life Sciences, Professor Stuart Elborn, is among 50 of the UK's most prominent biomedical and health scientists elected to The Academy of Medical Sciences' prestigious Fellowship.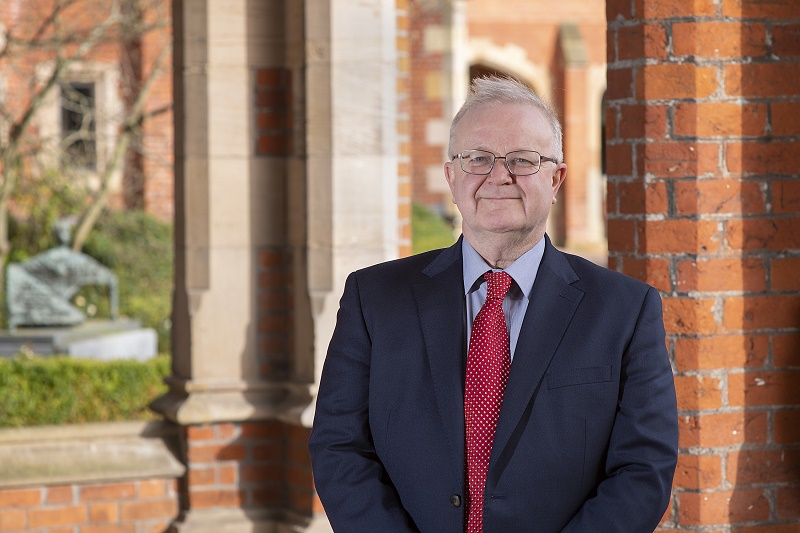 The new Fellows were chosen for their exceptional contributions to advancing biomedical science via world-leading research discoveries, running national science communication and engagement programmes and translating scientific advances into benefits for patients and the public.
Professor Elborn is an international leader in healthcare, having driven major changes in healthcare delivery in the field of Cystic Fibrosis and Bronchiectasis. He has spent decades researching Cystic Fibrosis (CF) and his work has led to major breakthroughs in treating the condition. In all his research, Professor Elborn promotes "team science", bringing laboratory scientists, clinicians of all disciplines and patients together to promote inter-disciplinary research that impacts on people's lives. He has been successful in developing programmes of research across disciplines, hospitals and universities in Northern Ireland, as well as across the UK and Europe.
Professor Stuart Elborn, said: "I consider this Fellowship a real honour and I look forward to contributing to the development of clinical science in these islands through the Academy. As for many scientists, my research through the decades has been driven from a desire to develop our knowledge of Cystic Fibrosis and Bronchiectasis, and my belief in the profound role science and medical research has in improving people's lives through better treatment.

"This current pandemic reminds us of how much there is still to discover, and the vital contribution scientific research plays in understanding disease, developing new treatments and helping society work with healthcare professionals to improve outcomes."
Professor Sir Robert Lechler PMedSci, President of the Academy of Medical Sciences, said: "I am delighted to welcome these 50 new Fellows into the Academy's Fellowship. Each one has made their own outstanding contribution to biomedical science, and together they are advancing the health of our society in the UK and internationally. Their work affects us all, from the way we keep healthy through our lifestyle, to how we are treated if we become ill, to the way we receive information about health.
"This year our new Fellows announcement happens amidst a global health crisis. Some will face the challenge of how to continue to lead on some of the most pressing health challenges our society faces beyond coronavirus, such as heart disease, diabetes or cancer. Others have joined the global research effort to tackle the coronavirus pandemic, whether that be through working out how to treat those with the virus, joining efforts to develop a vaccine, or looking to limit the impact of the pandemic more broadly on our physical and mental health.
"Never has there been a more important time to recognise and celebrate the people behind ground-breaking biomedical and health research, working harder than ever to further knowledge and protect patients and the public. It brings me great pleasure to congratulate the new Fellows, and see our Fellowship grow to even greater heights of evidence-based advice, leadership and expertise."
Professor Elborn joins a number of other Fellows of the Academy of Medical Sciences in Northern Ireland including the current President and Vice-Chancellor of Queen's University, Professor Ian Greer, and Emeritus Professors Robert Stout, and Desmond Archer. He is the first academic in Northern Ireland to be elected to the Fellowship since the previous Vice-Chancellor of Queen's University, Professor Patrick Johnston.
Prior to taking up his current post at Queen's University Belfast, Professor Elborn was Clinical Professor of Respiratory Medicine/Consultant Physician and Director of Adult Cystic Fibrosis and Chronic Lung Infection at the National Heart and Lung Institute, Imperial College and Royal Brompton Hospital London. Before that, he was Dean of the School of Medicine, Dentistry and Biomedical Sciences at Queen's University Belfast. In 2013 Professor Elborn received a CBE for services to healthcare in Northern Ireland.
The Academy of Medical Sciences is the independent body in the UK representing the diversity of medical science. The new Fellows will be formally admitted to the Academy on 25 June 2020.