Queen's named among NI's top companies for environmental leadership for a second year running
Queen's has achieved Platinum status – the highest scoring level – for the second year running in this year's Northern Ireland Environmental Benchmarking Survey.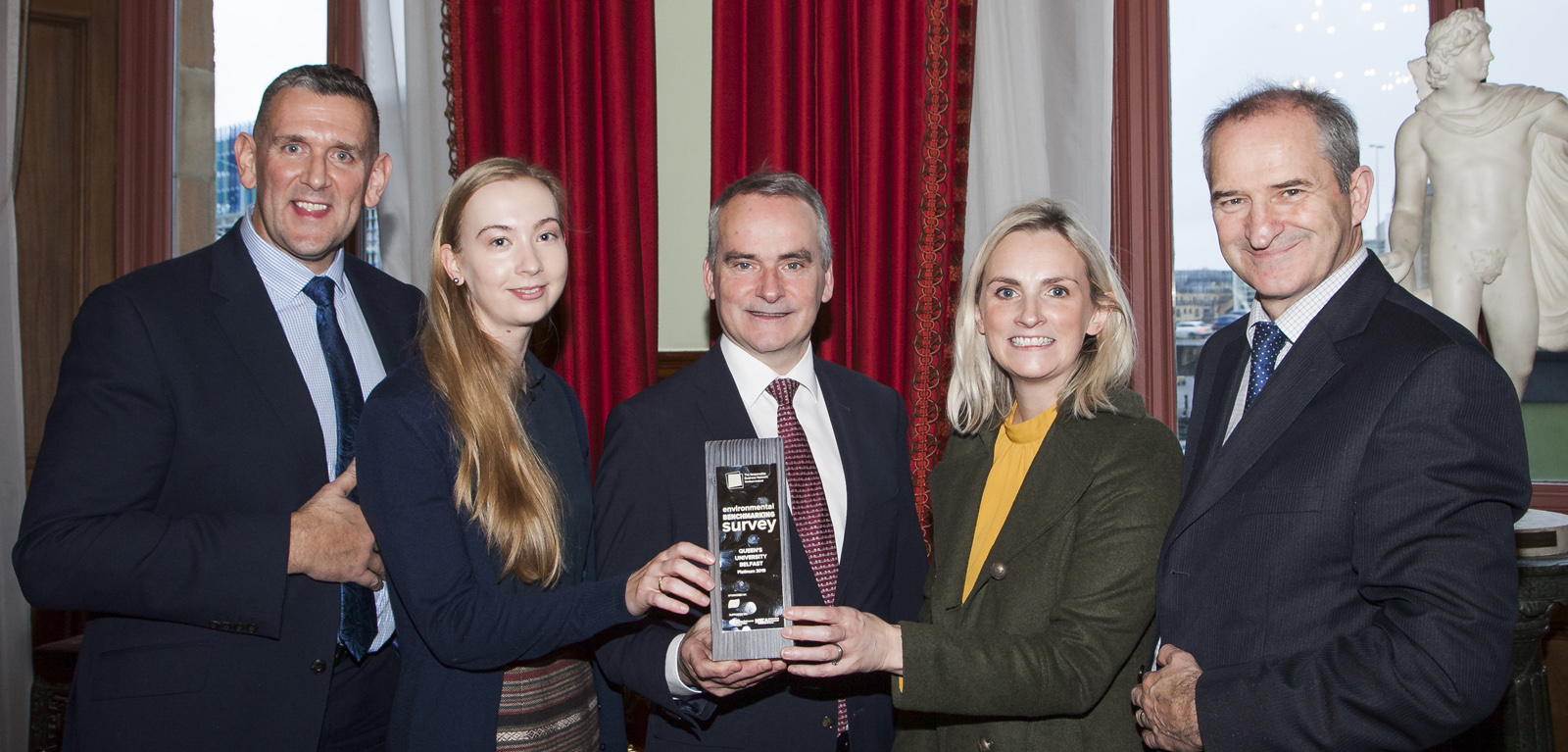 Northern Ireland's most sustainable organisations were revealed at the 2019 NI Environmental Benchmarking Survey Results launch event at Belfast Harbour Offices on Tuesday 26 November.
The Survey, which is run by Business in the Community, sponsored by Moy Park and supported by the Northern Ireland Environment Agency through the Department for Agriculture, Environment and Rural Affairs, recognises and rewards those organisations that are going above and beyond their legal requirements to minimise their environmental impacts and better manage their resources.
Damien Toner, Director of Estates at Queen's University Belfast, said:
"We are really proud that the University has once again been recognised for our commitment to ongoing environmental actions and improvements. Results such as this are only possible through a collective, University-wide effort that aims to realise our vision of becoming a low carbon organisation providing a high quality and sustainable working and learning environment for students and staff. To be named once more as one of Northern Ireland's top companies for environmental leadership is a privilege and a testament to all the hard work that goes on at Queen's in achieving sustainability."
David Small, Chief Executive, Northern Ireland Environment Agency said: "The Survey has been taking place for over 20 years and is the leading tool in Northern Ireland to provide organisations with proof of their green status. The assessment process is a thorough and detailed analysis of an organisation's environmental management, improvement and impact, and we need to see that those who take part year-on-year are demonstrating continuous improvement. It's a powerful driver of environmental performance and we're delighted to support it once again this year."
New Chair of Business in the Community NI and Group Chief Executive of Translink, Chris Conway, said: "The Survey is an important comparison tool and a way for organisations to be recognised for their environmentally sustainable efforts, as well as identify areas for improvement.
"It has never been more important that organisations take action that's better for the environment, and business in particular recognises that the general public and their stakeholders consider sustainability to be of utmost importance. The Survey is the perfect way to demonstrate commitment to sustainability and I want to congratulate all of those companies that have stepped forward to report on their environmental practices."
The trophies were made from broken fence posts, in keeping with the sustainable theme of the event, by David Keys Sustainable Woodworking.