Remembering Sir Peter Froggatt: former President and Vice-Chancellor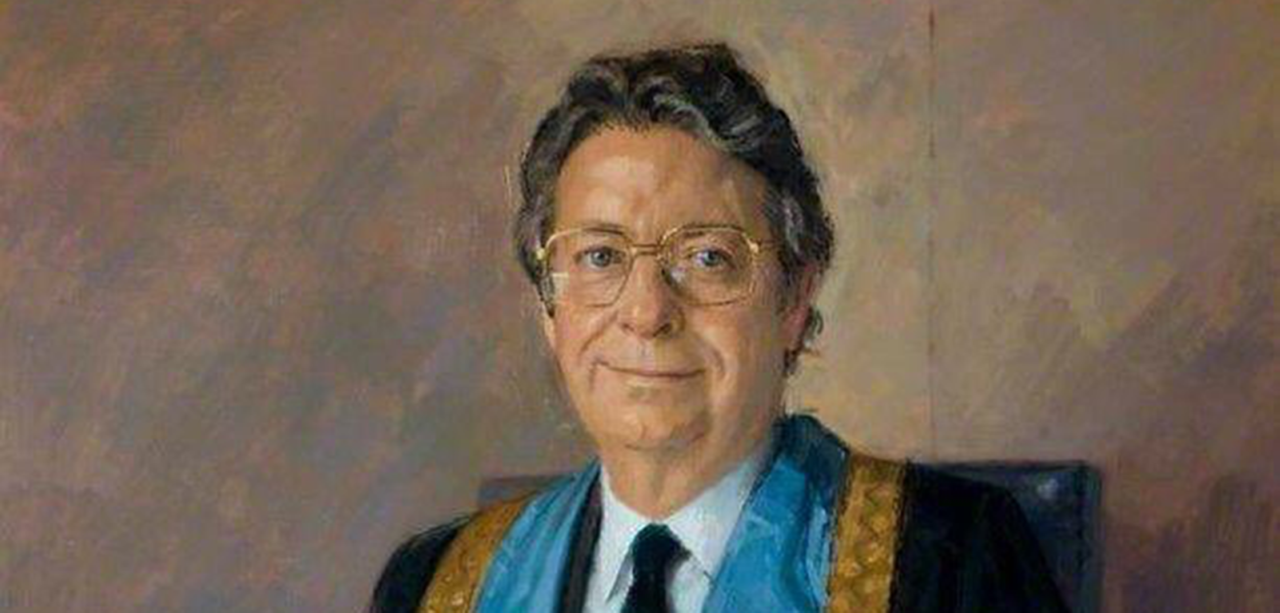 It is with great sadness that Queen's University has learned of the death of its former President and Vice-Chancellor, Sir Peter Froggatt. Sir Peter served as the University's eighth Vice-Chancellor from 1976 until 1986 during a period of major change for universities throughout the UK.
Peter Froggatt was educated at the Royal Belfast Academical Institution, the Royal School, Armagh and Trinity College, Dublin, where he studied Medicine. He completed his PhD and a Diploma in Public Health at Queen's University. He later worked in Sir Patrick Dun's Hospital, Dublin and as Medical Officer at Short Brothers and Harland Ltd, Belfast. In 1959 he was appointed lecturer at Queen's and embarked upon a distinguished academic career; in 1968 he became Professor of Epidemiology and three years later, was appointed Dean of the Faculty of Medicine. During his career, he produced many papers and articles, including studies on human genetics, occupational medicine, medical history and education, and epidemiology and smoking policies.
He served as President and Vice-Chancellor of Queen's from 1976 until 1986 and was awarded a knighthood in 1985. Sir Peter guided the University with ability, good humour and integrity through a period of great financial upheaval for the higher education sector. He received honorary fellowships from a number of learned bodies and received an Honorary Degree from Queen's in 1991. A man of many talents, he was a naturally gifted speaker and an outstanding golfer who played for Ireland.
Professor Robert Stout, Dean of the Faculty of Medicine and Health Sciences at Queen's from 1991 to 2001, paid the following tribute to Sir Peter:
Sir Peter Froggatt made a distinguished contribution to Queen's. Amongst his many attributes, he was particularly recognised for his outstanding public speaking and his interest in medical history. Many of us in our younger days were dazzled by his skill as a speaker, first as a lecturer and Professor of Epidemiology and later as Dean of the Faculty of Medicine.His lectures and speeches were always very well prepared and had something interesting to say. He had a great way with words, combining humour with historical and literary allusions, and his words were delivered with style.
As Vice-Chancellor his graduation addresses continued in this way. After retiring, he resumed his interest in medicine and particularly in the history of medicine in Belfast and in Ireland more widely. He delivered many lectures and published papers, pamphlets and chapters on medicine and its practitioners in nineteenth century Ireland. Sir Peter was a warm and friendly man, who will be remembered with great affection by all those who knew him.
Professor Robin Shanks, Whitla Professor of Therapeutics and Pharmacology at Queen's from 1977 until 1998, now Emeritus, and Pro-Vice-Chancellor from 1991 until 1998, added:
Peter Froggatt was an outstanding Dean of the Faculty of Medicine from 1971 to 1976 when he became Vice-Chancellor. He was instrumental in the establishment of new departments in a variety of subjects so that the education of medical students was organised and taught largely by university staff who held joint-appointment posts with Queen's and the Health Service.
He also realised that the clinical teaching of medical students should be extended to the Belfast City Hospital and staff were appointed in Medicine, Surgery and Midwifery and Gynaecology and based in the hospital to facilitate this. Recognising that accommodation would be required for all these developments, he was instrumental in the building of the Whitla Medical Building and embedded university accommodation in the tower block at the Belfast City Hospital.
Many of the staff he appointed during his time as Dean became national and international leaders in their fields. Peter entrusted staff to pursue their teaching and research and maintained the academic philosophy of the University.
Paying tribute, Queen's Vice-Chancellor Professor Ian Greer said: "Sir Peter Froggatt enjoyed a distinguished academic career and made a significant impact on the life of our university, as an academic, Dean of Faculty and Vice-Chancellor. He maintained his connections with Queen's after his retirement and is fondly remembered by all those who knew him. On behalf of the Queen's community, I wish to extend our deepest condolences to his wife, Norma and their four sons."
Sir Peter Froggatt died on 3 May 2020.