Queen's celebrates green credentials
Queen's University has become the first organisation on the island of Ireland to be given a Green Meetings Gold award.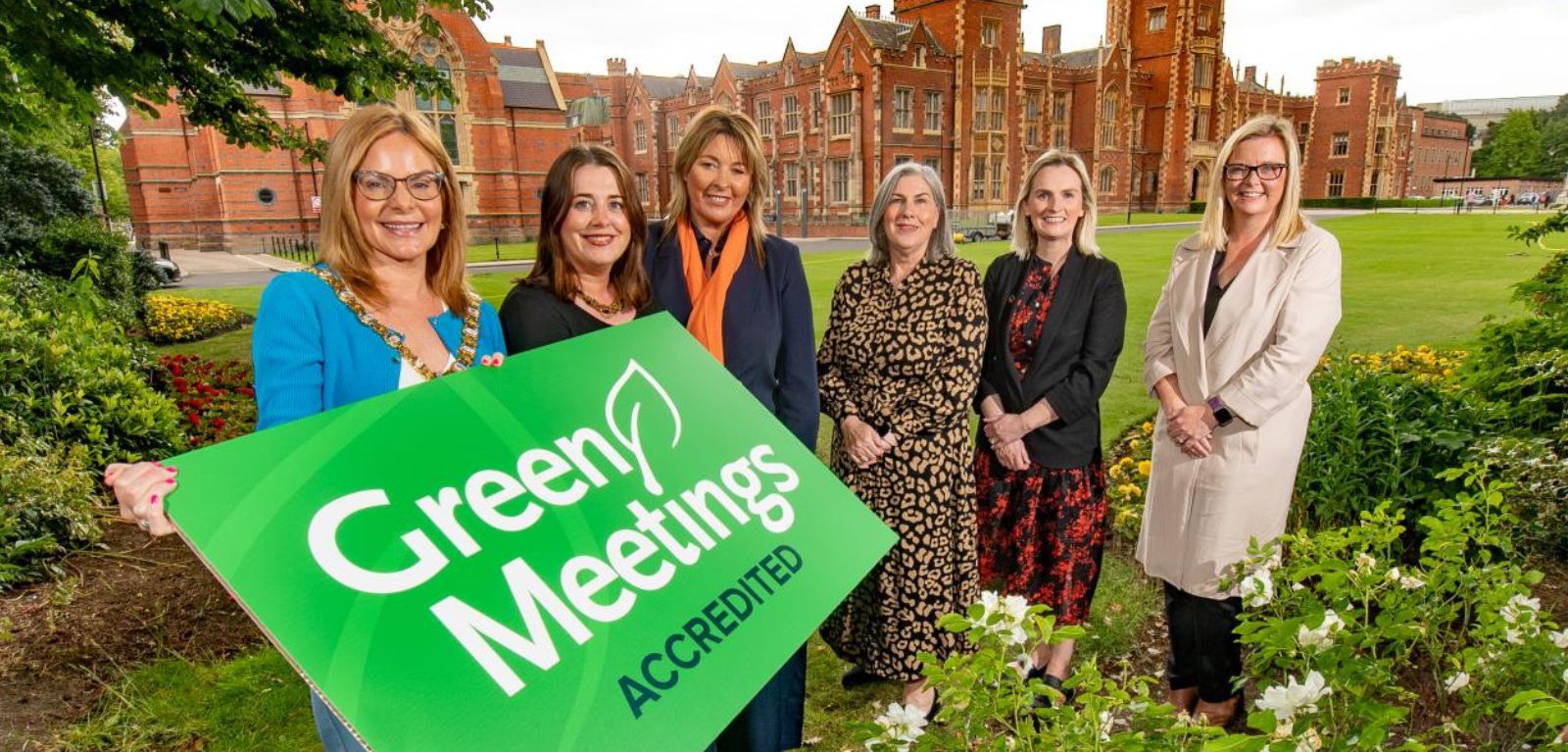 Funded by Belfast City Council and delivered by Visit Belfast, the Green Tourism initiative is designed to help individual tourism businesses contribute to improving the environment, address climate change and lift the local economy.
Director of Student Plus at Queen's, Caroline Young said: "We are delighted to be the first organisation on the island of Ireland to be granted a Green Meetings Gold Award, recognising the work we continue to do to ensure sustainability is at our core and assuring visitors that our campus is leading the way in Green Tourism and is fully aligned to the city's sustainable destination proposition.
"Our commitment is in line with the University's Strategy 2030 and our plans to embrace the UN Sustainable Development Goals across all our activities.
"We have taken practical measures across the University in three specific areas – people, planet and places – to improve our impact on our environment and to integrate a green ethos across departments. The University is committed to achieving net zero carbon emissions and we have increased the energy efficiency of our buildings and significantly invested in the installation of renewable and low carbon technologies.
"We have also enhanced biodiversity on our campus, as well as encouraging those who visit Queen's to take greener forms of transport by hosting bicycle renting sites on campus. The University's commitment is evident through many initiatives across campus to reduce waste and we lead by example in areas such as equality, diversity and inclusion, sustainable procurement and a commitment to disinvestment from fossil fuels."
Green Tourism's Environment and Sustainability Assessor, Euan Haggart, said: "Queen's University Belfast has shown great commitment to green issues and a progressive attitude to trying new ways to be sustainable. Whether it was rainwater harvesting, swift nest box calling systems, solar, geothermal, green roofs or the use of local food and drink producers, they are always looking for solutions. In doing this, they have achieved a gold Green Meetings Award from Green Tourism."
Funding for the assessments was provided to local venues and organisations by Belfast City Council. Speaking about the assessment, Lord Mayor Councillor Tina Black said: "A huge congratulations to all of the Queen's University Belfast team on becoming the very first organisation on the island of Ireland to receive the Green Meetings Gold Award.
"This is a fantastic and fitting accolade for our world-leading university. Following Belfast's recent recognition as one of the top 20 sustainable destinations in the world, this achievement demonstrates that we're absolutely committed to sustainable development and growth, as outlined in our pioneering Belfast Resilience Strategy. I hope that many others in the city will be inspired to follow their example."
Visit Belfast's Chief Executive Gerry Lennon said: "Sustainability is increasingly shaping the future of business events and the market place we operate in. It is therefore important that as a conference destination we have a growing portfolio of meetings venues, spaces and services committed to sustainable practices. Tourism can continue to play a crucial role in supporting the city-vision of transitioning to an inclusive, zero-emissions, and climate resilient economy within a generation. Congratulations and well done to all of the Queen's University Belfast team in securing Gold Accreditation."