Queen's President and Vice-Chancellor reappointed for second term
The Senate of Queen's University Belfast has unanimously reappointed the President and Vice-Chancellor, Professor Ian Greer, for a second term of Office.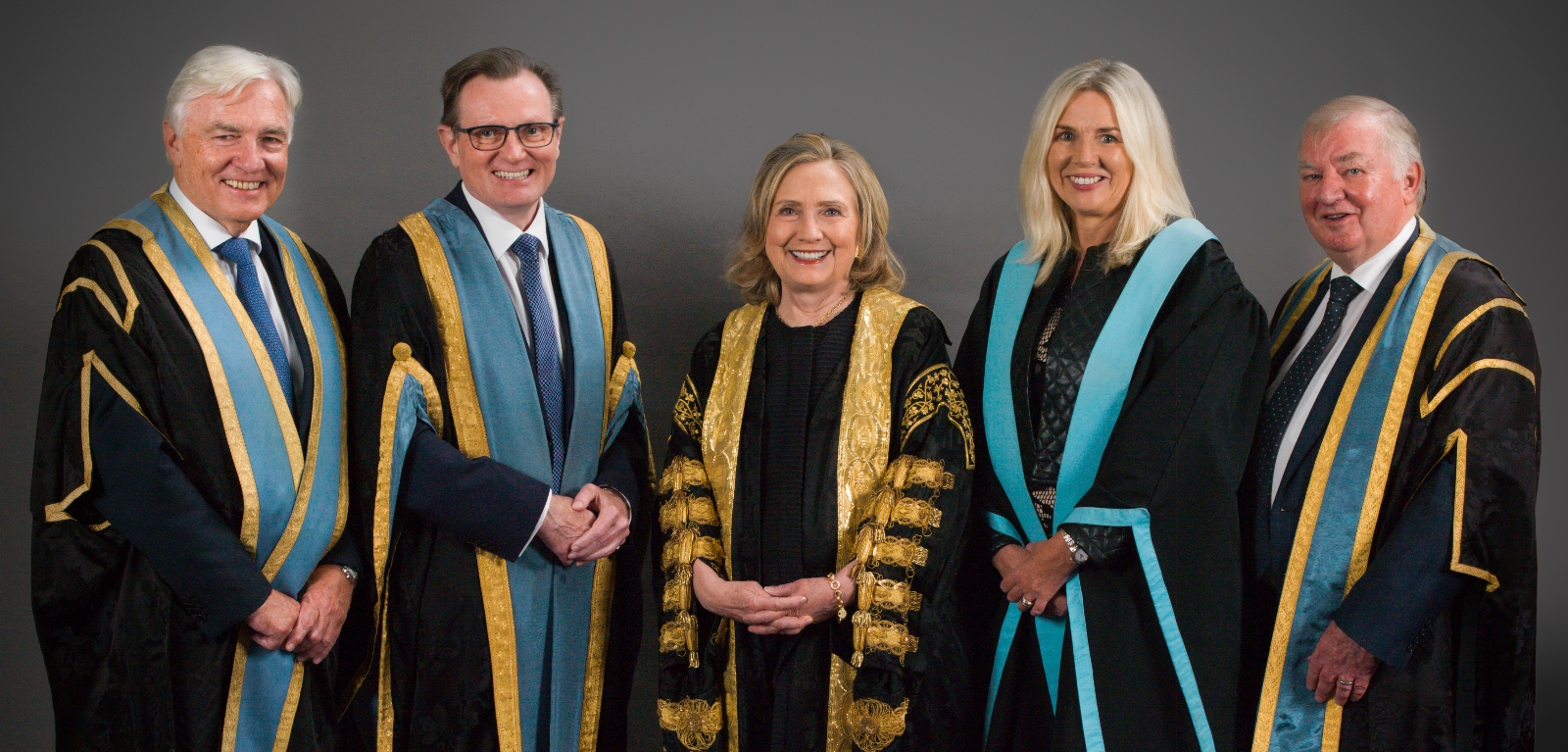 (Image caption 1-r):
Dr Len O'Hagan CBE, Professor Ian Greer, Secretary Hillary Clinton, Orla Corr and Dr Stephen Kingon CBE
Announcing the reappointment, Pro-Chancellor and Chair of Senate, Dr Stephen Kingon CBE said: "Professor Greer, who was first appointed in August 2018, has displayed exceptional leadership not least managing the University's response to the unprecedented challenges caused by the Covid-19 pandemic while also dealing with major regional issues in terms of funding and reputation, which have included the absence of the Northern Ireland Executive.
"We are delighted he has accepted the Senate's unanimous offer of a second six-year term which will take his tenure up to 2030. He has played a leading part in delivering the Belfast Regional City Deal and has focused his first term on building alliances through collaboration and cooperation. He has also established highly effective partnerships that place Queen's at the centre of the socioeconomic development of not only this region, but nationally and internationally. The Senate have taken the decision to approve the second term now in order to ensure continuity in the University's leadership as we progress the implementation of the aims and objectives of Strategy 2030."
Speaking about his reappointment, President and Vice-Chancellor, Professor Ian Greer, said: "I am honoured and privileged to be offered the opportunity to continue to lead Queen's for a second term. The University is currently on an exciting journey of change and transformation as we aim to deliver on Strategy 2030. I look forward to continued work with our excellent staff to provide an outstanding experience and education for our students.
"The main focus of my second term as President and Vice-Chancellor will be to deliver the outcomes set out in Strategy 2030. Outcomes that will impact on our economy and our society. We will further enhance the student experience, and support the work of the University staff in providing excellence in teaching, research and innovation that can help shape the future for Northern Ireland.
"Through collaboration we have enjoyed much success in Northern Ireland. It is a priority for me to continue to work in collaboration and partnership with Government, Industry, Business and Civic Society to deliver not only our strategic vision, but also to enhance the social and economic development of Northern Ireland as a major player on the global stage."