Queen's announces programme for Agreement 25 Conference
Global leaders, past and present, will be at the centre of Queen's University's programme of events for the major Belfast/Good Friday Agreement Conference on 17-19th April.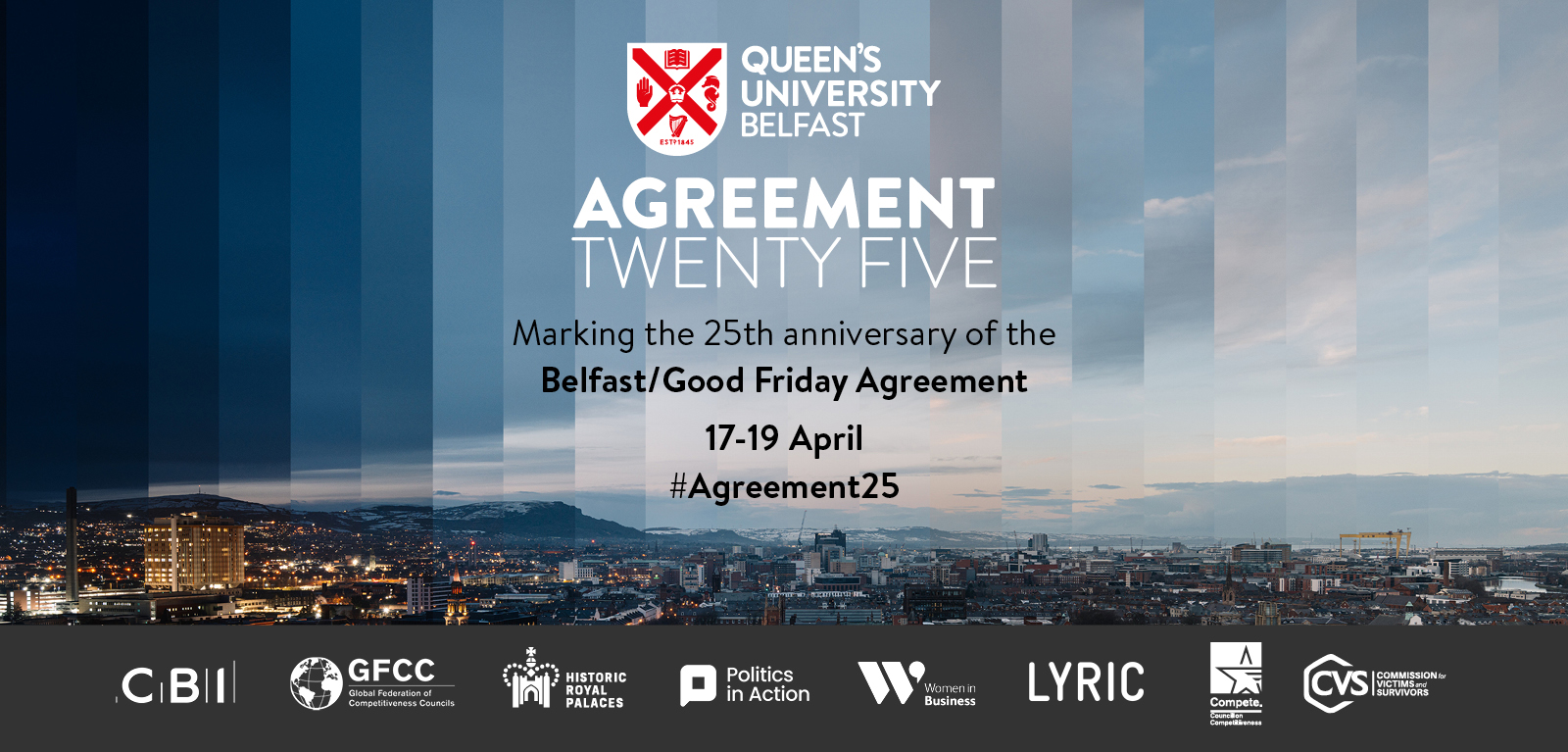 The Dynamics of Peace: Reflections on the Achievements, Legacies, and Implications of the 1998 Good Friday/Belfast Agreement reflects on the achievements of the peace agreement and provides a platform for discussion on the way forward.
The programme covers a range of activity over the three-day period with international and local speakers, former and current politicians, and a variety of those who were involved in and reported on negotiations.
Opened by the Chancellor of Queen's University Belfast, Secretary Hillary R Clinton, the conference will focus on the impact of the two governments with a panel discussion chaired by Professor Mary McAleese and senior government officials Lord Paul Murphy, Tim O'Connor, Liz O'Donnell and Johnathan Powell. A second panel, chaired by Ambassador Nancy Soderberg will focus on the Parties with contributions from Gerry Adams, Lord John Alderdice, Mark Durkan, Lord Reg Empey, Gary McMichael, Professor Monica McWilliams and Dawn Purvis.
The programme includes key events with partner organisations providing a platform for a range of discussions on the Agreement's impact on Northern Ireland and its place on the world stage.
The conference will also provide the opportunity to focus on how Northern Ireland is a key region for investment with a range of high profile keynote addresses which will be announced nearer to the time.
Speaking ahead of the event, Former U.S. Secretary of State and Queen's University Chancellor Hillary Clinton, said: "Northern Ireland and Queen's University are both close to Bill's and my heart. It's fitting that such a unique event will take place at Queen's. The University makes a significant impact on the world through its outstanding research and innovation.

"I am proud to host this conference, which will bring together civic leaders who have contributed to peace and reconciliation in Northern Ireland."

Vice-Chancellor Professor Ian Greer said: "We very much look forward to hosting key players in the Belfast/Good Friday Agreement and for providing a platform to reflect on its impact across our society, whilst looking forward to how our society can benefit from what is an ongoing process."
A ballot for members of the public to apply for tickets to the events has now closed and recipients will be informed at the start of April. The event will, however, be live-streamed from the Queen's University website throughout the conference.
Details of the programme to date can be found here.