Queen's announces the Seamus Heaney Centre's latest Fellowships for 2023
The Seamus Heaney Centre at Queen's has announced the appointment of Dr Dane Holt as their new Publishing Fellow, and Dr Milena Williamson as the new Ciaran Carson Writing and the City Fellow for 2023.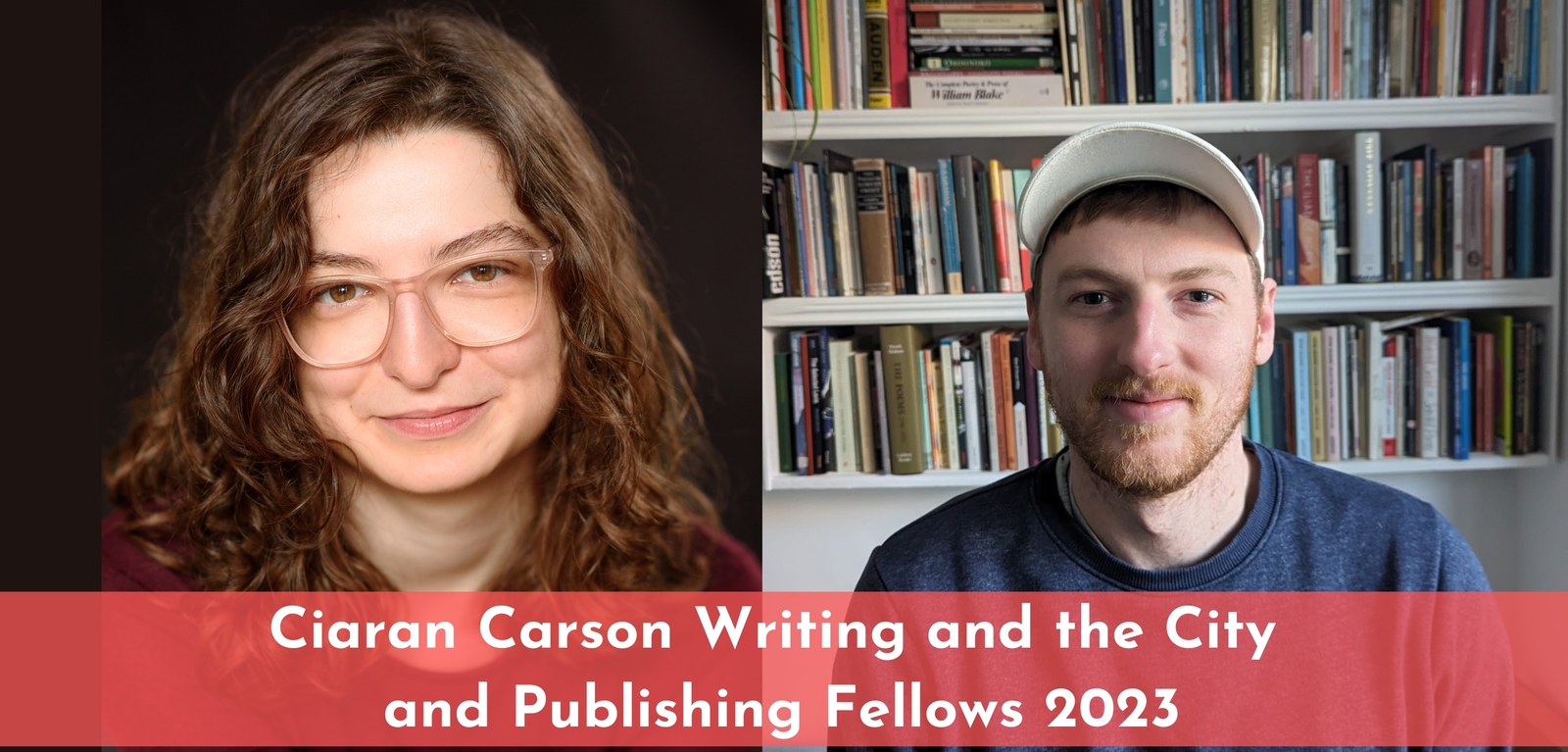 The annual Ciaran Carson Writing and the City Fellowship has been established in memory of Ciaran Carson, Founding Director of the Seamus Heaney Centre at Queen's, and is inspired by his writing about the city of Belfast in poetry and prose. The Publishing Fellowship is offered to a graduate who has demonstrated an enthusiastic commitment to the wider literary sector, particularly through publishing.
The Fellowships are worth £10,000 per annum for a recently completed PhD graduate from the Seamus Heaney Centre, and Fellows are encouraged to carry on with their own creative work, and to contribute to the academic and extracurricular programmes of the Centre.
Dane Holt recently completed a PhD at Queen's. He won the inaugural Brotherton Prize in 2019. He is Poetry Editor at The Tangerine, a Belfast-based magazine of new writing.
Dane said: "It's a real honour to be awarded this Fellowship. I can only hope to do justice to the previous Fellows' work and continue showcasing the ground-breaking writing being produced in and around the Seamus Heaney Centre."
Milena Williamson is a poet. She recently completed her PhD in poetry at the Seamus Heaney Centre. The creative component of her PhD is an archival exploration of her father's journal, photographs and reports from 1966-1967, during which time he was a conscientious objector to the Vietnam War. The critical component examined Ciaran Carson's Breaking News. In 2021, she received an Eric Gregory Award and the Ireland Chair of Poetry project award. Her debut pamphlet, Charm for Catching a Train, was published by Green Bottle Press in September 2022. Her debut collection is forthcoming in 2023.
Speaking of her appointment, Milena said: "I am so proud and thrilled to be appointed a 2023 Ciaran Carson Writing and the City Fellowship. It is a particularly exciting time to hold this position because in September 2023, the Seamus Heaney Centre and the School of Arts, English and Languages are organising 'Last Night's Fun: Ciaran Carson: A Conference and Commemoration'. This year, I am looking forward to continuing my own writing, facilitating workshops for students and participating in 'Last Night's Fun'. I'm grateful to my partner, my family and all of my teachers at the Centre who have helped me become the poet I am today."

Welcoming the new Fellows Professor Glenn Patterson, Director of the Seamus Heaney Centre at Queen's said: "These fellowships have, in a very short time, become firmly embedded in the life and work of the Seamus Heaney Centre, not least in the Centre's engagement with the wider community. Dane Holt and Milena Williamson are not only very fine young poets (though say that again: they are very fine young poets), they share the Centre's ethos of getting out there and (with apologies for the technical term) making good and interesting stuff happen."
The Fellowships supports writers at this critical point in their career, giving them professional experience in the literary and academic sector, and allowing the University to maintain relationships with our extraordinary alumni.
Fellows, working in all forms of creative writing, contribute to life at the Seamus Heaney Centre through masterclasses, workshops, one-to-one tutorials, and performances, and bring new voices to the academic and public arena.