Queen's collaborate on RTÉ documentary marking 25th anniversary of the Belfast/Good Friday Agreement
Queen's have collaborated on a landmark two-part RTÉ documentary series to mark the 25th anniversary of the Belfast/Good Friday Agreement which will be broadcast on RTÉ One and RTÉ Player.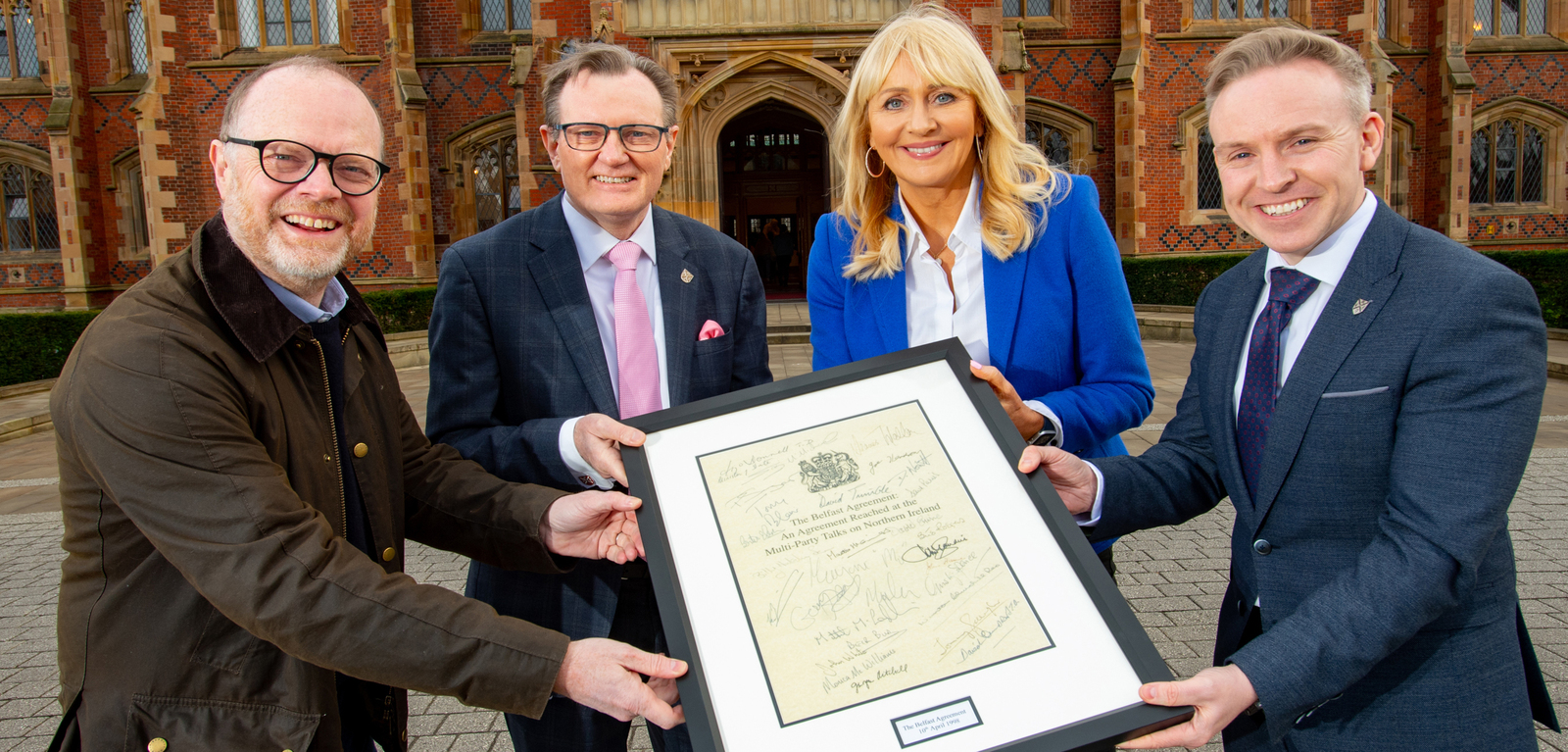 The Agreement examines the negotiations leading up to and the aftermath of the signing of the Belfast/Good Friday Agreement in April 1998 and the referendum that followed six weeks later. It includes interviews with former UK Prime Minister Tony Blair, Senator George Mitchell, former Taoiseach Bertie Ahern and other key figures in the negotiations including Jonathan Powell, Sir Jeffrey Donaldson, Monica McWilliams, Lord Empey and David Trimble's former advisor, David Kerr.
The documentary also puts a spotlight on the events that led John Hume and David Trimble to share the Nobel Peace Prize for their work in advocating solutions to end conflict.
The Agreement has been produced by FinePoint Films for RTÉ in association with Queen's and Northern Ireland Screen, and is presented by Miriam O'Callaghan.
Speaking about the documentary, Director Trevor Birney said: "In April 1998 I was a news journalist and stood outside Castle Buildings as negotiations continued through the night into Good Friday. A month later I was on the stage at the King's Hall in South Belfast for the referendum announcement - they were two of the significant days of my journalistic career.

"All of the local journalists who covered this political settlement and its endorsement by voters across the island were very alert to their international significance as well as the fundamental change it would bring to our daily lives and the future of our communities.

"Revisiting these momentous events with so many of those who were in the room on the day the Good Friday Agreement was concluded has reminded everyone at Fine Point Films of just what was achieved and the legacy for everyone on the island of Ireland. Partnering with Queen's University seemed very appropriate right from the outset and it has proven to be a very collaborative and creative relationship."

Ryan Feeney, interim Vice-President of Strategic Engagement and External Affairs at Queen's and Executive Producer on the documentary, commented: "Queen's University Belfast is proud to be part of this landmark documentary with FinePoint Films and Northern Ireland Screen for RTÉ, telling this important story of our history and paying tribute to the achievements made in 1998.

"In April 2023, the University will also host an international conference with many of the key actors from that period, reflecting on the success of the peace process and looking towards a shared future which focuses on delivering socioeconomic progress for everyone in this region."
The Agreement will air across two consecutive nights on Monday 3rd April at 9.35pm and Tuesday 4th April at 10.15pm on RTÉ One and RTÉ Player.