Queen's receives Impact Award at special event celebrating the Technician Commitment
Queen's University Belfast is one of 60 Technician Commitment Signatory institutions and organisations presented with Technician Commitment Impact Awards in recognition of the work taking place to advance the Technician Commitment within their institutions.
The awards were presented at a special Technician Signatory Event, hosted by the Science Council, in London County Hall on 23 November 2021 to celebrate the progress and impact the Technician Commitment is continuing to make across the sector.
Gillian Riddell, Technical Lead for the Technician Commitment at Queen's, represented the University at the event, and received the Technician Commitment Impact Award for completion and submission of Stage 2 Self-Assessment. Gillian accepted the award on behalf of Queen's technicians, the University's Technician Commitment Steering Group and the working groups, who strive to promote and develop the Technician Commitment pillars of Visibility, Recognition, Career Development and Sustainability.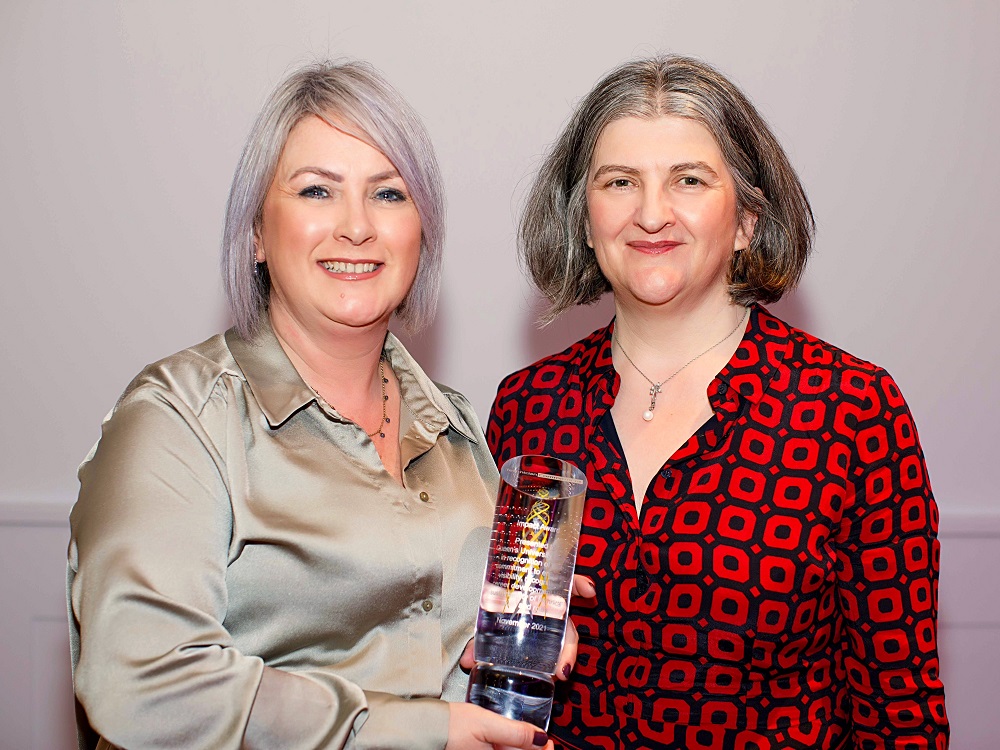 The award was presented by Dr Helen Pain, Chief Executive of the Royal Society of Chemistry and Chair of the Technician Commitment Steering Board.
Commenting on the Technician Commitment Impact Award, Gillian said:
"This award is for all our Queen's technicians, for the fantastic progress we have made as a Technician Commitment signatory. We have done this with tremendous support from Academic and Professional Services colleagues."
"We are delighted that Queen's have been commended for their internal alignment of their Technician Commitment action plan, the Research Culture action plan and Athena Swan, ensuring technicians are visible across the piece."
Professor Alan Stitt, Dean of Innovation and Impact, School of Medicine, Dentistry and Biomedical Sciences and Nominated Institutional Lead/Co-Chair of the University's Technician Steering Group, commented:
"At Queen's, we are committed to supporting, developing and celebrating our technical staff, who are a crucial part of the excellent teaching and research that takes place across the University. More recently, our technical staff have played an important role in responding to the COVID-19 pandemic, helping to produce buffer solution on campus which is vital for Covid-19 testing facilities in Northern Ireland, as well as maintaining key facilities during lockdown."
Report findings from an evaluative study which examined the impact and progress of the Technician Commitment were published at the event. The study found that a good range of governance and support is in place to develop the Technician Commitment at institutional, regional and national level. It also found that considerable activity has been undertaken to raise awareness and enhance collaborative and organisational structures and that this has resulted in increased visibility and recognition of the role technicians play.
On the same day The Role of Technicians in Knowledge Exchange – An Explorative Study was published. This study highlights the impact the role of technicians play in strengthening the UK's Knowledge Exchange (KE) ecosystem.