Chancellor of Queen's University Secretary Clinton visits the shared education campus in Limavady
Eight dedicated educators from Northern Ireland received honorary degrees from Queen's University Belfast in Limavady today to recognise their contribution to shared education.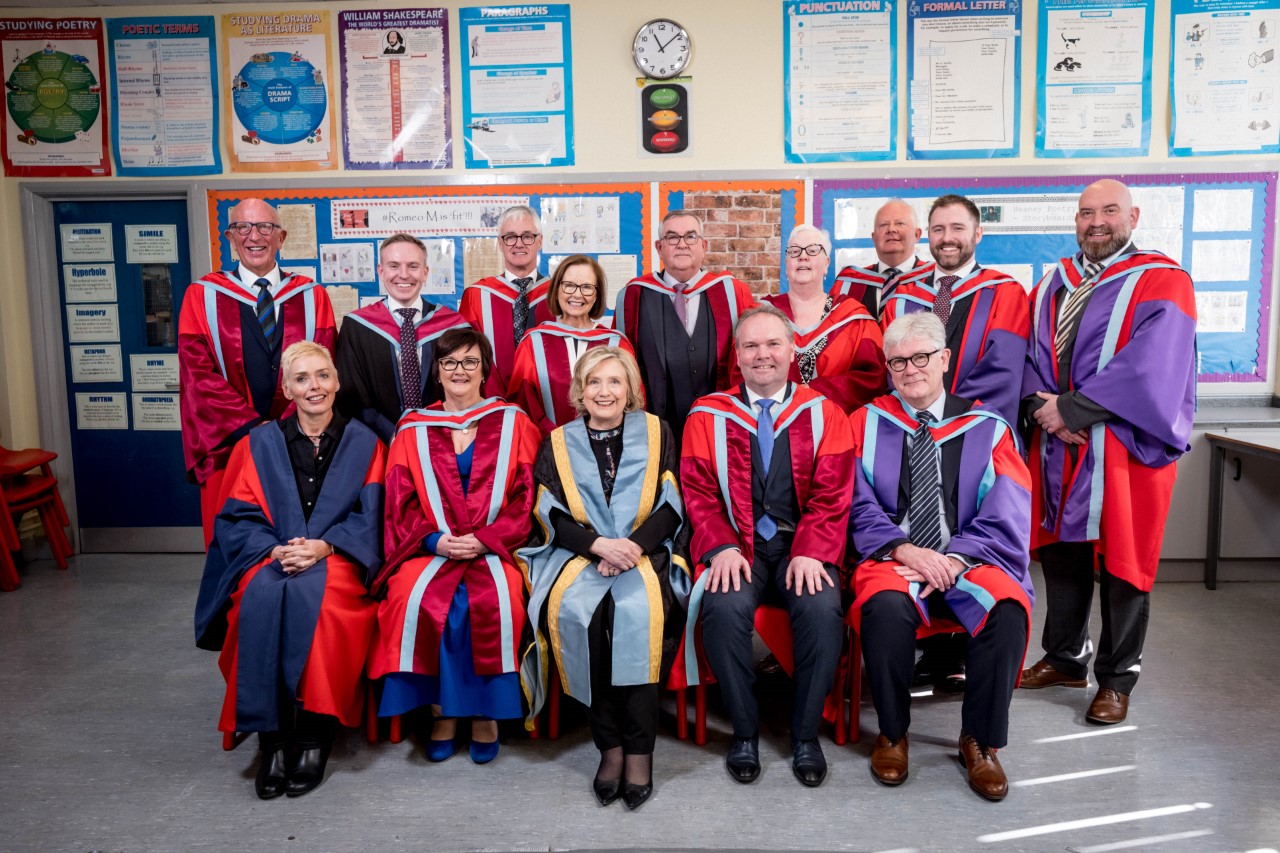 Chancellor of Queen's University Belfast Secretary Hillary Rodham Clinton visited the shared education campus in Limavady to confer the degrees.
She spoke about the importance of shared education and the link between Queen's University Belfast and the two schools, Limavady High School and St Mary's Limavady.
Through the Centre for Shared Education at Queen's, Professor Tony Gallagher and colleagues have worked with the schools for many years to progress shared education.
Today, Secretary Clinton met with school pupils and teachers to unveil two benches to commemorate the new £11 million shared education campus.
Ryan Feeney, Interim Vice-President of Strategic Engagement and External Affairs at Queen's University Belfast, commented: "This week at Queen's we have been reflecting on 25 years of the Belfast Good Friday Agreement. As part of the Agreement, shared education has been a key focus.
"Today marks a significant day for shared education in Northern Ireland and I am delighted that Chancellor of Queen's University Belfast, Secretary Hillary Rodham Clinton has been able to visit the shared education campus in Limavady and meet with pupils and teachers.
"The campus is a shining example of how shared education can work in Northern Ireland and the benefits that it brings. The young people we met in Limavady are truly inspiring - they are the next generation of leaders in Northern Ireland."
The eight honorary degrees were conferred on dedicated educators from across Northern Ireland, including:
Mr Sean Bradley
Mr David Dunlop
Mr Shane Laverty
Mrs Mary McCloskey
Mrs Celine McKenna
Mr Glenn Reilly OBE
Mr Darren Mornin
Mrs Rita Moore.
Media
Media enquiries to comms.office@qub.ac.uk