Queen's Professor Kee elected to Academy Fellowship with leading biomedical and health scientists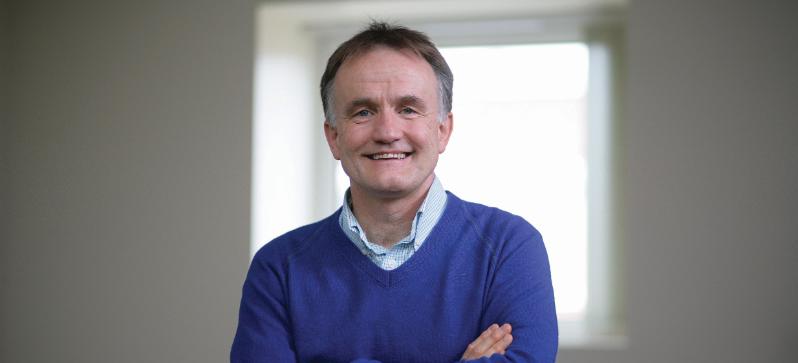 Professor Frank Kee, the Director of the Centre for Public Health in the School of Medicine, Dentistry and Biomedical Sciences at Queen's University is among almost 60 of the UK's most prominent biomedical and health scientists elected to The Academy of Medical Sciences' prestigious Fellowship.
The Academy of Medical Sciences has elected 59 influential biomedical and health scientists to its respected Fellowship, today (18 May 2023).
The new Fellows have been elected to the Academy in recognition of their exceptional contributions to the advancement of biomedical and health science, cutting edge research discoveries, and translating developments into benefits for patients and wider society.
Professor Frank Kee who has been elected as a new Fellow, said: "I am delighted to have been afforded this honour but I am grateful to Queen's for giving me the opportunity to raise the profile of Public Health and for investing in public health research.
"Because of this investment Queen's University Belfast has been able to show how improvements in public health are essential for driving economic and wellbeing recovery following the pandemic."
Professor Kee joins a number of other Fellows of the Academy of Medical Sciences in Northern Ireland including the current President and Vice-Chancellor of Queen's University, Professor Ian Greer, Professor Stuart Elborn, Professor David Jones, Professor Danny McAuley and Emeritus Professors Robert Stout, and Desmond Archer.
Fellows are drawn from institutions across the UK and their breadth of expertise ranges from molecular imaging to biostatistics to public health policy. They join a prestigious Fellowship of 1,400 esteemed researchers who are central to the Academy's work. This includes providing career support to the next generation of researchers and contributing to the Academy's influential policy work to improve health in the UK and globally.
Professor Dame Anne Johnson PMedSci, President of the Academy of Medical Sciences said: "These new Fellows are pioneering biomedical research and driving life-saving improvements in healthcare, from understanding the spread of infectious diseases to developing mental health interventions. It's a pleasure to recognise and celebrate their exceptional talent by welcoming them to the Fellowship.
"This year, we are celebrating our 25th anniversary. The Fellowship is our greatest asset, and their broad expertise and dynamic ability has shaped the Academy to become the influential, expert voice of health. As we look to the future, the collective wisdom our new Fellows bring will be pivotal in achieving our mission to create an open and progressive research sector to improve the health of people everywhere."
Many of this year's new Fellows are tackling the most significant health challenges society faces, including global health security, climate change, health inequalities and mental health.
The Academy's 2023 new Fellows demonstrate the 'team science' principle, of collaborative research across multiple groups, that the Academy champions.
Professor David Adams FMedSci, Registrar of the Academy of Medical Sciences, said: "As individuals, these new Fellows are all outstanding, but it is the collective might of their wisdom, their commitment to improving health and their dedication to the pursuit of knowledge that can really change lives.
"Working to ensure the Academy Fellowship reflects the true diversity of UK medical science is a key responsibility for me in my role as Registrar. I am thrilled to welcome our new Fellows, who join us in our mission to create a research sector where talented people from all backgrounds are supported to thrive."
The Academy is committed to working towards full equity of opportunity for all, embedding inclusion in our organisation, work and the wider medical science sector. An Academy Fellowship that is reflective of the society we live in and that includes a broader diversity of expertise and backgrounds is key to that commitment.
The new Fellows will be formally admitted to the Academy at an event on Wednesday 12 July when the Academy will also be celebrating their 25th Anniversary.