Experiencing Go Global Week at Queen's as an International Student
Why stay still? Queen's is a gateway to a wealth of study, work and volunteer abroad opportunities, as the recent Go Global event demonstrates. Where will you go next?
You might think exploring the Global Opportunities at Queen's while studying in Belfast as an international student is a bit like being in a restaurant and reading the menu for a different eating establishment. However, your study abroad journey doesn't have to stop at Queen's: all students are encouraged to make the most of the study, work and volunteer abroad opportunities on offer. At the start of every academic year, the university hosts Go Global Week, during which you can check out all the exciting programmes on offer at the International Fair. Here is what I discovered.
1. Wanderlust is real
As an international postgraduate student from Canada, I am always looking for new opportunities to continue my international exposure! When I heard about the ongoing Go Global Week put on by Queen's, I thought that it was the perfect event for me to discover new global opportunities.
2. You can make a real difference
In particular, I was interested in volunteering experiences presented at the International Fair. These were of great interest to me because they combine my passions for community service and acting as a global citizen. I am enthusiastic about continuing my international exposure because I believe experiencing different cultures has greatly contributed to my own personal growth.
3. The people you'll meet will inspire you
The International Fair was filled with great information and people who share my passion for global opportunities! There were a range of booths that varied from international study programs, to graduate work experiences, to volunteering positions. Upon entry into the fair each person was given a "Go Global Passport" that contained valuable information about the rest of the Go Global week and the specifics of organisations participating
4. You can really boost your CV
Walking around, I learned about associations such as Eurodesk and the European Solidarity Corps, which helps to fund volunteer programs for Europeans under 30. These opportunities cover a wide range such as environmental issues, social programmes, youth, and the arts.There was information on both summer jobs and graduate jobs. Summer employment included organizations like Bunac, American Summer, and Camp America. The lovely associate at Bunac described it to me as "work experience with assistance", as they have teams on the ground in the international work locations to help with details such as finding employment, locating lodging, visas, banks accounts, as well as organising social events.
5. There are post-grad opportunities too
For graduate opportunities, Teach China offers the international opportunity to teach English as a second language. This route seems like an exceptional idea for graduates to gain global exposure and build their CV while taking time to figure out their future career path!
6. You can volunteer in any field
Of particular interest to me was the Projects Abroad booth, which offers placement for international volunteering and internships. This organisation reaches from Central and South American, Africa, and Asia. Placement possibilities extend across a range of domains, including medicine, business, law, teaching, conservation, and sports. Volunteering through a programme, such as Projects Abroad offers the support necessary to successfully access global opportunities!
7. Travel makes you richer
Overall, attending the International Fair has reinforced to me the selection of programmes and support out there for pursing global opportunities. I am thankful that I attend an institution that also offers international exposure and makes the information about all the possibilities easily accessible. Following this event, I am more passionate than ever to continue chasing international experiences and to keep growing as a global citizen!
Discover more Global Opportunities at Queen's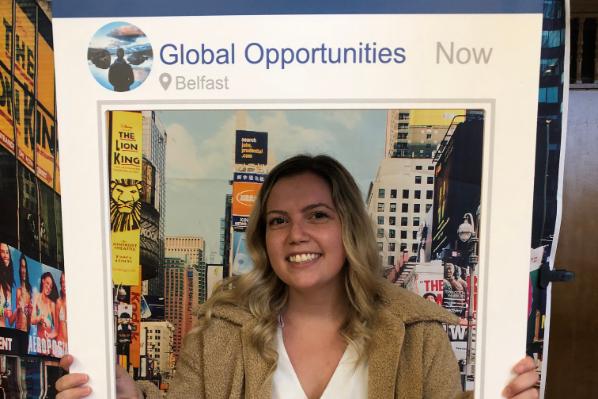 Molly McIntyre, MSc Molecular Pathology of Cancer