Spotlight on Queen's Computing Society
Queen's Computing Society, better known as QCS, is an academic society aimed at those studying a EEECS subject but everyone is welcome. Read more about the society and everything it has to offer.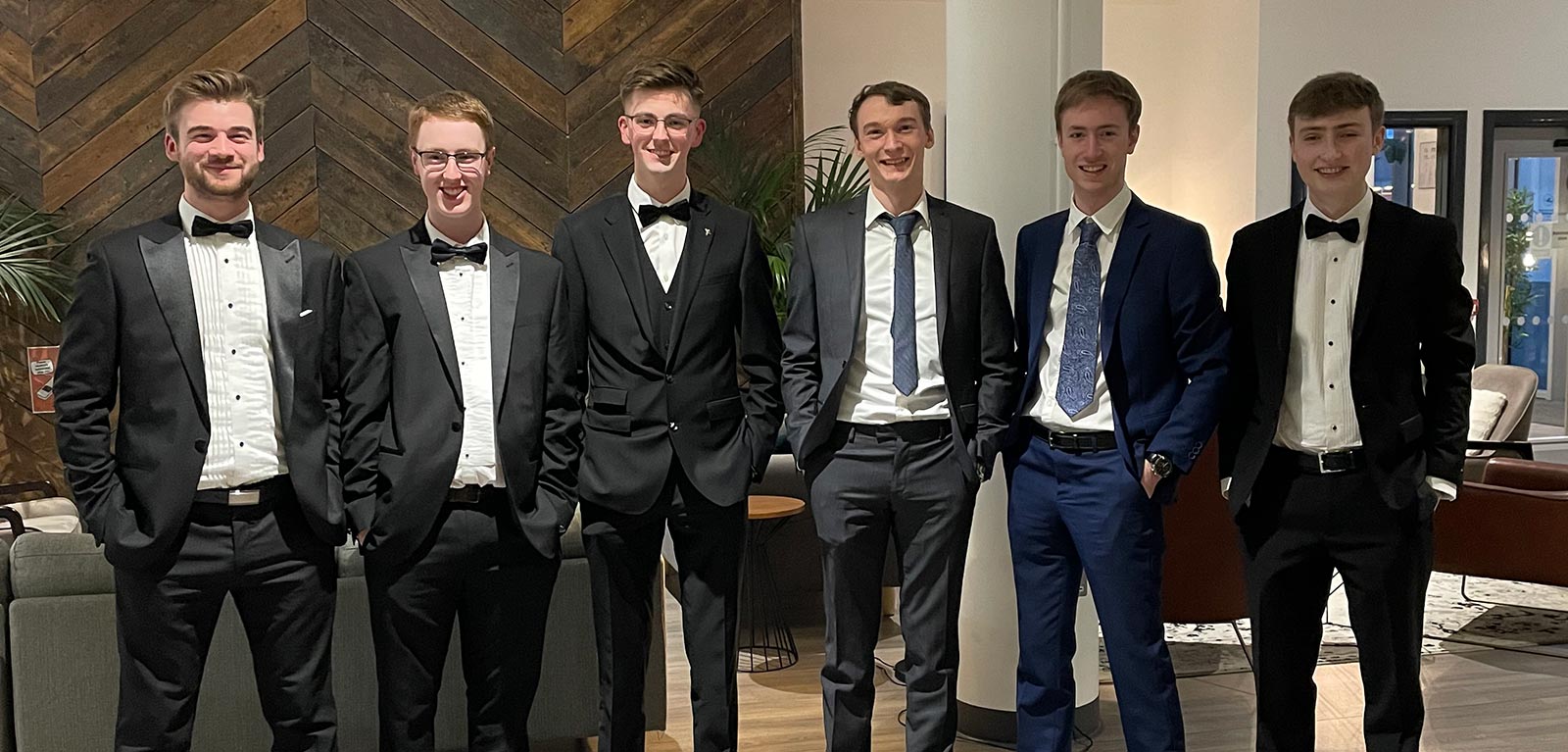 The society offers various events throughout the year such as the annual formal, game nights and meet ups. The society offers various academic events as well, which can be great to expand your knowledge and help with career development.
Membership to join the society usually costs £3 for students and £5 for non-students. At the start of the academic year, you'll be able to join at the Freshers fair. You can also join online via Fixr, when tickets are available this is announced on the society's social media pages. Alternatively, if you ever have any queries or trouble signing up you can email QCS at qcs@qub.ac.uk
QCS even has its own discord server where members can chat to each other and see various updates from the society. I highly recommend joining this once you've bought your membership.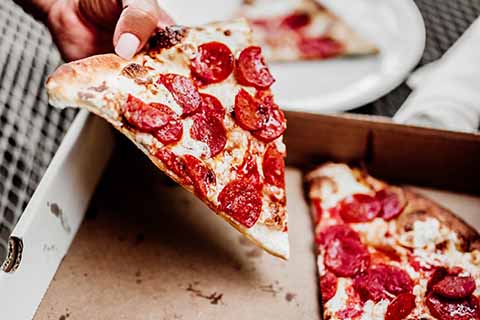 Make friends, learn new stuff AND free pizza
Social Events
By joining a society, you immediately open yourself up to making new friends. A society provides a space where you will already have a vast amount in common with the people attending the society's events.
If you join a society that is related to your degree subject it is likely you'll meet people from your course, which could be useful when it comes to group projects or if you just want people to chat to in class.
QCS provides numerous opportunities to make friends and is a great society to join due to the number of events on offer to members. Examples of events include:
End of term socials. These typically run at the end of a semester once exams have finished. The next one is being hosted on the 25 May at The Speakeasy.
Movie Nights. QCS hosts various movie nights thought the year. Usually in the computer science building. The last movie night was Star Wars Episode 3: Revenge of the Sith and free pizza was provided, what more could you want!
Boardgames Evening. A great opportunity to get competitive and play some games against your friends, whilst eating free pizza.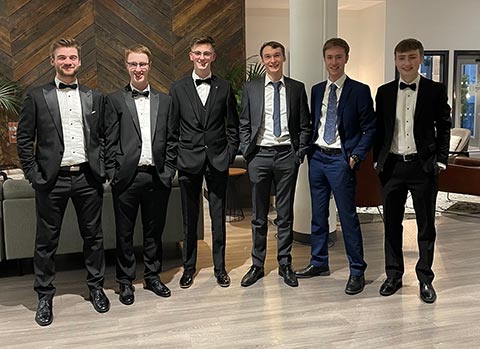 Tobias and friends at the QCS formal
The Formal
Regarded as a not-to-be-missed event, the QCS formal is the signature event for many people in the society. The event provides a great opportunity to get dressed up and have a classy night with friends and partners. This year's formal was hosted at Europa hotel with an after party at Alibi nightclub.
Tickets to the formal usually cost £35.00 for members and slightly more at £40 for non-members. The night is full of fun, with a 3-course meal, photo booth and a raffle. The raffle's always have great prizes. This year's prizes included an iPad and Airpods. All prizes for the raffle are gifted and all proceeds from ticket sales go to a nominated charity. I highly recommend you attend next year's formal.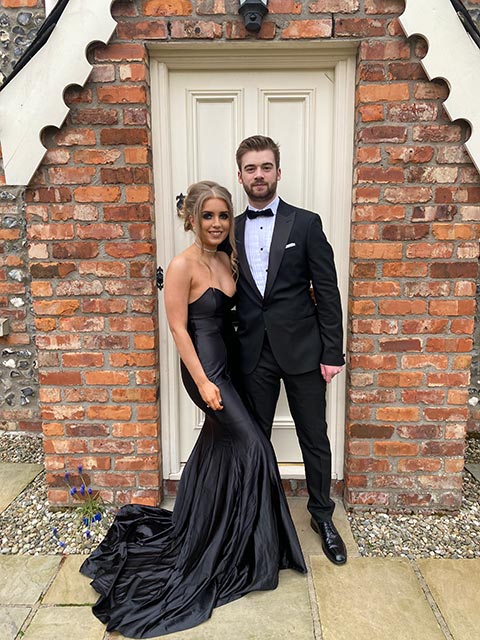 Claire and Tobias dressed to impress at the QCS formal
Academic Events
Many people perceive societies as a space to socialise and have some fun. While this is true, QCS also has numerous academic benefits such as industry led workshops and talks. These are often led by companies who have a presence in Belfast and provide a great opportunity to not only learn about the topic being discussed but also network and chat about potential graduate and placement opportunities.
The events are also great to build skills in new areas and help prepare you for future university projects, as well as jobs when you graduate.
The events include hackathons, talks lead by companies and workshops on different technologies or soft skills. Recent events include:
Accenture Design Thinking Workshop. Accenture hosted a workshop on design thinking and the type of jobs they have available.
Git workshop. These type of technology workshops are a great opportunity to learn new skills that you can use within your studies or projects. For example, the Git workshop is great for those who don't know a lot about version control or are looking at using Git within their university projects.
CV and Interview workshop. A great event if you're looking for summer internships, placements or graduate job and want the best tips on how to make your CV stand out and how to ace an interview.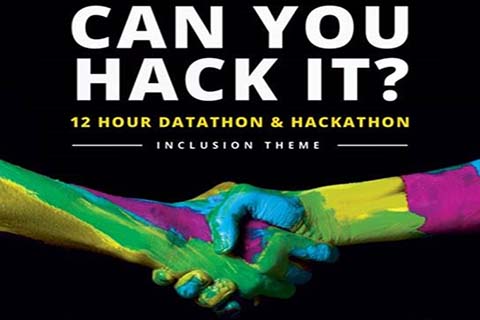 Hack for good at a QCS hackathon
I highly recommend you join Queen's Computing Society if you are studying an EEECS subject as it's a great way to stay connected to the subject area outside of your studies. Not to mention the numerous events hosted by the society which are, in my opinion, some of the best events offered by a society at Queen's.
Find out more
Tobias Hunter-Tod

Computer Science | Undergraduate Student | England

I am a 21-year-old undergraduate student from Herefordshire, England. I've always had a passion for technology and business which led me to study computer science at university. In my spare time you'll find me developing apps or on a night out in Belfast! I lived in Elms BT1 in 1st year and now currently live in the Stranmillis area. In terms of Societies, I am a member of the Wine and Cheese Society and Queen's Computing Society. My interests/hobbies include, app development, travelling, socialising/networking and Enterprise SU events/competitions.