My Top Six Restaurants in Belfast
The amount of restaurants to choose from in Belfast can be extensive and overwhelming, so Mehak has put together her top 6 recommendations to cover everything from breakfast to lunch and dinner to drinks!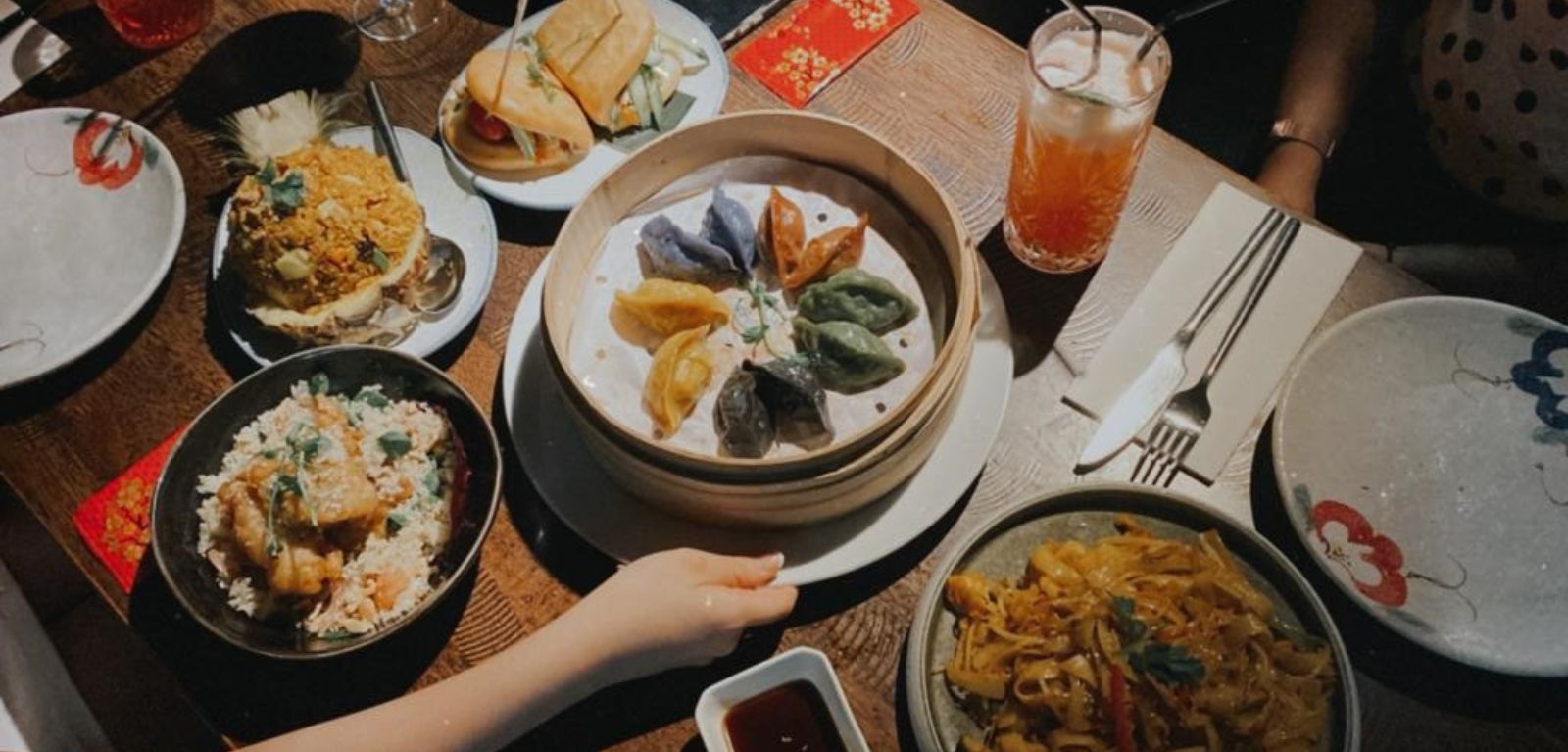 These restaurants are perfect for the catch up with your friends, a celebration or just a casual meal to treat yourself. Going out for a meal can be expensive in Belfast but my top 6 restaurants are what I believe to be worth the money!
Neighbourhood Café
Whenever someone asks what the best place for brunch or breakfast is, I always say Neighbourhood Café. The small, newly renovated café is located on the iconic 'umbrella street' up in Cathedral Quarter. It is a great place to grab a coffee, tea or even matcha with your friends.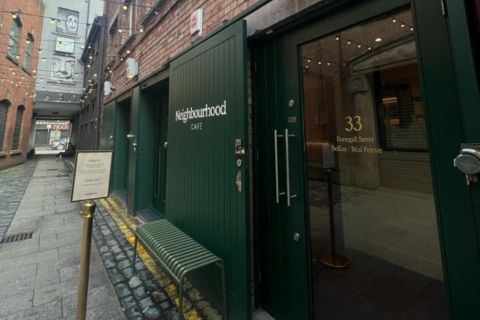 Don't miss Neighbourhood!
However, their food is spectacular. I love everything on their menu, but their 'French Toast' is a must try! I also highly recommend their baked goods especially their 'Honeycomb Cruffin'; who would have thought combining a croissant and muffin would be incredible?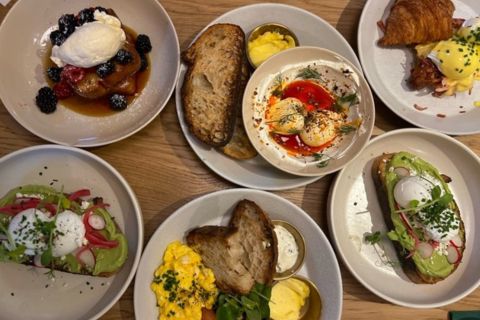 Erm....yum!! Food at Neighbourhood
Madame Pho
Madame Pho is just the right place if you are looking for a hearty, warm noodle soup (Pho!). I think it's the perfect meal to get on those colder days when you are caught up with work as it is located close to the University on Botanic Avenue.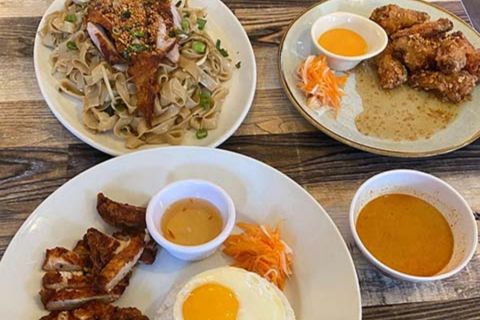 Like Vietnamese food? Check out Madame Pho
Even when the sun is shining, other menu items such as the Banh Mi (a Vietnamese baguette sandwich) and their starters are great to make sure you are satiated. Vietnamese food is a great cuisine when you are looking for comfort, wholesome food as it super flavourful and can be adapted to your personal tastes and preferences.
Revolution de Cuba
Revolution de Cuba is my go-to whenever I want affordable, yummy, theatrical cocktails. Their happy hour does 2 for £10 on cocktails with many more drink discounts as well. The restaurant makes you feel like you are in the heart of Cuba with its live entertainment.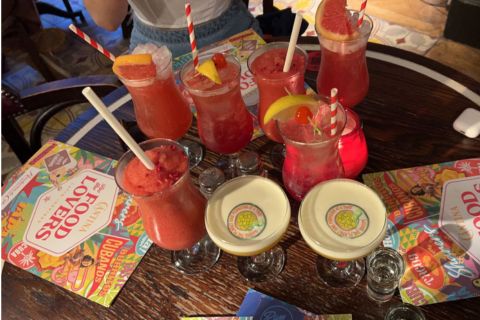 Top cocktails at Revolution de Cuba
I recently tried their food and like the previous restaurants it focuses on tapas but there are many more mains and desserts you must try!
EDO
A small nook in the heart of city centre, Edo has a great atmosphere and even better food. Plates range from £3 to just over £16 with an extensive menu that caters to nearly all. The plates remind me of tapas, food that can be shared, which is great when wanting to try new cuisines and foods from around Europe.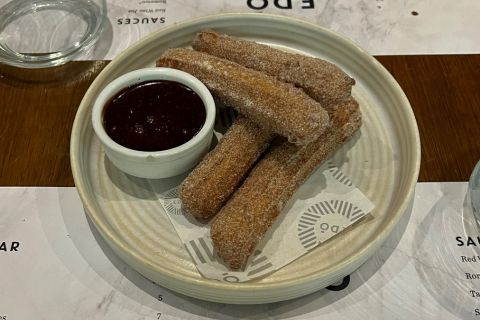 Churros at Edo
Their open styled kitchen allows you to watch and hear your food being cooked whilst a bar adjacent curates beautiful cocktails and drinks. I have never seen this restaurant empty, and the vibes are impeccable.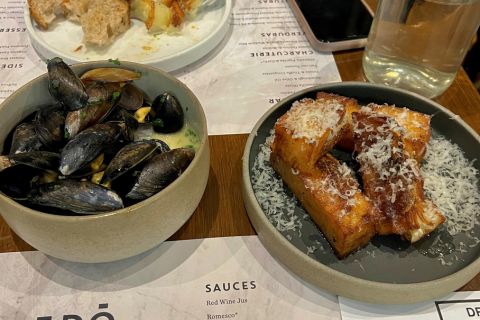 Delicious small plates at Edo
Anyone that goes there highly recommends it, not just for its delicious food, but its wholesome atmosphere and friendly staff.
The Dumpling Library
The Dumpling Library is well-known by anyone that lives in Belfast. Some may say it's overrated but I think the food is incredible and worth the hype. There is an extensive amount of restaurants in Belfast that serve various Asian cuisines, however, the Dumpling Library has is able to serve all flavours from Japanese to Chinese, to Korean. They have lunch and dinner deals that allows you to try enough food to fill your stomach at the right price.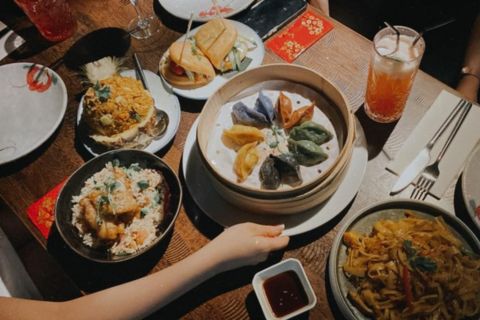 If you love Asian cuisine you need to try The Dumpling Library!
I highly recommend any of their dumplings (as they are all gorgeous), which you can get in their 'Assorted Dumpling Platter'. Similarly to EDO, they have a sharing theme that allows you to try various elements of their menu. But you shouldn't miss out on the 'Dan Dan Mince Pork Noodles' main dish; a favourite of mine.
Bunsen
Hands down, the BEST burger in town is done by Bunsen. They specialise in two types of burgers, three different styles of fries and milkshakes. You know it will be good when the menu is the size of a business card!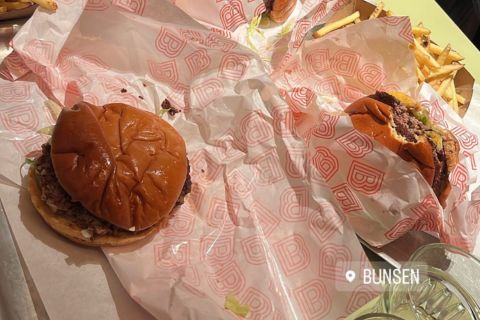 A good burger is hard to beat and Bunsen does one of the best!
It's the modern, American diner brought to Belfast. Found right across from the Dirty Onion and Thirsty Goat, this restaurant can be your go-to meal before a night out or after a long day of university and work.
Find out more
Eating and Drinking in Belfast
Cost of Living hub - advice and guidance for students
Mehak Bindra

Medicine| Undergraduate Student | India/UAE

Hi! I'm Mehak, a second year student studying medicine at Queen's University Belfast. I am originally from India but have lived in the UAE my whole life. As a first year, I lived at the Elms BT1 accommodation, which was a great experience that I recommend to everyone. As I like to immerse myself in my course, I am apart of various medical societies such as the Internal Medical society and Child Health Society!