How to Be the Best House Mate
Go from flatmates to best mates with Darshana's top tips on how to get along in a shared house.
Living abroad or living away from home can be pretty scary initially. A new environment, new faces, new experiences and definitely new challenges.
One of the challenges would be living with other people outside your family home. It may take time for you to get used to these new changes and adapt to the situation. So here are a few pieces of advice that you can consider using to help you have a much happier experience living in a shared accommodation.
1. Personal Space
Most university accommodations offer the choice of having an en suite room or shared rooms. If you live in the Queen's Accommodation Elms BT1 and BT2, you would be living in an en suite room which would mean you have your own personal space and your own bathroom. You'll only have to share a communal area where the kitchen and television are located.
Once you have settled in and become friends with your flatmates, remember to respect each other's personal space. There are times when people would like to have some private days and be alone for personal reasons so try to recognise when someone isn't in the mood to be social and respect that, as everyone has different social batteries.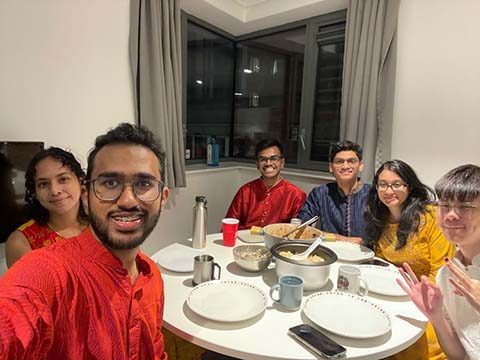 My flatmates and I having dinner together for a festive occasion
2. Label Things
The next tip would be to label your belongings. If you have items that are very precious to you or that you are afraid of someone accidentally using, it would be best to label them or keep them locked up in your room.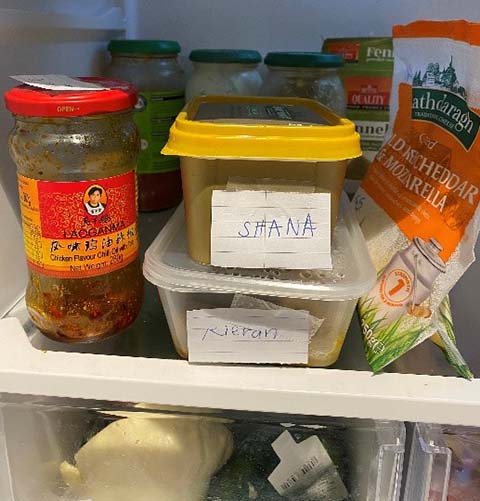 In the kitchen area, many cupboards are provided for all the occupants to store their food and other belongings. Ensure to allocate individual cabinets and label them with your names to avoid miscommunication.
Labelling items is also a key factor when placing items into the shared fridge. It may significantly reduce the chances of one of your flatmates accidentally eating your food, thinking it was theirs. If you would like to share food with your flatmates, make sure to communicate which items you will share and which items are personal.
3. Create a Cleaning Schedule
Based on most student experiences, the biggest challenge is centred around the cleanliness of the communal area. To avoid such problems, an idea that my friends and I have adopted is a cleaning roster which ensures that everyone pulls their weight in cleaning the area. Communicate amongst each other to ensure that the cleaning roster is convenient for everyone.
Following the cleaning roster will result in the communal area being clean and less tension in the household as everyone does their fair share of work in maintaining the cleanliness. The cleaning roster doesn't necessarily have to be written down; it could also be in a shared google document to which everyone has access.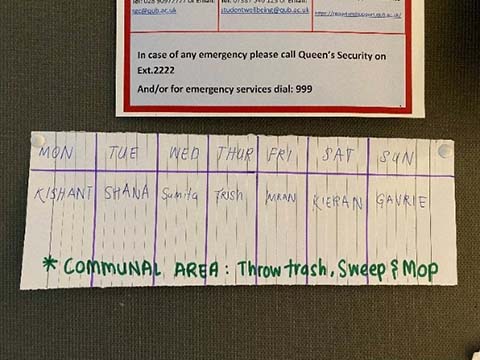 An example of my flat's cleaning roster
4. Set Boundaries/Communication
One of the most essential pieces of advice would be to set boundaries. It is best to discuss whether you would like to share certain appliances and food early on to avoid any disagreements. If something is bothering you, communicate with your flatmates and let them know so you can solve the issue as soon as possible. Being passive-aggressive and withholding will not do any good. It will eventually lead to a very awkward relationship that you definitely do not want throughout your stay.
It is also advisable to set up a group chat for the flat so everyone can communicate easily and a useful way of sharing any information.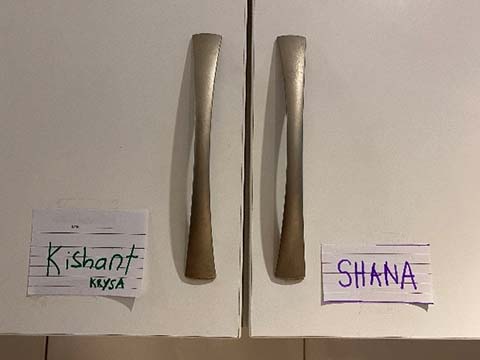 5. Be Considerate
Be considerate towards your flatmates and check if it is alright to have people over in the common room. This way it wouldn't make your other flatmates uncomfortable or disrupt their cooking or studying schedule. As stated above, communication would also play a big part in this, as informing and asking permission in the group chat before inviting anyone over or having a party in the communal area would be a polite and respectful gesture. Trust me, your flatmates would be much appreciative and friendlier towards you if you treat them with respect.
Find out more
More Accommodation blogs
Darshana Araventhan

Law | Undergraduate Student | Malaysia

I am a 3rd-year transfer student from Malaysia doing my final year of Law degree at Queens University Belfast. I live in the Queen's Accommodation Elms BT1 at Belfast City Centre, which is convenient as there are many amenities nearby. Apart from attending classes and studying, I love trying out new recipes and cooking for my flatmates. I also enjoy travelling during the holidays and have visited several places in Northern Ireland during my stay here. I hope you enjoy and find my blogs useful during your time at Queen's!