Open up a world of adventure with Belfast as your base
Looking for your next weekend adventure? Whether it's somewhere closer or a little further afield, Tessa's here to share some of the trips she's taken this year.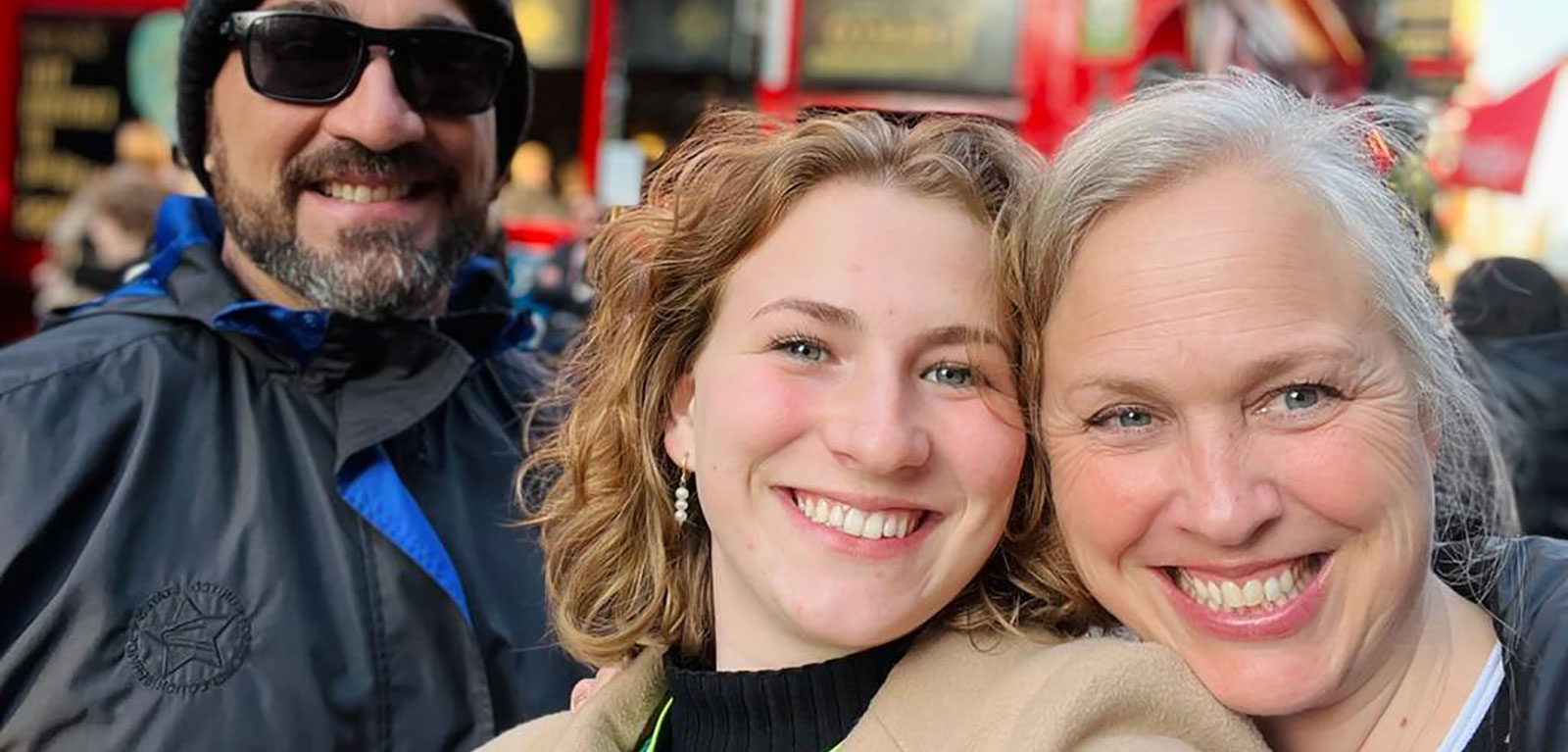 Road Tripping around the Island
Many of the following places are accessible by bus but are a bit of a journey. When my parents came to visit over spring break, they decided to get a rental car and make the journey around Ireland. I recommend getting a rental car if you have a driver who is over the age of 25, can drive stick (manual), and is comfortable driving on the left side of the road. If you drive automatic and are younger, renting becomes much more expensive.
My parents and I mostly stayed in Bed and Breakfasts, but we spent one night in a castle and the last couple nights in a hotel in Dublin.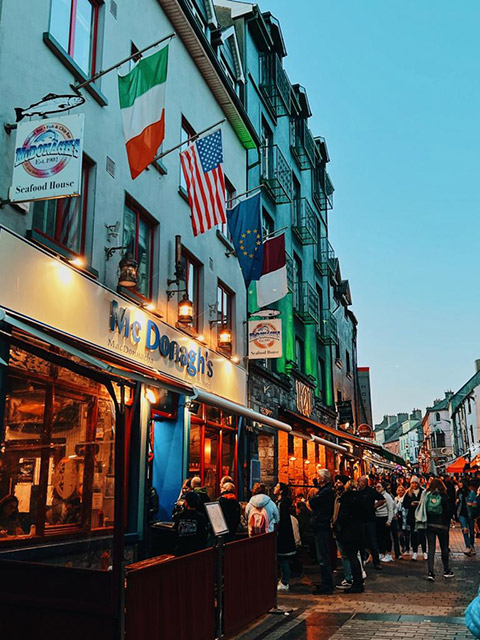 Galway
We started the journey by heading from Dublin to Galway where we checked out the local pubs and walked along the waterfront. Our favourite pub was the beer garden in the back of O'Connells. This place was recommended to us by a couple on the bus who told us about the stove oven pizza.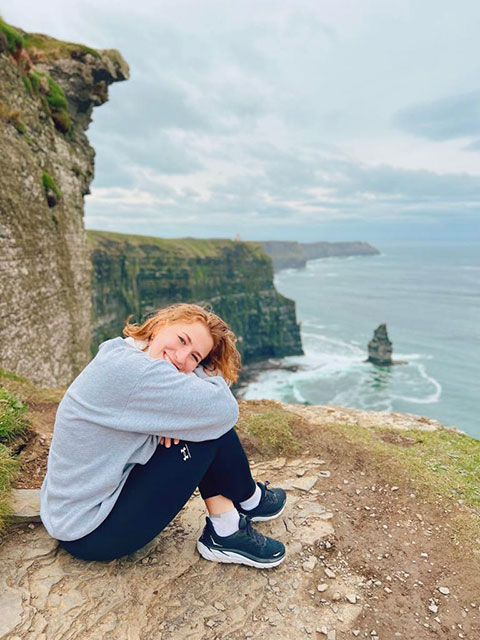 Tessa at the cliffs of Moher
After leaving Galway, we headed to the Cliffs of Moher. We luckily missed the rain while we walked alongside the cliffs. It was an incredible feeling to finally see the Cliffs of Moher in person. If you are unable to rent a car, Cliffs of Moher and Galway are accessible through bus tours departing from Dublin.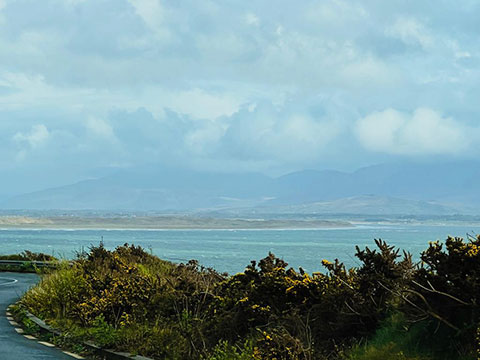 Dingle Peninsula
Next, we drove south to the Dingle Peninsula. It's recommended to either do the Ring of Kerry or the Dingle Peninsula since both offer similar stunning views. Stopping in Dingle we ate some delicious mussels and skipped rocks on a nearby beach.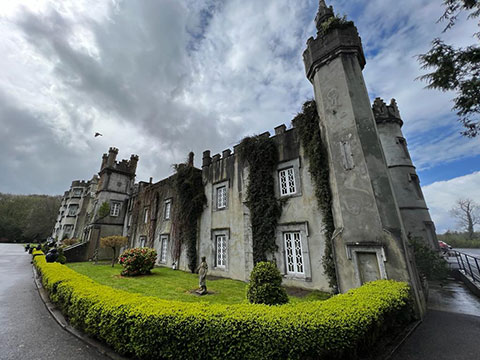 Ballyseedy Castle Stay
When arriving to the Ballyseedy Castle, we were greeted by an Irish wolfhound. Molly was a gentle giant and spent most of our stay napping in the foyer.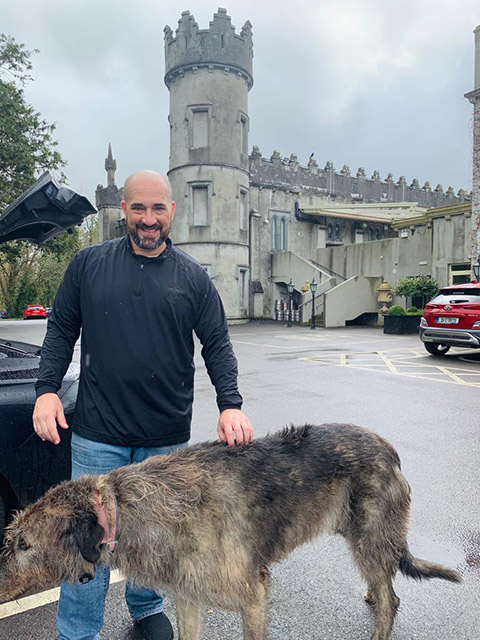 Tessa's dad and Molly, the Irish wolfhound
We spent the night catching up on work and people-watching wedding guests at the bar.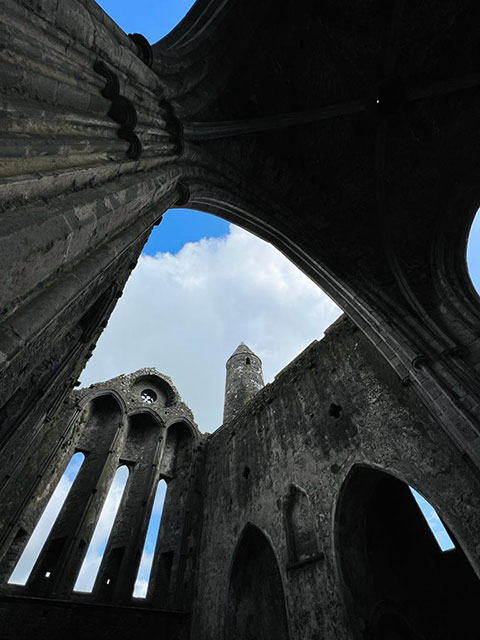 Rock of Cashel
Our next stop was the Rock of Cashel, a group of medieval ruins in County Tipperary. Standing in the Rock of Cashel was one of my favourite parts of the trip. The whole structure was so impressive and our tour guide was an excellent storyteller.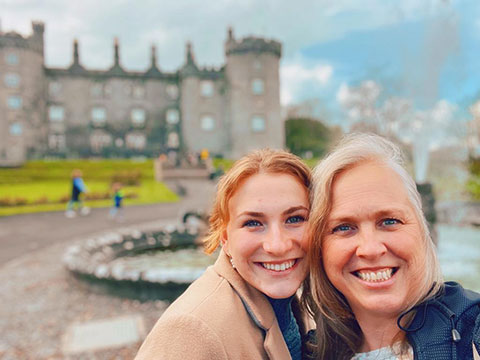 Tessa and her mom at Kilkenny Castle
The next castle we saw was in Kilkenny. Out on the lawn, families were playing and walking their dogs. Inside we got a tour of the entire castle. While there, we ate at the historic Kilkenny bar in Kyteller's Inn. After shopping around, we headed over to Dublin.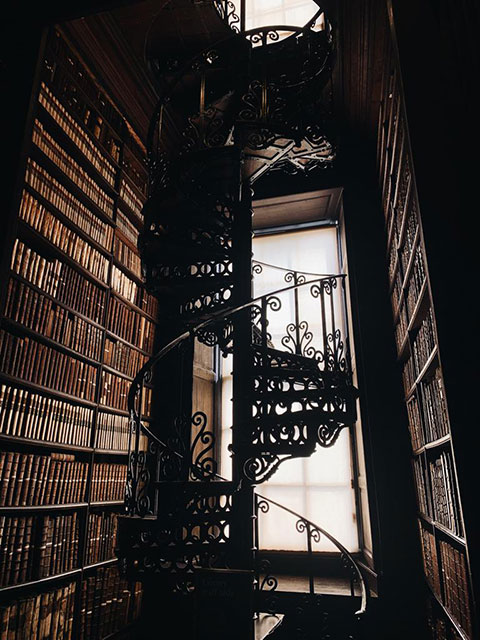 Trinity College Library, Dublin
Ending our journey, we arrived in Dublin where we returned the rental car. We spent a couple days exploring Dublin using the Hop on and hop off bus. We checked out the Book of Kells at Trinity College, the 360 bar at the Guinness Storehouse, Teeling Whisky distillery, the GPO museum, the Little Museum of Dublin, and the Temple Bar area.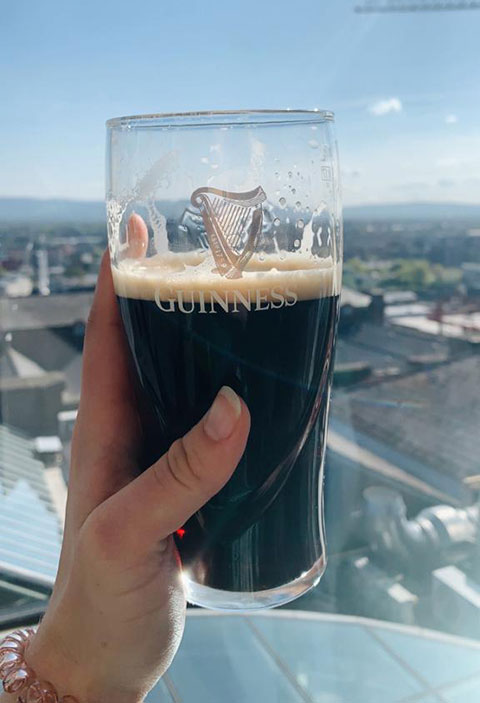 Pint of the black stuff in Dublin
Dublin is just a two-hour bus or train ride away from Belfast, so I easily travelled back after my parents flew home. I'm so glad they could make the trip to see me and we were able to explore new places together.
Flying in the Common Travel Area
England, Scotland and Wales are also easily accessible with flights and ferries! There are many concerts and music festivals in Belfast. However, other events are just a short flight away in the common travel area. This year I flew to Scotland to see Dylan and Bastille perform in Glasgow. You can hear more about my trip to Scotland and other trips around Europe here. In June, I flew to Manchester to see Mitski and Harry Styles.

Tessa at the Harry Styles concert in Manchester
I flew out from Belfast around seven in the morning. It only takes about an hour to fly to Manchester so I knew I could fly over the morning of the concert. Upon arriving at Manchester Airport, I took a short train over to the city centre. There, I met up with my friend Jess and grabbed drinks at a bar in the Gay Village.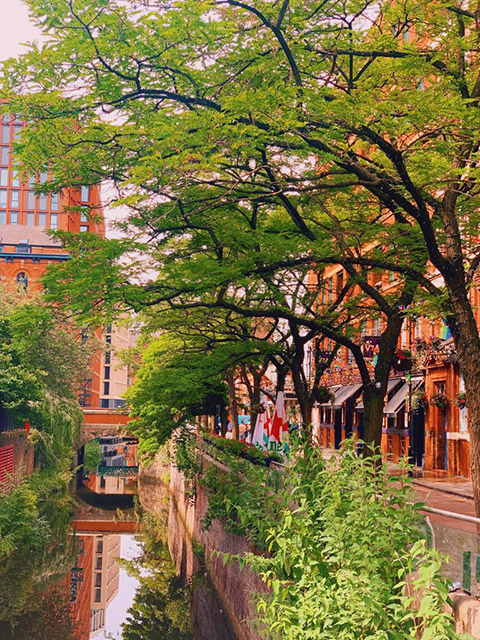 Canal Street, Manchester
Afterwards we checked into our hotel and got ready for the concert! Following the crowd of colourful boas and pink cowboy hats, we got on a tram and headed to the Emirates Old Trafford Stadium. Arriving late at half past five, we walked right through with no queue.
The concert was incredible and it was so cool to see Harry perform so close to his hometown. The following morning, we wandered around Manchester and then headed back to the airport for an easy flight home.
I plan on doing a couple hikes around Newcastle, Northern Ireland as well! There are many places you can go outside of Belfast for weekend or longer trips. I hope this helps you begin to brainstorm locations for your next adventure!
Find out more
Translink for busses and trains
More Belfast and Northern Ireland blogs
Tessa Rendina

Conflict Transformation & Social Justice | Master's Student | USA

I am a 22-year-old Conflict Transformation & Social Justice MA student at Queen's. I moved to Belfast from the Mid-Atlantic region in the US in September 2021. Outside of class, I play Gaelic football, volunteer for the Horn of Africa People's Aid NI by teaching English to migrants living in Belfast, and intern for the Centre for Democracy and Peace Building. Additionally, I love to hike, surf, and boulder (even though I am not the best at them). I look forward to sharing my experiences with you all!