Where are the best places for a bite around campus?
Really hungry but not much time between classes? Charlotte's here with her guide to the best places to grab some food around campus. Warning...contains seriously delicious eats.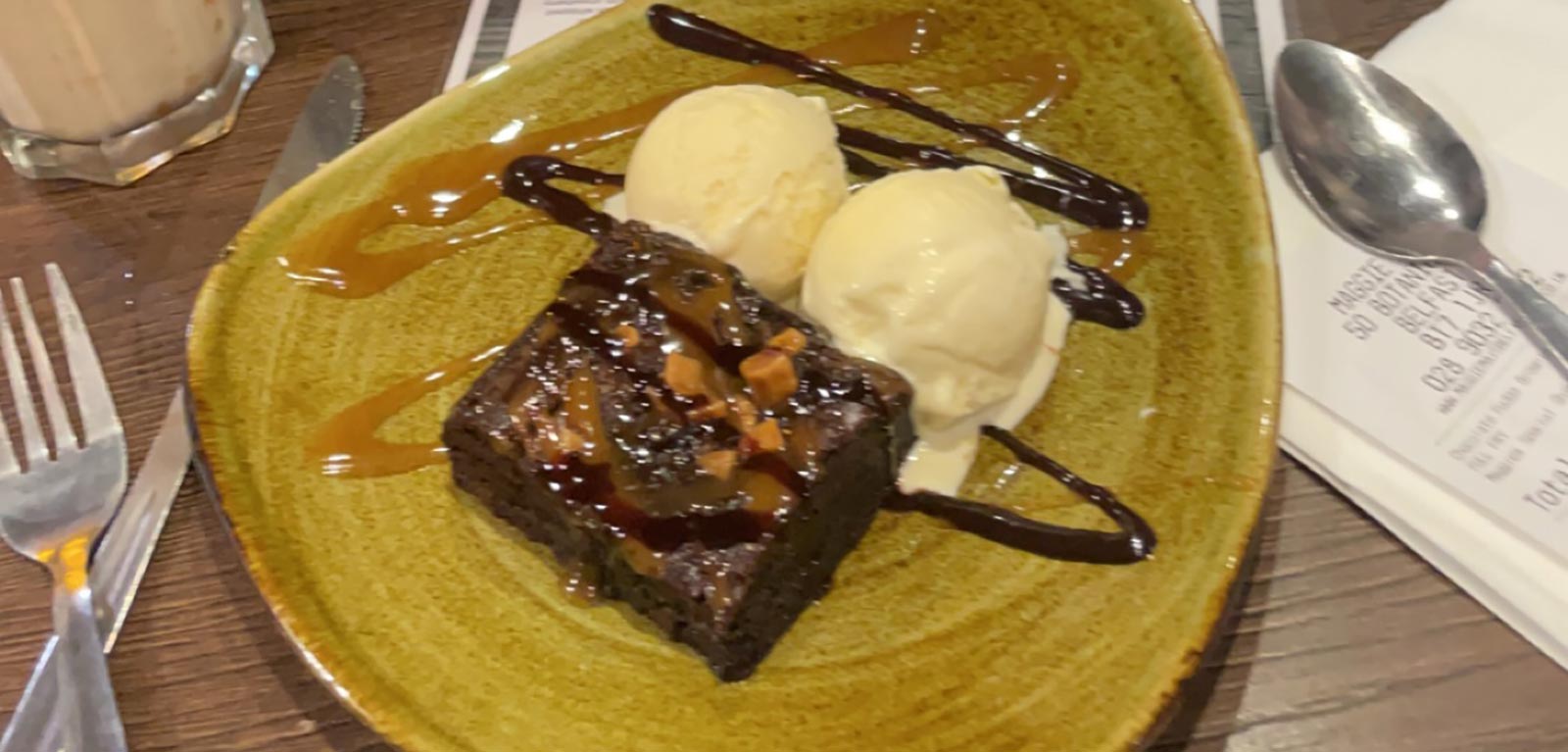 Many students find their timetable has an annoying gaps of an hour or two between lectures where there is no point in heading back home. In order to tackle the boredom of this gap in between classes I have come up with a list of my favourite coffee and lunch spots that I visit to use up my time and either work or relax with friends.
All of these are right by the university either along Botanic or opposite the University.
One Elmwood: Cheap Eats
For a cheap lunch with friends when I don't feel like working and want to relax my brain I tend to visit the Student Union bar at One Elmwood to get a cheap pizza or cheesy chicken nuggets as the food there is all roughly around £5.
Downstairs in the Students' Union there is a small supermarket with a hot counter section serving different food each day which is perfect to take away and go and sit on one of the SU sofas to enjoy. This is easier to do when you have work that you want to get done as you can take that food with you to the library or to a room in the SU.
Botanic Avenue has it all
For sit down meals or takeaway coffees, Botanic is the perfect street to find different type of food from Burgers at Tribal Burger to Asian food at 3Levels Asian Fusion to coffee and snacks from Starbucks and Greggs. Botanic has just a wide variety of choice that I found it hard to limit down my list however I have managed to pick my top 5.
Top Five Picks on Botanic Avenue
Pick the Healthy option at Juice Jar
First off at number 5, for a healthy snack to takeaway I like to go to Juice Jar. They offer juices, smoothies, yoghurts and so much more. My go to order from Juice Jar is called 'The Red Bowl' which is an acai bowl filled with strawberries, raspberries, banana and granola. I usually buy a 'Straw Split' juice to accompany this which is Apple, Banana and Strawberry. This usually costs me £12 in total but there are cheaper options on the menu.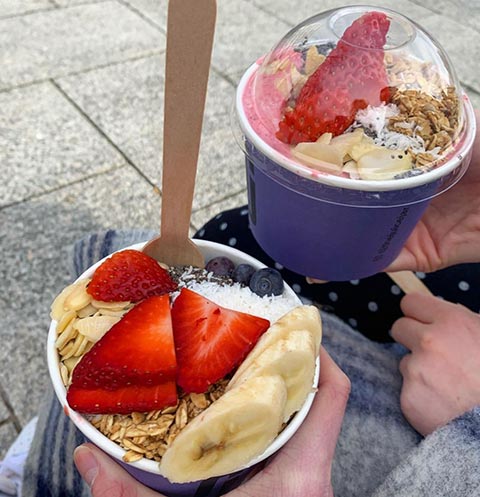 Juice Jar granola
Town Square
Placed a number 4 would be Town Square on Botanic. Town Square doubles as a bar at night however in the day time I usually visit for their s'mores. In the daytime they serve tacos, breakfast baps, sandwiches, salads and burgers however I usually skip all of these options and go straight for either their chocolate fondue or s'mores.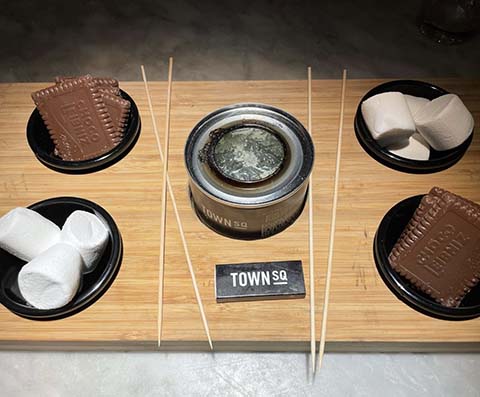 S'mores at Town Square
For £10 you can get a sharing s'mores platter with friends which comes with a cute over the table burner and a platter to roast your marshmallows on with then a side of chocolate biscuits. It is a lovely social activity with friends and will fill you up a lot. The fondue is also lovely and comes with strawberries ad marshmallows to dip into the chocolate melting pot.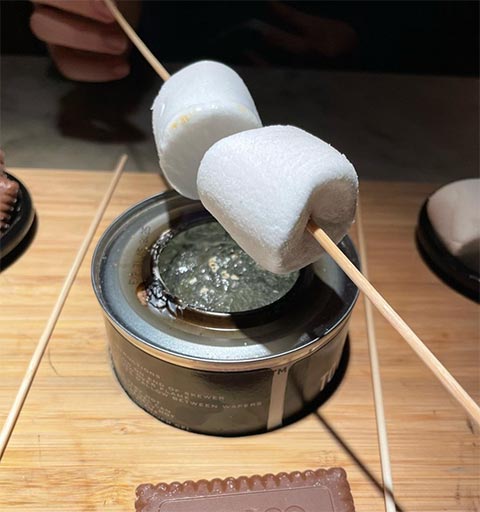 S'mores time!
Boojum (I mean...obviously)
At number 3 I would put Boojum which is a much-loved burrito shop around Belfast. Boojum build your own burritos vary in price depending on what you fill them with – I usually spend about £8 on mine. The burritos are huge and tend to last me 2 meals so I always keep my leftovers in my fridge for university the next day.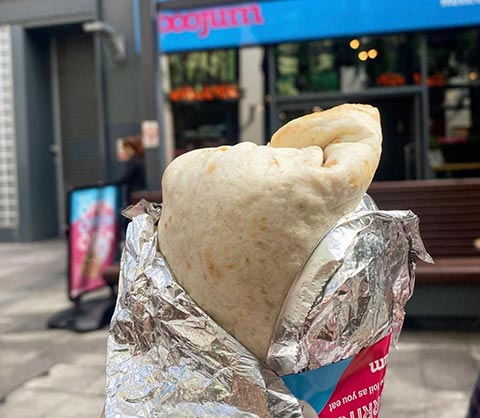 Feed yourself for two meals at Boojum!
French Village
In second place would be French Village which has stores in a few locations around Belfast. French Village is a lovely bakery which also does hot food as well as cakes, pastries and buns to eat in. Every time I go I like to get their French toast with bacon as it is homemade by the bakery. French Village is a bit pricier than the others however arguably it is well worth it for how lovely their cakes are.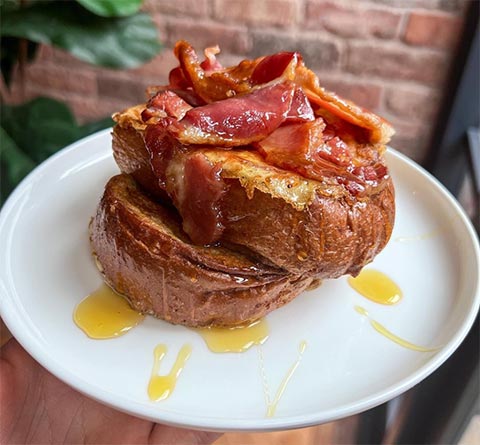 French toast at French Village
Maggie Mays
Finally in first place has to be Maggie Mays. Before coming to Belfast, I had never heard of it but since coming over here, I have eaten here at least once a week whilst at university. They offer a lunch menu but their main attraction are their milkshakes and brunches. The all-day Belfast breakfast is a large meal which will easily will fill you up.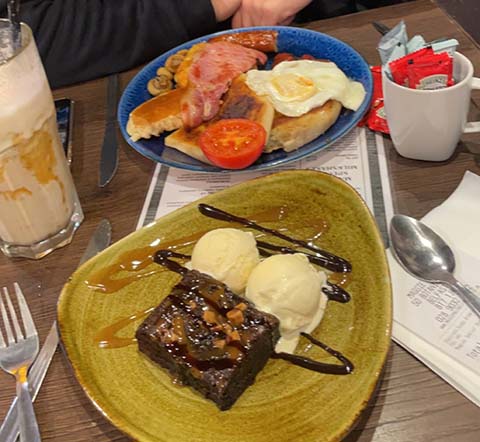 Maggie Mays- great for a fry-up and also dessert!
The pancake stack is sweet but lovely and for the perfect dessert I would recommend the hot salted-caramel brownie with ice cream as it is only £5. The Maggie Mays milkshakes are renowned in Belfast for being wacky and tasty with over 20 flavours to choose from.
With all those choices you'll not go hungry between classes!
Find out more
Eating and Drinking in Belfast
Charlotte Jennings

Politics and International Relations | Undergraduate Student | London, England

I'm a Politics and International Relations student in my second year at Queen's. I am from London and currently live in student housing but lived in Elms BT9 last year. I love to be a busy person and am a member of multiple societies and teams at Queen's.

I am also undertaking a charitable project at Queen's called the Zambia project where we host fundraisers in order to collect money and aid for our missionary trip to Zambia. In my spare time I teach water sports in Bangor and so far I have thoroughly enjoyed my time in Belfast even though it is very different to London. I would highly recommend the university to anyone as I have had the best experience here so far and have fallen in love with this country.