Medical Student Life: Expectation vs. Reality
Worried that studying medicine equals constant study and no social life? Not at Queen's! Check out Disha's blog on her expectations of being a medicine student at Queen's versus the reality.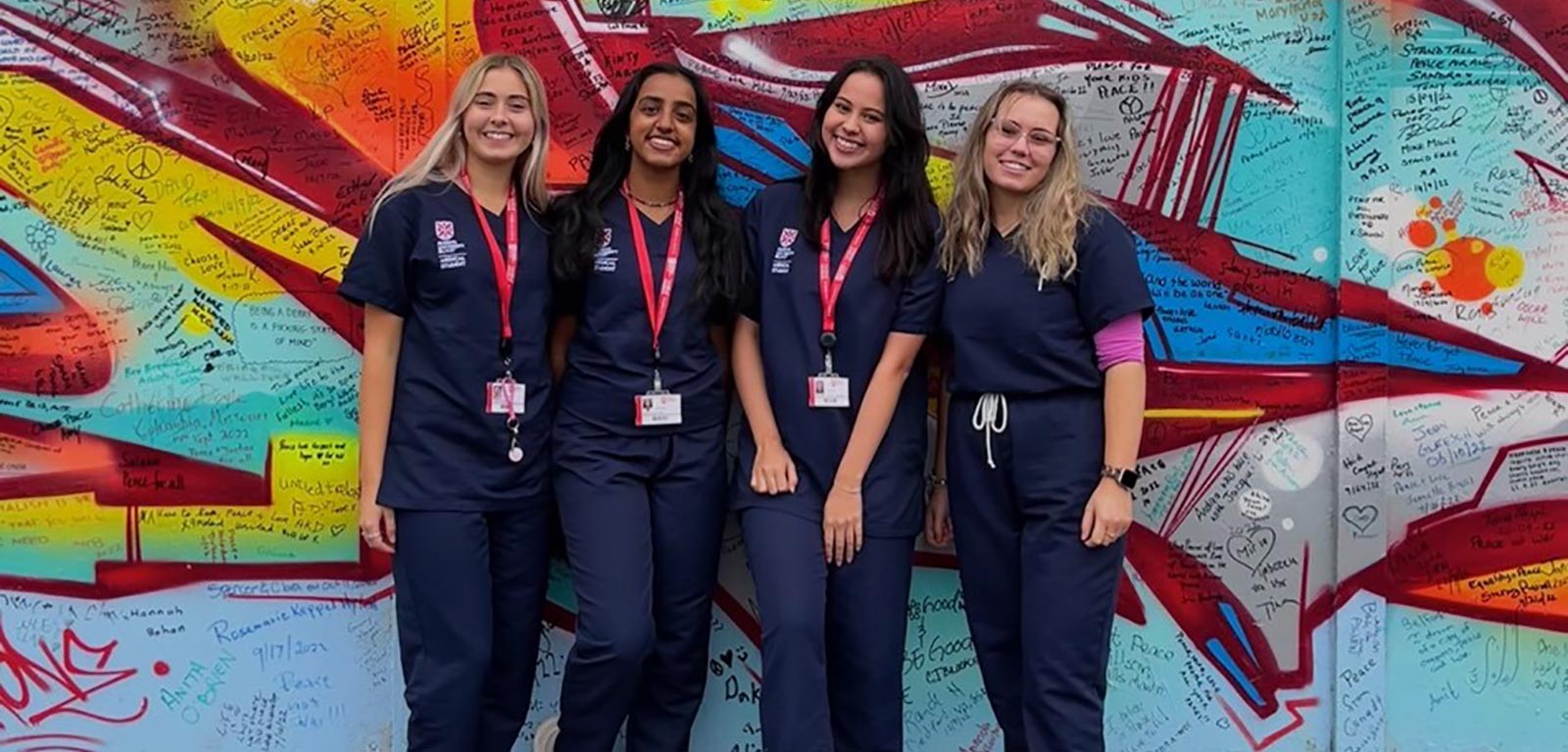 EXPECTATION: I will have no time to do anything but study constantly
REALITY:
This is probably the expectation that I debunked early on in my time at university. While there is a wealth of information to digest and understand during lectures, there is a balance that has to be maintained for your physical and mental well-being. There are opportunities during the day to spend an hour or so doing some light work to ease the workload in the evening.
Make use of your years at university and take advantage of the vast number of societies available. The numerous clubs and societies that Queen's has that offers you the chance to keep up with hobbies or spend some time exploring interests that you have never even heard of!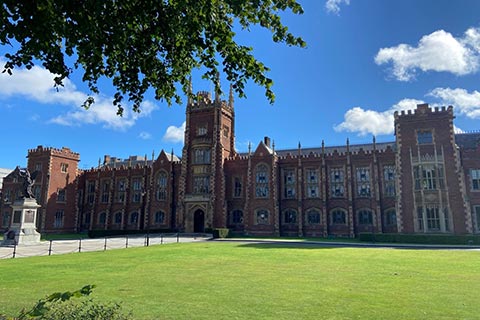 The Lanyon Building
EXPECTATION: I'm on my own at university with little to no help
REALITY:
This is true in some ways. University is about independent learning with most courses, including medicine, expecting students to complete extra reading outside of lecture times. However, the network of support put in place to support students on this transition is great.
The division of the university into separate schools allows for an efficient line of communication for any queries and concerns you may have. This was something I never expected coming in and has truly surpassed my expectations entirely.
The supports in place for students include the Student Voice Committee who discuss potential matters that arise with the lecturers and administrators to resolve them efficiently and effectively. Lecturers are always only an email away, waiting to assist in any problems you might have with the content of lectures or even if it is just for a chat.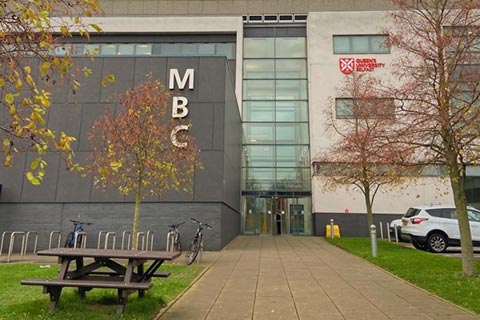 MBC building
EXPECTATION: My experience at university will be limited because of how intense my workload is
REALITY:
Ultimately, we are all here to become qualified in our field of interest. This is true but it's here where your time management and organisation skills come into play. This is key to having fun even with an intense workload.
Learn how to use your Google calendars, create your notion pages, or watch those bullet journal videos on YouTube. Whatever format you use, make sure to keep a track of those assignments and deadlines so you can plan around them to ensure you get the best of both worlds.
This allows you to say yes to those things that you really want to get involved in without feeling the sense of guilt that you've left the books at home.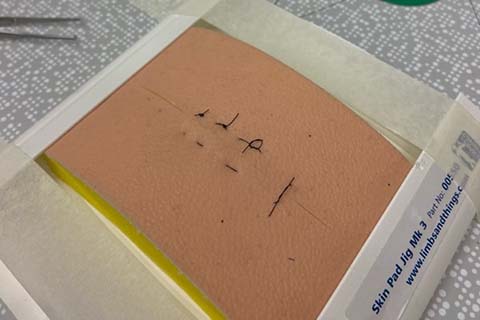 Beginner's Suturing Workshop organised with QUB Scrubs
EXPECTATION: I'm going to struggle to make friends
REALITY:
While there is always going to be a lingering fear about meeting new people and not knowing if you'll settle in like you had at home, one of the first things I noticed was how welcoming and warm everyone was at university. We were all in the same situation, trying to put out the best versions of ourselves.
In hindsight, it was so unnecessary to be worrying as good friends come with time. Be proactive and ask the person next to you in a lecture if they want to go for a coffee or explore the city. These are the people that will have the rare ability to relate to you and who will serve as a valuable support system in times of stress.
Join societies so you meet with people outside of your course. It is a little daunting initially, but it is something so worthwhile and will benefit you in the long run.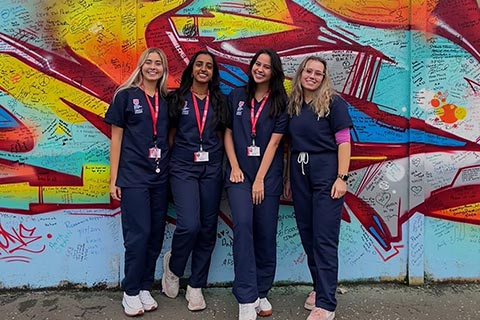 Disha and pals
EXPECTATION: Medical students have no social life
REALITY:
Leaving the best expectation to debunk to last! You're bound to spend more time studying than you did in secondary school but to think that medical students wouldn't have a social life during their years at university was incredibly naïve of me. Having talked to students in older years even they would agree with me on this one.
With the fantastic efforts of societies such as BMSA (Belfast Medical Student Association) and SWOT (Students Working Overseas Trust), there are an array of events to spend with your friends in a non-academic environment. A social life is actively advocated for, with the likes of nights such as the infamous toga party at the beginning of the year and the back-to-school night out!
All these experiences make your journey through university more memorable. With the nightlife being so central to the university experience in Belfast, there really is something for everyone.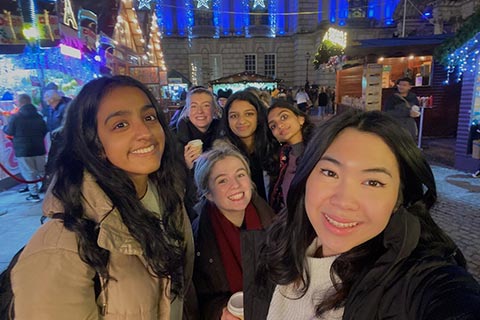 At the Belfast City Christmas Markets
Find out more
Disha Suresh Kumar

Medicine| Undergraduate Student | Dublin, Ireland

Hi! I'm Disha, a 19 year old student originally from Bray - a little seaside town just outside of Dublin. I have started into my first year of Medicine at Queen's and have been enjoying every moment of it! I love my course because it combines my love for helping people with the complexities of the human body, something which has always fascinated me.

Since coming to Queens, I've joined clubs such as surgical society (QUB Scrubs) and musical theatre (QMTS). If you ever see me on campus, stop me for chat as I'd love to say hi! I hope my blogs help prospective students with questions they might have about university or medicine in general as I was in a similar position not so long ago!