Come see the Catholic Chaplaincy
You don't need to leave your faith behind when you start at Queen's. Join Ciara for a tour around the Catholic Chaplaincy and find out about all the groups and events that you can be a part of.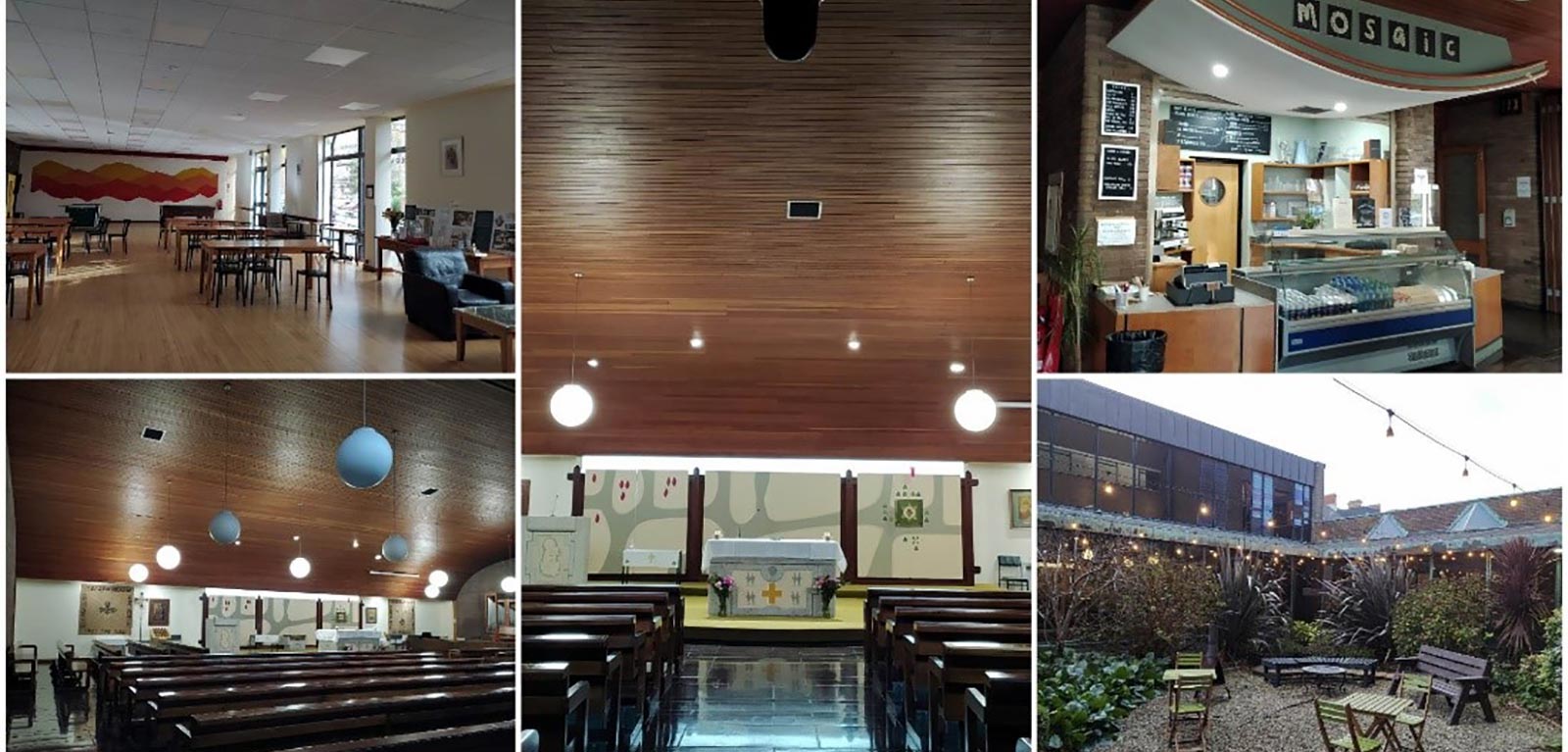 There's a Catholic Chaplaincy at Queen's?!
Yes! It's in the middle of Elmwood Avenue, the building with the bay windows!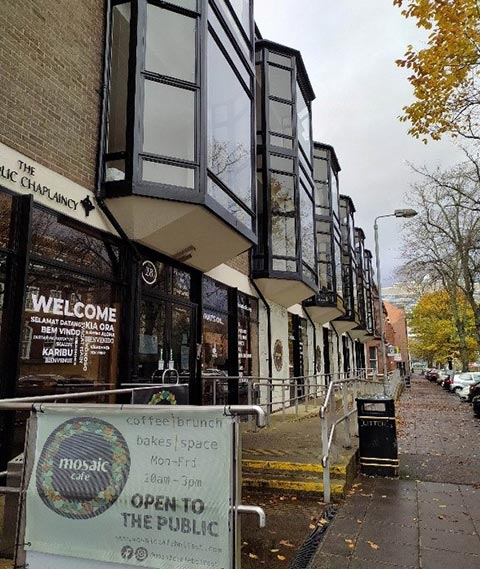 Open to all students, it's a welcoming place to find community, have fun and discover and deepen your faith. It is there for you and what you want to get out of it is up to you. If you do want to get involved there's plenty on offer…
What's Inside?
Ground Floor
On the ground floor of the Chaplaincy is the reception desk if you have any general queries and Mosaic café (@mosaiccafebelfast), a café open to the public and family owned. It offers coffees and food at reasonable prices and open Monday to Friday 10am-3pm. Don't forget to ask for student discount!
There is also a large social space where most of our events take place and a small garden for café customers and barbecues in the Summer. At the back there is the main chapel where Holy Mass takes place Mondays, Wednesdays, Fridays at 1:05pm, Tuesdays and Thursdays at 5:15pm and Sundays at 8pm.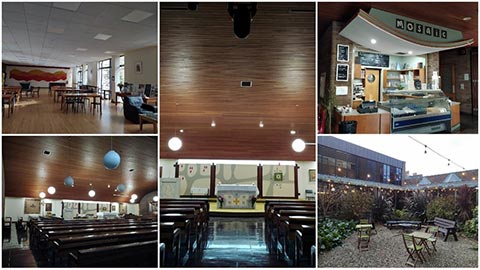 Social area, chapel, Mosaic Café, and garden
First Floor
On the first floor there is a lounge. A comfortable space with sofas for students to use during the day to rest and meet friends in-between classes. There is also a student kitchen, equipped with tea and coffee making facilities, a microwave and an oven.
The offices are also on this floor including offices for the priest and Catholic chaplain, Fr. Dominic McGrattan and Director of Campus Ministry, Shannon Campbell who are always available if you want to talk about an aspect of the Catholic faith, find out more about the chaplaincy or just need a chat.

Offices, student kitchen and lounge
Second Floor
On the second floor is the prayer room which has faith-related books to use during prayer for students who pop it at any time during opening hours. Finally, is the library, a student study space where there is always room to study at busy exam times!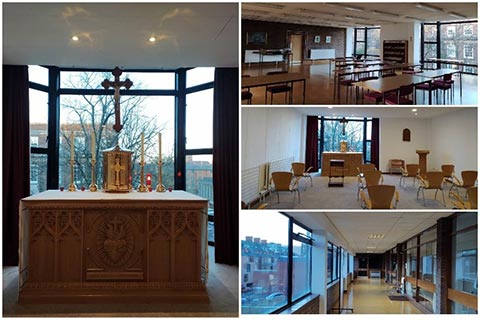 Prayer room, library and second floor
So, there's a lot of space…but how do I meet people?
Why not try one of our groups or societies? They are always open to new members and always have new social events on for people to get to know each other.
Groups and Societies
Bible Study
Bible Study is organised by FOCUS (Fellowship of Catholic University Students) which is at different times across the week and open to anyone. It is a great place to start if you are curious about the Catholic faith.
Blest
This is a women's faith group who meet on Tuesdays at 7pm. We are currently following a series on discovering what prayer is but also meet casually to build friendships. Past events include trips to the QFT, painting nights and hosting guest speakers such as Professor Monica McWilliams. Find them @blestqub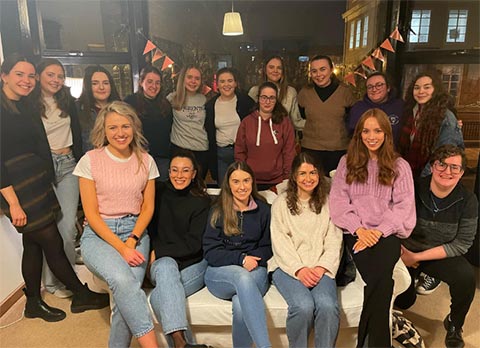 Blest on International Women's Day
Knight Of St.Columbanus
This is a men's faith group who meet on Tuesdays at 6pm. They are currently following a series on growing in Christian virtues but also meet for fellowship and fraternity. They recently had Belfast Giants' Captain, David Goodwin visit to talk about Christianity and Sport. Find them @kscqueens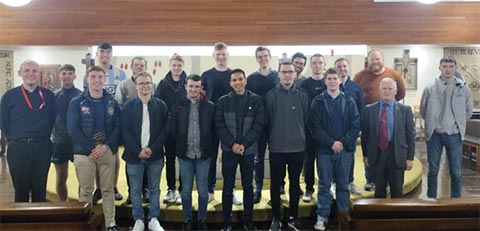 Knights first meeting of the year
Awaken
This event involves a time of Eucharistic Adoration, reflection given by the priest and accompanying music. It is in the middle of the week for students to take time out, rest in the presence of the Eucharistic and recharge their spiritual batteries. Followed by tea and biscuits! Awaken is on Wednesdays at 7pm.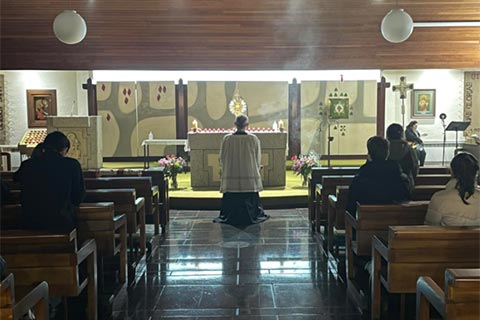 Awaken in the chapel, and teatime afterwards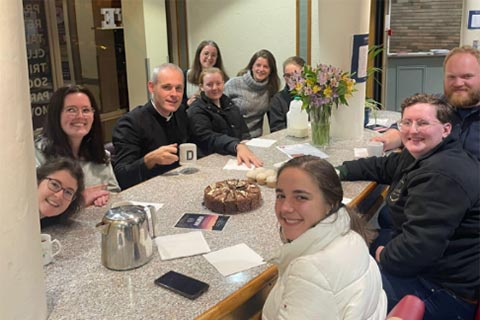 St. Luke's Guild
This is a group for healthcare students to meet others who share a faith and invite speakers who talk about being Catholic in the healthcare field. They meet on Wednesdays at 6pm.
Canticle
The choir is always recruiting new members whether you are an experienced singer or haven't sung a note in years! We meet before 8pm mass every Sunday and occasionally meet at 6pm on Thursdays leading up to important events such as the annual Carol Service.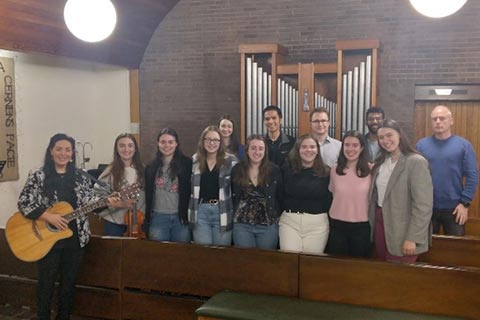 Canticle at the first mass of the year
We also host social events such as Pumpkin Carving and Karaoke nights. A few members of Canticle even sang for Pope Francis last April during the Chaplaincy's Rome Trip. Find out more about Canticle.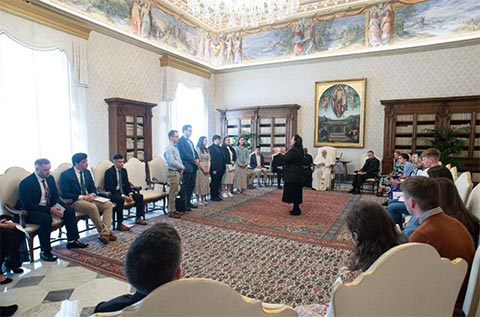 Canticle singing for Pope Francis
There really is something for everyone! This is just a snapshot of what the Catholic Chaplaincy at QUB gets up to. If you ever want to just pop in and have a look around it is open Monday to Thursday 10am-10pm, Friday 10am-3pm and Sunday 7-9pm. Keep an eye on the Facebook and Instagram @catholicchaplaincyqub for upcoming events to meet people and get involved!
Find out more
Chaplains and Religious Representatives
Ciara Cunningham

Psychology| Undergraduate Student | Belfast, NI

I'm a final year Psychology student at Queen's. I was born and raised in Belfast, just 20 minutes from Queen's. Even though I thought I knew everything about Queen's before coming here I'm still learning more about the university everyday and have met so many wonderful people on my adventures at university!

During my time so far, I've been an internationalisation committee member, secretary of QUB Sign Language Society, psychology research assistant and spend most of my time in the Catholic Chaplaincy where I have met so many unique people from different courses and countries I wouldn't have met otherwise. I'm also on placement at the moment in a Primary school and loving every second of it!