Deputy First Minister and Junior Minister visit Queen's to discuss importance of higher education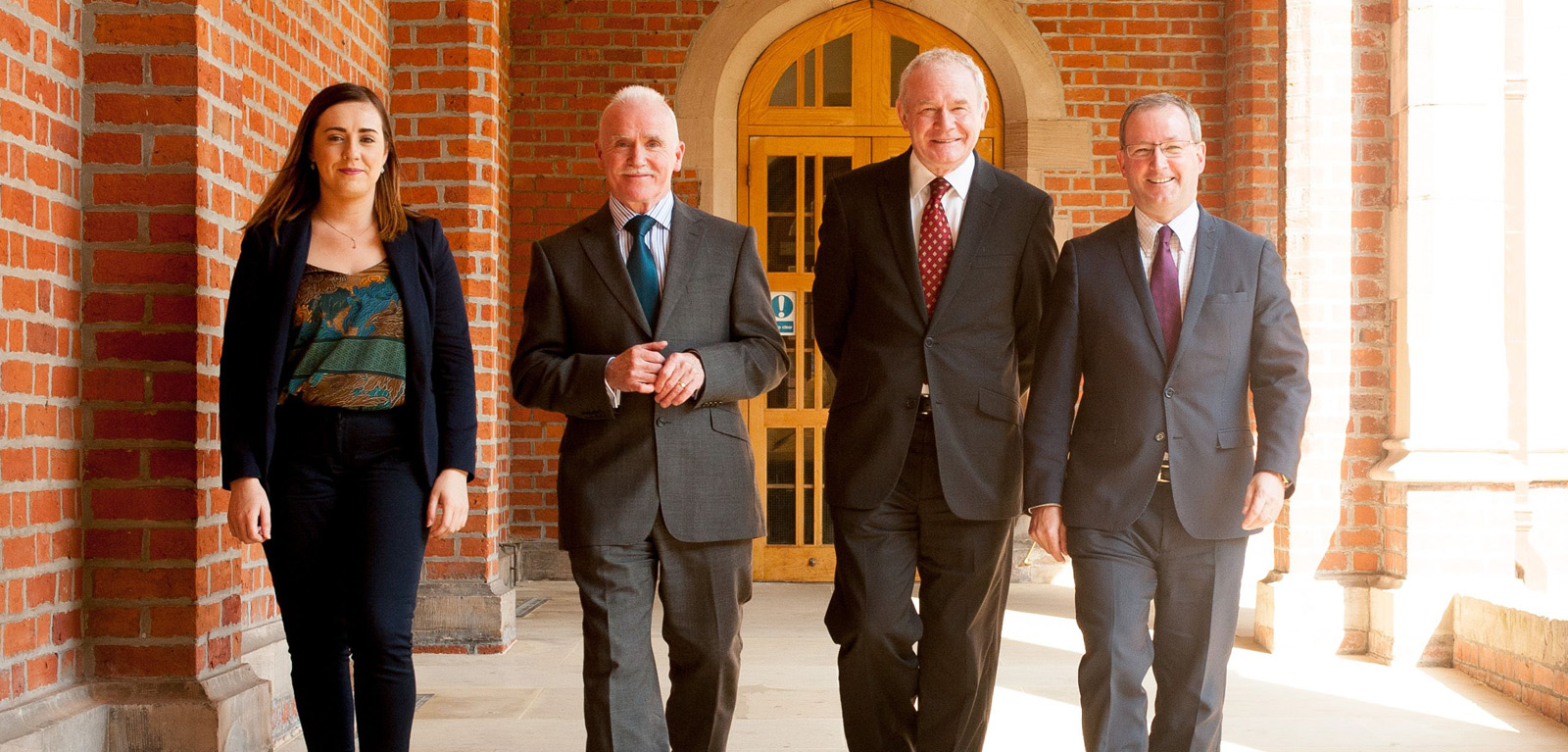 The deputy First Minister Martin McGuinness and Junior First Minister Megan Fearon visited Queen's University today to discuss the impact and importance of higher education and the contribution made by Queen's University in enabling the delivery of the Programme for Government.
The meeting, hosted by Vice-Chancellor Professor Patrick Johnston, also highlighted the urgent need for an agreement on a sustainable funding model for higher education that will resolve the current 'brain drain' of our local talent.
The world-leading research taking place at Queen's, which is ranked in the top 1% of global universities, and the outstanding social and economic contribution it makes to the local economy, totalling some £1 billion, were also discussed.
The deputy First Minister Martin McGuinness said: "Queen's University plays a significant role in the social and economic life across Belfast and wider community. The University has an outstanding international reputation which showcases the best of the north of Ireland globally.
"I welcomed the opportunity to meet with Professor Patrick Johnston, Vice-Chancellor, to discuss research output at Queen's University particularly in the areas of medicine, cyber security, peace building and global food security. For our part the Executive is committed to working in partnership and supporting the higher education sector, which is vital to our continued economic and social development."
Vice-Chancellor of Queen's University, Professor Patrick Johnston, said: "We were delighted to welcome the deputy First Minister to Queen's and to have the opportunity to discuss the impact and importance of higher education and the vital role it will play in supporting the delivery of the new Programme for Government. We were particularly pleased to welcome back Queen's alumnus Junior Minister Fearon to the University.
"The meeting also focussed on the urgent need for an agreement on a viable funding model for higher education that will sustain the sector and bridge the funding gap that currently exists with England and Scotland. With some 37% of the 2016 local cohort of A-Level students leaving our shores to study at universities outside of Northern Ireland, the 'brain drain' of our local talent is a serious problem and the University is committed to working with the Executive to resolve this."