His Royal Highness The Prince of Wales launches Queen's first Global Research Institute
His Royal Highness The Prince of Wales has officially launched Queen's first Global Research Institute today (Monday 23 May 2016).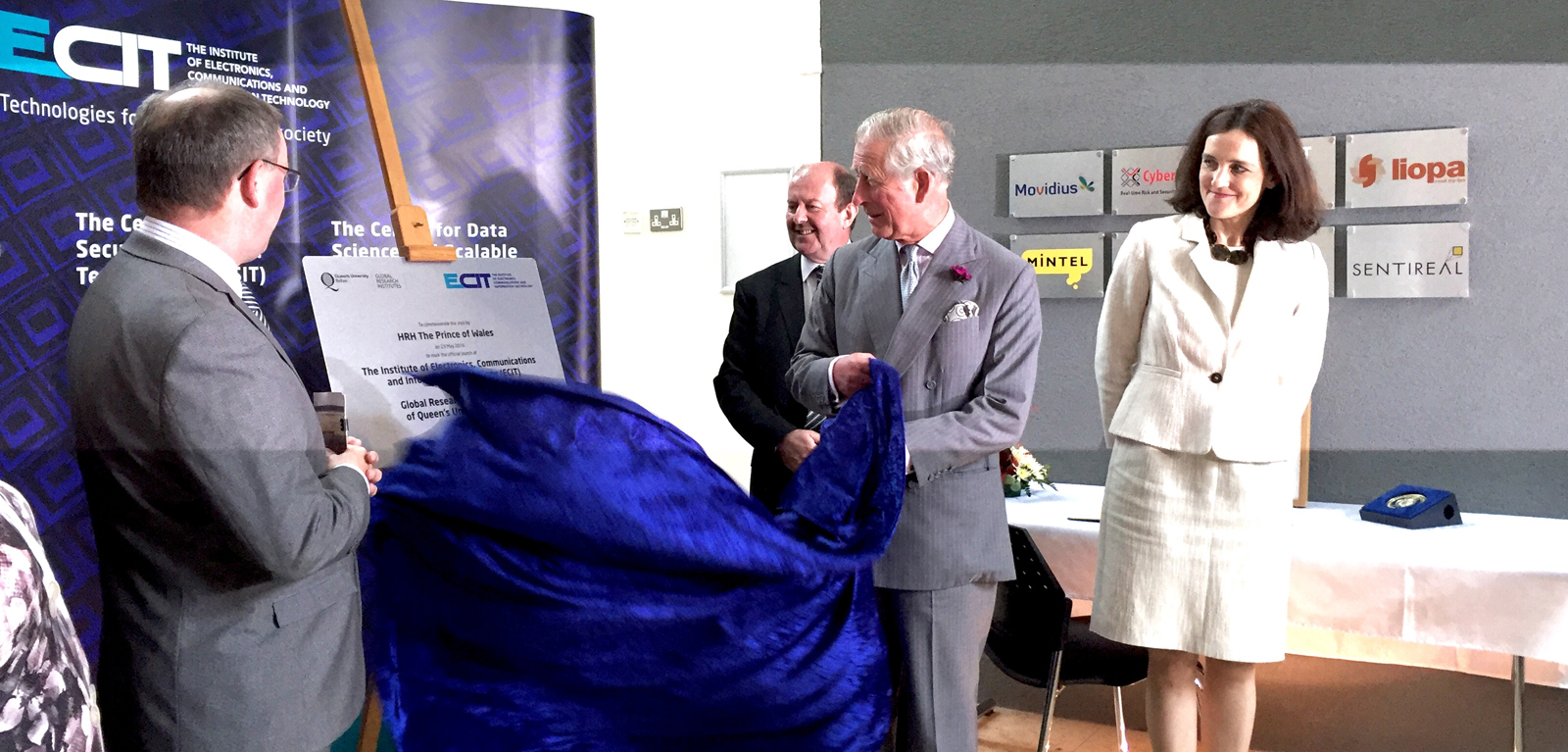 The Institute of Electronics, Communications and Information Technology (ECIT), the first of four Global Research Institutes to be unveiled at Queen's, was launched at a special event in the Northern Ireland Science Park today. His Royal Highness The Prince of Wales received a tour and saw the world leading research taking place in ECIT before unveiling a plaque to officially launch the Global Research Institute.
Global Research Institutes are the University's flagships for interdisciplinary research in areas of major societal challenge.
ECIT's unique innovation model, strong links with industry around the globe and its track record for attracting and creating high value jobs in the technology sector are factors which secured its elevation to Global Research Institute status within Queen's. It is made up of three world leading Centres: the award winning UK national Innovation & Knowledge Centre for cyber security, The Centre for Secure Information Technologies (CSIT); The Centre for Wireless Innovation which is redefining communications for a smarter world and The Centre for Data Science and Scalable Computing which is addressing the information explosion.
Queen's University's Chancellor, Dr Thomas J Moran, said: "Our research mission is to be distinguished by our academic strengths and recognised globally for the social, economic and cultural benefit we deliver through our research. Having His Royal Highness The Prince of Wales launch ECIT as a Global Research Institute is an honour and one befitting the occasion."
President and Vice-Chancellor of Queen's, Professor Patrick Johnston, said: "Our Global Research Institutes bring together a critical mass of excellent researchers from a wide range of disciplines in world-class facilities to tackle some of the greatest global issues of our age. Our work in Cyber Security, which is one of the key tenets of ECIT, was recognised by Her Majesty the Queen earlier this year with a Queen's Anniversary Prize. Through our Global Research Institutes, the four central pillars to our research at Queen's, we are committed to advancing knowledge and changing lives."
Professor John McCanny, Director of The Institute of Electronics, Communications and Information Technology at Queen's said: "Our world has become increasingly digitised, affecting how we communicate, manage our finances, access healthcare and even interact with household devices. With more of our information held digitally and connected across multiple devices, significant new challenges are emerging: how can we detect and prevent information theft, fraud and attacks? How can we secure, process and transmit the information created by citizens, enterprise and government? And how can we accelerate the global adoption of resulting technical innovations to deliver economic impact? Through our Global Research Institute we are committed to tackling these major challenges of our time."
In addition to ECIT, the Queen's other Global Research Institutes are: The Senator George J. Mitchell Institute for Global Peace, Security and Justice; The Institute for Global Food Security and the Institute for Health Sciences.
For further information on ECIT visit: www.ecit.qub.ac.uk/
Media
Media inquiries to Claire Kelly, Communications Officer for Research at Queen's University Belfast on 028 9097 5391 and c.m.kelly@qub.ac.uk