Paper meadow in bloom at Queen's
Around 1,500 paper flowers have been 'planted' in front of Queen's University as part of a project to highlight the beauty and importance of art of nature.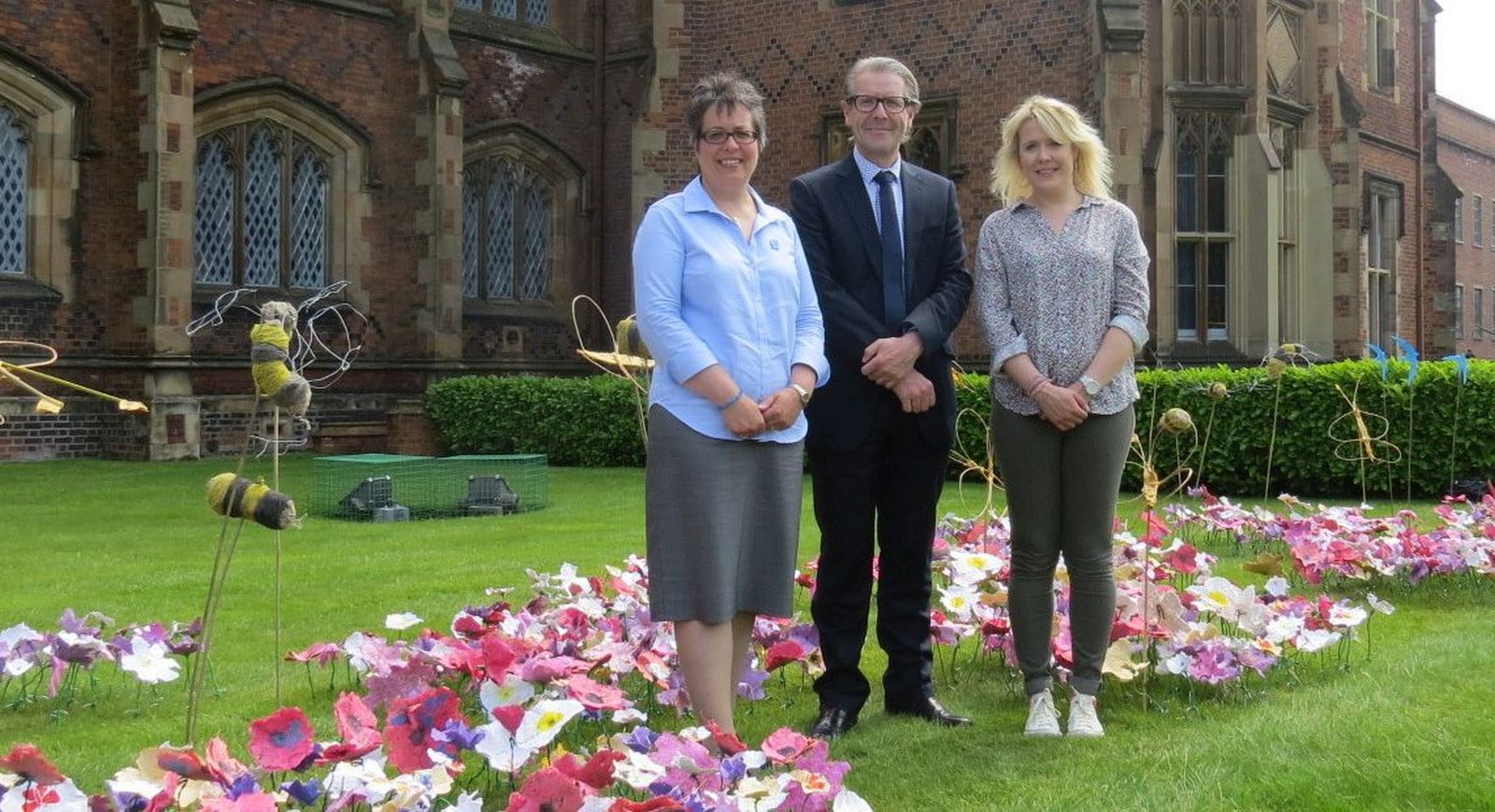 RSPB Northern Ireland has been working with Belfast Print Workshop (BPW) for a number of months to create the huge display and on Monday 6 June the 'Paper Meadows' project finally burst into bloom on the lawn in front of Queen's iconic Lanyon building.
The installation aims to promote the beauty and fragility of nature and highlight the need to protect it, as well as celebrating 50 years of the RSPB in Northern Ireland.
The intricate and delicate paper flowers, embedded with wildflower seeds, represent species that would have once been common in our countryside, such as lesser knapweed, common poppy and yarrow.
BPW artists have used a range of innovative techniques to create a 'meadow' full of vibrant colour and movement. Each paper wildflower was individually sculpted into shape, threaded and woven with wire to enable the stems to sway and move in the wind as they would do in real life.
As part of the installation a number of handmade swift and swallow silhouettes have also been made to 'fly' over the top of the meadow.
Paper Meadows is designed to educate members of the public about the importance of wildflowers for nature, while also inspiring them to do their bit to help give nature a home. During the week-long installation, pupils from Botanic Primary School and Springhill Primary School will visit Paper Meadows and participate in workshops with BPW artists and RSPB NI.
This autumn the Paper Meadows creations will be planted in urban schools across Northern Ireland and next spring and summer they will blossom into life, creating vibrant bursts of colour and vital food for bees, butterflies and birds.
Queen's University Pro-Vice-Chancellor Professor David Jones said:: "Queen's is delighted to partner with RSPB on this exciting project, and to engage with local pupils from Botanic Primary and Springhill Primary Schools who will get the opportunity to participate in workshops with the artists from the Paper Meadows project.

"The Paper Meadows, which will be showcased in front of the Lanyon building at Queen's University, is designed to raise awareness of the importance to protect and nurture our environment. We hope the pupils enjoy getting involved and that this project really inspires and educates them about nature."
Commenting on this innovative project, RSPB NI Director Joanne Sherwood said: "Over the last 50 years we have worked hard to ensure that nature has a home in Northern Ireland. This visually stunning installation is a great way to raise awareness of how everyone can make space for nature in their patch.
"With a bit of ingenuity, and by working closely with partners BPW and QUB, these paper flowers look fantastic now. But next year, they will be even more spectacular as they burst into bloom in school grounds across NI, attracting all sorts of wonderful wildlife."
Don't miss this vibrant celebration of nature at Queen's University, Belfast from Monday 6 to Sunday 12 June.
Professor David Jones
Pro-Vice-Chancellor for Education and Students
Media
Media inquiries to Anne-Marie Clarke (Mon-Wed) or Michelle Casside (Thur-Fri) at Queen's Communications Office T: +44 (0)28 9097 5310 E: comms.officer@qub.ac.uk