Queen's University Boat Race to make big splash
There will be a party atmosphere along the River Lagan this Saturday, 11 June, when Queen's University hosts the 2016 University Boat Race.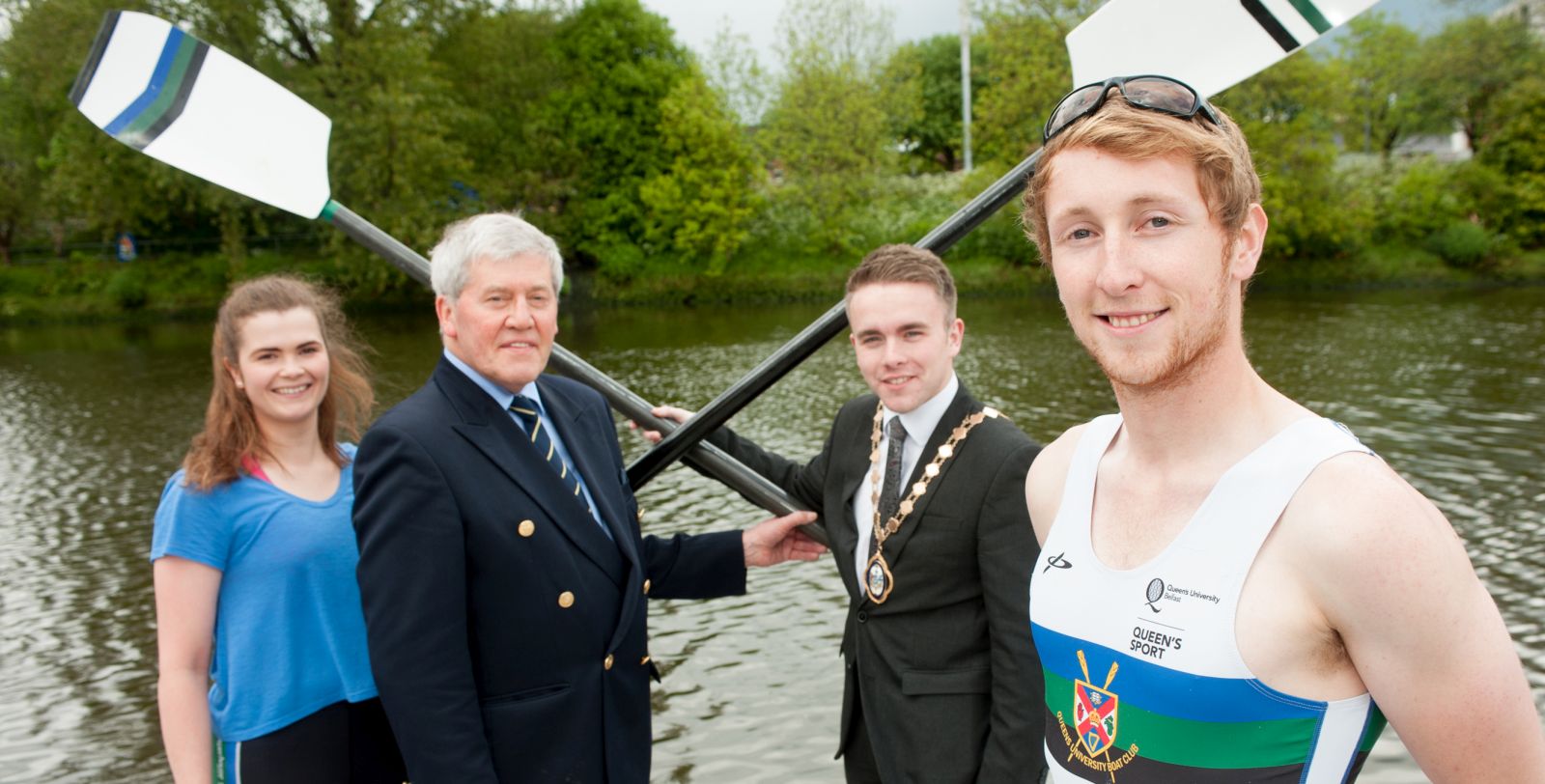 Eighteen crews from across the island of Ireland are taking to the River Lagan from Queen's new £1.2M Boathouse.
Now in its 12th year, the top men's and women's crews from Queen's University Belfast, and Trinity College Dublin, will launch from the newly refurbished Lagan landmark, which has been home to Queen's Rowing Club for 65 years.
School crews from Methodist College Belfast, Portora Royal School and Royal Belfast Academical Institution, along with Bann Rowing Club will also be competing on the day. The event is supported by Belfast City Council and the Department for Communities.

The Boat Race has emerged as one of the highlights in the Northern Ireland sporting calendar and is aimed at schools, families and communities as well as keen rowers. Spectators are encouraged to enjoy the action from the public enclosure at Cutter's Wharf, Lockview Road, Stranmillis where there will be children's entertainment from 11am on the day.
This year spectators can also enjoy a VIP enclosure at Cutters Wharf offering a clear vantage point from the bar's riverside terrace and rear function area. On offer will be lunch, table service and live music. Tickets, costing £25 can be purchased from Queen's Sport Reception in the PEC, by telephoning 028 90681126 or by emailing boatrace@qub.ac.uk.
The event will include 18 races culminating in the main race, when Queen's goes head to head with Trinity College Dublin in a repeat of the first-ever Boat Race back in 2004.
The races take place between 11.30am-5.00pm on Saturday with the starting point upstream of the McConnell Weir, opposite Ormeau Park and below Ormeau Bridge. The crews will finish the 2,000m course opposite Queen's University Boathouse, adjacent to the Annandale Embankment, Stranmillis.
Head of Queen's Sport, Liz McLaughlin, said: "The Boat Race has developed into a truly spectacular event for Belfast, another example of how Queen's is at the heart of the city. It has set a new standard for rowing regattas on these islands and I have no doubt that this will continue with this year's event, particularly as we showcase the refurbished Boat House, which offers a world-class facility for Queen's rowers. We look forward to some promising rowing from the schools teams and welcoming their supporters to the event."
Queen's Head Rowing Coach, Mick Desmond added: "The Boat Race at Queen's has turned into a highly competitive fixture in the Irish Rowing calendar. The event is unique as it showcases our sport to the wider community and gains much needed profile for the universities and schools who compete. It really shows off what is great about the sport of Rowing and it is fantastic that this great spectacle now incorporates our new facilities."
For further information see: http://www.queenssport.com/sites/QueensSport/StudentSport/Events/UniversityBoatRace/
Media
Media inquiries to Lisa McElroy, Queen's Communications Office T; 028 9097 5384 E: lisa.mcelory@qub.ac.uk