Queen's and Shenyang Pharmaceutical University to establish Centre of Excellence
Queen's University Belfast and Shenyang Pharmaceutical University (SPU) have agreed to facilitate development of a Centre of Excellence within SPU's new Benxi campus in Shenyang, China.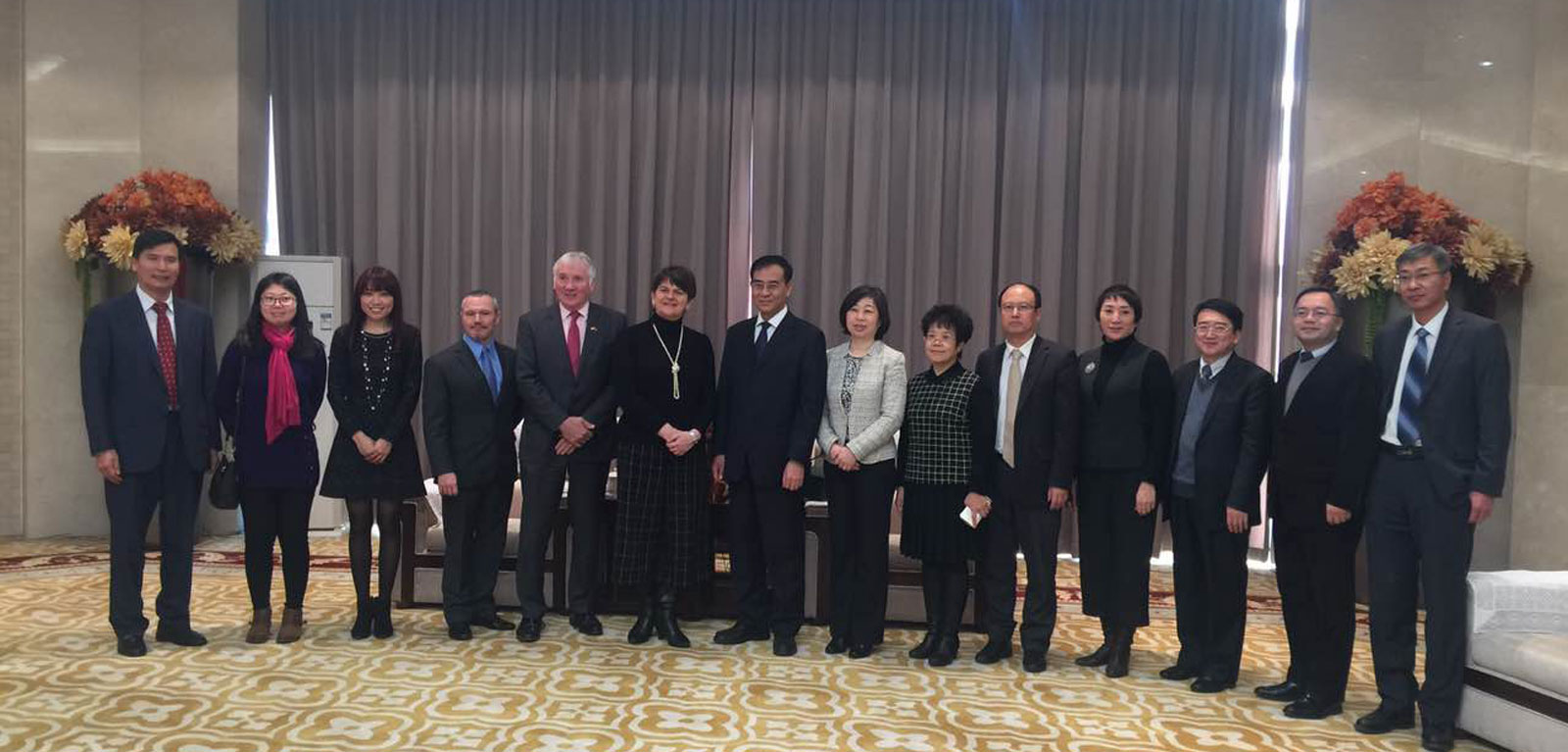 The announcement was made at a reception attended by Northern Ireland First Minister, Arlene Foster and the Vice Mayor of Shenyang, Jinghui Zhang on 7th December 2016.
The Centre will initially carry out high-quality research to develop innovative new medicines for age-related diseases, which is of common interest to patients in both the UK and China. The Centre will be supported by an additional investment of 1,000,000 RMB by SPU and the senior Queen's scientist from the School of Pharmacy is Dr Min Zhao, who is based in Queen's recently-established joint College with China Medical University in Shenyang.
Global impact
Professor Colin McCoy, Dean of Internationalisation for Medicine, Health and Life Sciences at Queen's University, said "This is an excellent example of the global reach of pharmaceutical research in Queen's. We are delighted to partner with Shenyang Pharmaceutical University to provide new ways of tackling issues in providing suitable medicines for individuals with a focus on paediatric and ageing populations – an area of research that is a priority for both the UK and China. In the long term, this partnership will develop commercial products jointly for the UK, Chinese and other international markets.
"Queen's has longstanding relationships with a number of universities in China. Our educational partnerships are helping next generation of students become global citizens, and our research collaborations with partners such as Shenyang Pharmaceutical University are helping to build better societies in China, the UK and around the world."
Research excellence
Queen's University Belfast is in the top one per cent of universities in the world. It is ranked eighth in the UK for research intensity (REF 2014) and is a member of the Russell Group, a body encompassing 24 of the UK's leading research-intensive universities. Through education and research, Queen's plays a leading role in bringing researchers together to tackle some of the biggest global challenges of our generation.
Shenyang Pharmaceutical University in Shenyang, China, is a leading university in the field of pharmacy, in both teaching and research, with a prestigious international reputation.
Media

Media inquiries to Anne-Marie Clarke or Michelle Cassidy at Queen's University Communications Office T: +44(0)28 9097 5310 E: comms.officer@qub.ac.uk