Queen's new £39M Biological Sciences build to support 550 construction jobs
Queen's University Belfast will today unveil the foundation stone for its new £39 million School of Biological Sciences (Thursday 9 June 2016).
The new School will be a key driver for the development and future growth of the life sciences and agri-food sectors in Northern Ireland, which currently employ some 80,000 people and generate more than £5.5 billion in sales each year.
Building the new School will also support 550 jobs in the construction sector, including staff from the main contractor O'Hare and McGovern, and a range of other firms.
The new School, which is being built at Chlorine Gardens in Belfast, will offer state-of-the art teaching and research facilities for its 750 students and 170 staff, who will tackle some of the world's most pressing issues.
Due to open in 2018, the building will provide the facilities to help grow our life sciences sector, especially in areas such as agriculture/food science, food safety, disease/infection biology, diagnostics, waste management, ecosystems and the environment. The Life and Health Sciences and Agri-Food sectors are key to driving future economic prosperity in Northern Ireland. The Life Science graduates who will be trained within the new building will underpin these areas and help facilitate future growth.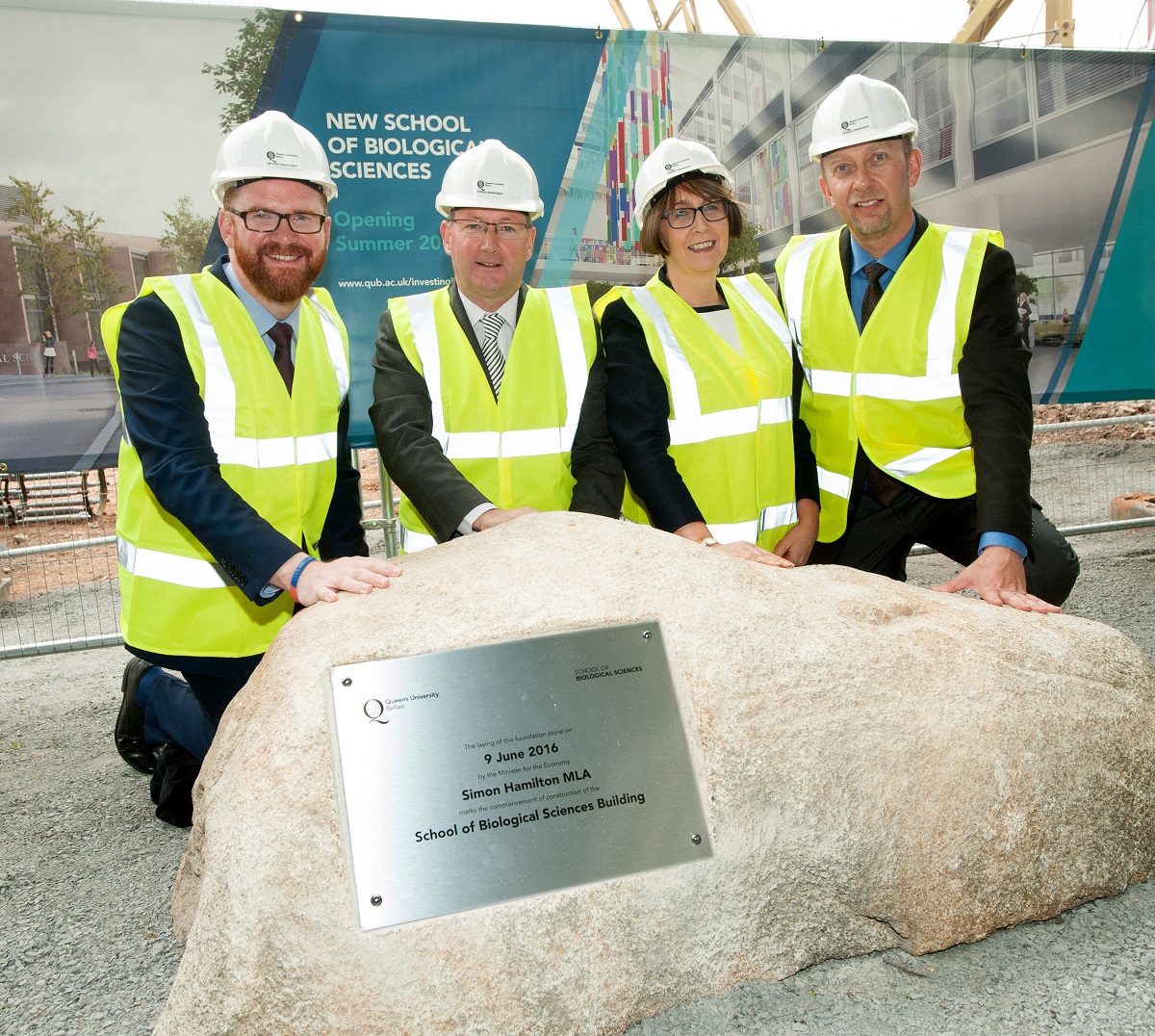 Speaking ahead of the unveiling today, Queen's President and Vice-Chancellor, Professor Patrick Johnston, said: "Today is a momentous occasion for the life sciences and agri-food sectors here in Northern Ireland, and further afield. Queen's new School of Biological Sciences will be a power-house for these sectors, both of which have been identified as cornerstones of Northern Ireland's future prosperity. From food safety to disease and infection control, the work housed in our new School will not only be of global significance and importance, it will also impact positively on everyone's lives here in Northern Ireland."
Announcing his support for the new School of Biological Sciences building, Minister for the Economy, Simon Hamilton, said: "The investment by the Department for the Economy helps to support Queens University in providing modern up to date facilities and will enhance the wider infrastructure within higher education. This development is a key part of the University's long-term vision to create state-of-the-art facilities and will support research and education into the next decade and beyond. Promoting the growth of our knowledge economy is a key aim of my Department and it is vital we create an environment for students to gain confidence, develop their skills and reach their full potential. It is through nurturing creativity and innovation we are able to support future economic development and employment opportunities."
Professor Chris Elliott, Queen's Pro-Vice-Chancellor, Faculty of Medicine, Health and Life Sciences said: "The building will be home to globally recognised experts in areas right across the biological sciences with research focus on key global challenges. It will house Queen's Institute for Global Food Security, one of the University's four Global Research Institutes, which is leading the world in addressing one of the greatest challenges – how to ensure the safety of our food. Staff within the School of Biological Sciences will also focus on issues including innovative approaches to waste and ecosystem management, the improved control of infectious diseases and antimicrobial resistance, and addressing the challenges posed by climate change."

Head of the School of Biological Sciences at Queen's, Professor Aaron Maule, added: "To ensure Northern Ireland's crucial agri-food and life sciences sectors can remain competitive at home and internationally, they need access to a highly skilled workforce who have been educated in a way that is directly relevant to their needs. A high quality life science graduate skills base and an internationally recognised academic research capacity in this area are critical to the Northern Ireland economy and its future growth and development. This is where Queen's and the School of Biological Sciences play a critical role. This new building will ensure we attract the best staff and students from Northern Ireland and around the world, and continue to produce graduates who are making a real and lasting impact in fields as diverse as agriculture, pharmaceuticals, food science, infectious diseases, marine sustainability and environmental management."
The new 11,000m² School is the latest building in Queen's £700M 20-year capital investment programme to support world-class research and education and provide an exceptional experience for its students.
In keeping with the University's commitment to sustainability, the building has been designed to minimize its impact on the environment, and to achieve the target of Building Research Establishment Environmental Method (BREEAM) Excellent. Set over five floors, the building is designed around a central glazed atrium and will incorporate carbon reduction technologies including a combined heat and power engine, ventilation heat recovery units and a Ground Source Heat Pump system.
Damien Toner, Queen's Director of Estates, said: "Today's unveiling of our foundation stone for the new School of Biological Sciences reinforces Queen's continuing commitment to supporting the Northern Ireland economy and local construction sector. Construction of the new facility is due for completion in August 2018 and our focus is fully on ensuring delivery of another world class research facility for our academic colleagues and students.
"Our delivery partners will help ensure we achieve this aim and we are delighted to be working with renowned architects Scott Tallon Walker and construction partners O'Hare & McGovern who recently delivered the award-winning and world-class Wellcome-Wolfson Institute for Experimental Medicine for Queen's University."
O'Hare & McGovern Managing Director Eamon O'Hare said the new building would be a world class facility which strengthened the firm's long term relationship with the university as they continued to enhance Belfast's educational landscape.
He added: "Our vision for the delivery of this project is to create a catalyst for social, economic and environmental change, providing sustainable employment for local businesses, students, apprentices and long term unemployed."
For more information about the work of Biological Sciences at Queen's visit www.qub.ac.uk/schools/SchoolofBiologicalSciences/
Media
Media inquiries to Anne-Marie Clarke (Mon-Wed) or Michelle Cassidy (Thu-Fri) at Queen's Communications Office, T: +44 (0)28 9097 5310 E: comms.officer@qub.ac.uk