International student Hadeel fulfils dream of completing PhD at Queen's
Hadeel Abdellatif will today (Friday 24 July) celebrate graduating with a PhD in Management from Queen's Management School.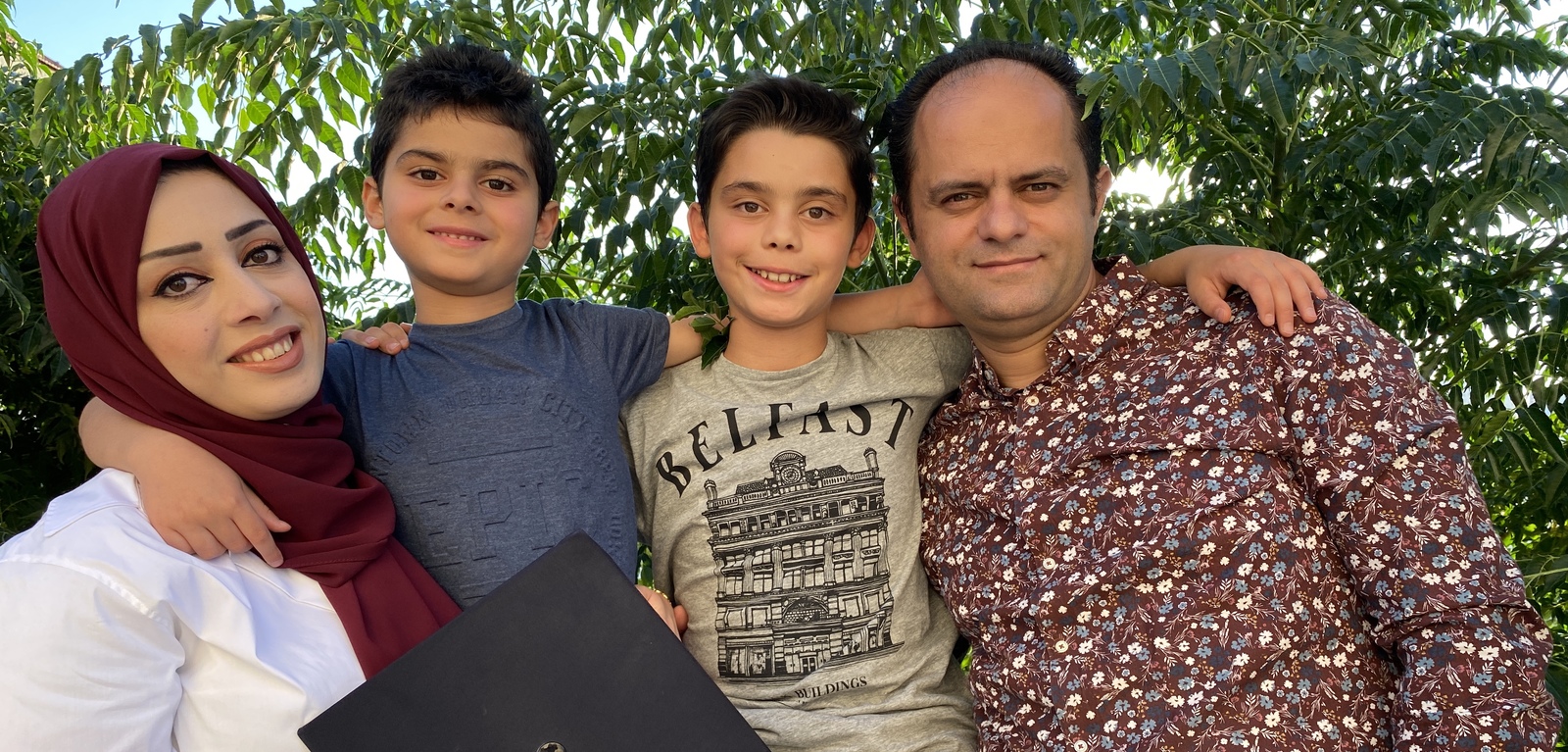 In 2015 Hadeel travelled to Belfast from Amman in Jordan to start her PhD journey at Queen's with her young family, sons Riad and Amir (then aged five and one), whilst her husband remained in Jordan for work.
Hadeel said: "The day I arrived on my own with two young boys I was worried and afraid of how to settle in a new country and new culture. But my worries and fears vanished because of Belfast! It is a miraculous city that became our home.

"I started my PhD when my children were very young, but amazingly they settled in very well. Their school was a great support. The boys joined the after school English club to develop their language skills and are now fluent in English with some Northern Ireland accent. They are missing Belfast now that we are back in Jordan."
The family were reunited when Hadeel's husband, Dr Fadi Shahroury, joined the rest of the family and took up a post at the School of Electronic, Electrical Engineering and Computer Science at Queen's. Hadeel commented: "We were delighted to be reunited as a family after three years. Belfast is very family-oriented, and people are extremely friendly, helpful and open to all cultures so it was nice to experience that together."
Hadeel's PhD focussed on Green Supply Chain Management (GSCM). She said: "Being a mum made me more mindful of the next generations future, especially due to the increase in pollution and calls for saving the environment, I decided to try and make a green change by choosing to focus my research on GSCM. My research will hopefully make a positive impact by providing companies with guidance of how to improve their environmental performance and to adopt GSCM practices.
"From my first day at Queen's I was fascinated by the legacy, history and academic excellence of the University. I really enjoyed being part of Queen's Management School and still remember my first day when I got the key to my office and had a tour of Riddel Hall. The School was extremely supportive and encouraged me to present my research at a prestigious conference at Cambridge University. I can't thank my supervisor, Dr Stephanie Graham, enough for her continuous support, guidance and always being there for me.
"I was lucky to be able to defend my thesis and pass my Viva on campus before safely returning to Jordan just before the COVID-19 lockdown. After five years of work, it felt like the odds were against me, but I am grateful that my Viva was able to take place and for the support which I was shown."
Since returning home, Hadeel has accepted a post as an Assistant Professor at the Applied Science University's Management School in Jordan and plans to continue her research on GSCM. She will be celebrating her virtual graduation with her family at home. She said: "I am very honoured to be graduating from Queen's, one of the top universities in the world. I am very proud of what I have achieved and how much I have learnt and grown. My brother and I are both graduating with PhD degrees this summer so it is a very special time for us as a family.
"I hope that my PhD journey will inspire other students to never ever give up and that nothing is impossible as long as you have passion, determination and support. Stand up and shine, go on and follow your dreams!"
ENDS...
Media
For media enquiries, please contact the Communications Office, 028 9097 3091 comms.office@qub.ac.uk