USA committed to Northern Ireland's success, says Secretary Hillary Rodham Clinton
Queen's University Belfast's Chancellor, Secretary Hillary Rodham Clinton has said that the new Biden administration in the USA is committed to the success of Northern Ireland economically and politically.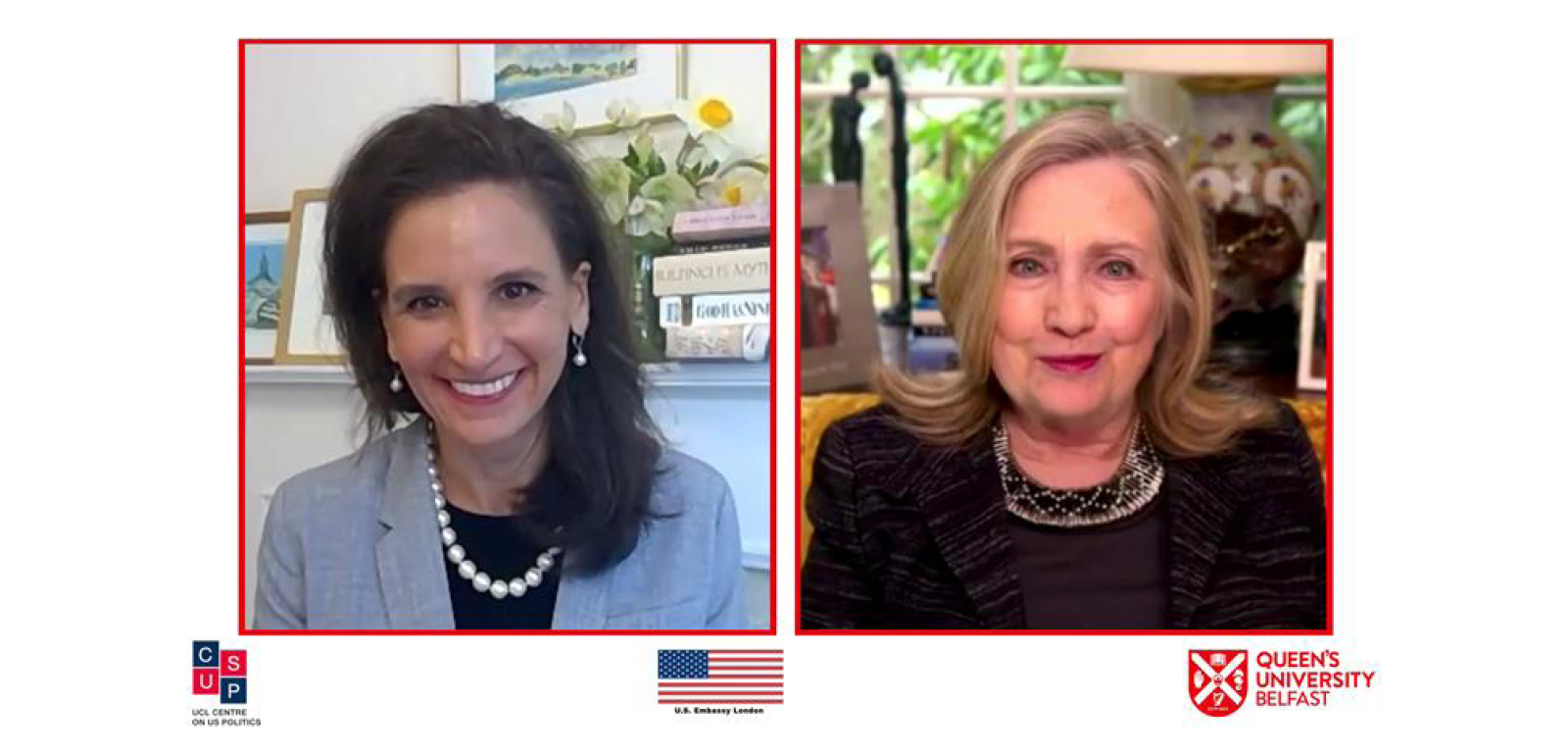 She was speaking at an 'in conversation' event on US politics, organised by Queen's, in partnership with University College London's Centre on US Politics, with support from the US Department of State.
During the event, entitled "Beyond Decision 2020", Secretary Clinton was in conversation with US Consul General Elizabeth Kennedy Trudeau reflecting on her political career, the view of America in the world and the new Biden-Harris Administration, the importance of Northern Ireland and the broader UK, and the key role of women and diversity in politics today.
Speaking about the new administration and the importance of Northern Ireland, Secretary Clinton commented: "I think there will be a very keen focus on what happens in Northern Ireland. The commitment to the Northern Ireland peace process was bipartisan, it was supported by the very active Irish-American community in America, by Irish-America elected officials on both sides of the isle, so there is a real sense of investment and it's not just emotional, it's political, and it's even financial.

"One of the things we tried to do in concert with the Good Friday Agreement was to encourage more American investment and when I was Secretary of State I even had an Envoy committed to economic activity that could create more jobs for the people of Northern Ireland. There is a very deep sense of connection with Northern Ireland and I know that the Biden Administration, the people who are in it, will be very attuned to what's happening there, and will play whatever role they constructively can play in trying to make sure whatever problems Brexit has brought to the situation on the island and between Republic of Ireland and Northern Ireland and the water barrier between the island and the UK.

"We need to be encouraging the resolution of any kind of artificial barrier and anything that undermines the Good Friday Agreement and I know the Biden-Harris Administration will certainly pay attention to that."
Professor Ian Greer, President and Vice-Chancellor of Queen's University Belfast said: "At Queen's we are committed to facilitating debate and discussion on key issues impacting society. We were delighted to work in partnership on this event and with US Consul General Elizabeth Kennedy Trudeau.
"I am very grateful to our Chancellor, Secretary Hillary Rodham Clinton, for sharing her thoughts with us on these key issues during this virtual event and I am looking forward to a time when we can welcome her back to Belfast in person as Chancellor of Queen's."
Secretary Hillary Rodham Clinton is an internationally recognised public servant, former Secretary of State, Senator and First Lady.
Secretary Clinton has strong links with Queen's and Northern Ireland, especially because of her outstanding contribution to peace and reconciliation. In 2018, she received an Honorary Degree from the University for her exceptional public service.
Secretary Hillary Rodham Clinton is Queen's University's 11th and first female Chancellor.
Elizabeth Kennedy Trudeau assumed her duties as US Consul General in Belfast in September 2018.
The "Beyond Decision 2020" in conversation with Secretary Hillary Rodham Clinton and US Consul General Elizabeth Kennedy Trudeau is available here: https://www.qub.ac.uk/events/beyond-decision-2020/live-stream/
ENDS...
Media
Media enquiries to Queen's Communications Office on email: comms.office@qub.ac.uk or Tel: +44 (0)28 9097 3091.