New board comprising world-leading scientific expertise
IGFS is delighted to announced its new International Scientific Advisory Board (ISAB) ahead of the group's inaugural visit to Queen's University this week.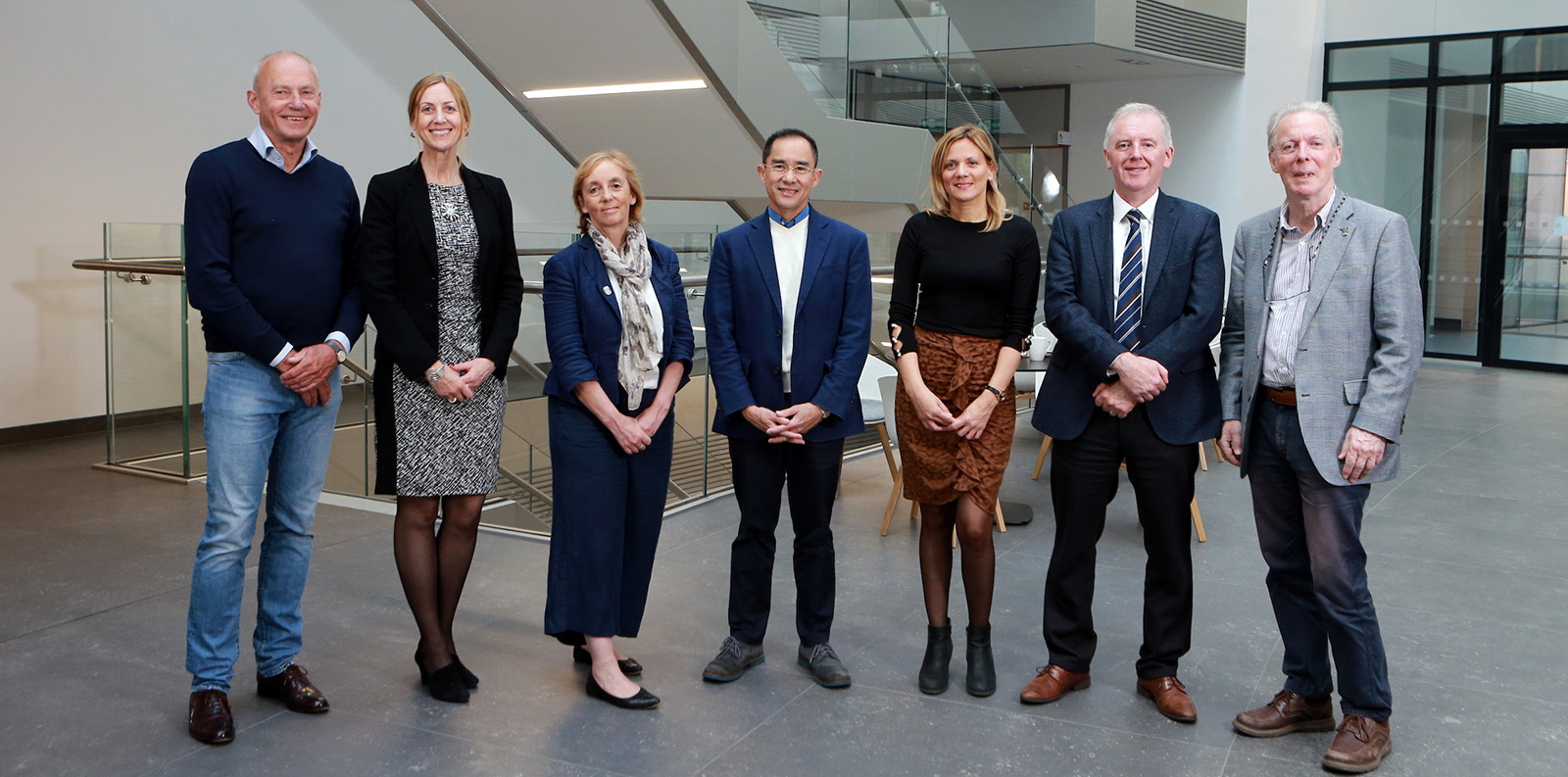 The eight-strong group incorporates a wide range of academic distinction, expertise and experience across the entire arc of the food-chain, from nutrition and the economics of food to parasitology; agriculture and animal science to botany.
Geographically there is a wide spread also, with countries represented including New Zealand, Spain, the Netherlands and the US as well as Scotland, England and the Republic of Ireland.
The group will converge on Queen's for two days this week, visiting the new Biological Sciences building - the home of IGFS and the School of Biological Sciences - and meeting a wide range of researchers, other staff and students.
The Chair of the Board is Professor Ian Graham, a Queen's University graduate, now based at the University of York, where he is Director of the cutting-edge spinout company BioYork, and Weston Chair of Biochemical Genetics.
Prof Graham has made a significant contribution to the understanding of plant metabolism and seed biology. His most recent research has shed new light on the production of small-molecule natural products from plants such as the anti-cancer compound noscapine, morphinan-based analgesics such as codeine and morphine, and the antimalarial drug artemisinin.
In 2016, he was elected a Fellow of the Royal Society and member of the European Molecular Biology Organisation (EMBO). He was also awarded the Biochemical Society's 2017 Heatley Medal and Prize for exceptional work in applying advances in biochemistry, particularly in developing practical uses that have created widespread benefits and value for society.
Joining Prof Graham on ISAB will be Professor Dolores Peréz-Marín, a senior academic in food safety and food integrity at the University of Cordoba, Spain, and an internationally recognised expert in food-production, especially as it relates to livestock.
While she started her research career by examining the composition of unground animal compound feeds, she has gone on to examine an ever widening range of foodstuffs − fats and oils, meats, protein animal by-products, milk and dairy, a variety of fruits and vegetables − using near-infrared spectroscopy (NIRS), alone or combined with other sensors.
Profressor Richard McDowell is Chief Scientist for the Our Land and Water national science challenge in New Zealand, a Principal Scientist at AgResearch and an academic at Lincoln University.
He has diverse research interests ranging from value chains to practice change and catchment management, with a special interest in providing options and tools to mitigate water-quality contamination (from a variety of land uses) while maintaining profitable farming enterprises.
Professor Julie Lovegrove is Director of the Hugh Sinclair Unit of Human Nutrition and Deputy Director of the Institute for Cardiovascular and Metabolic Research, both at the University of Reading.
Her research focus is the nutritional influences on cardiovascular disease risk, including nutrient-gene interactions and personalised nutrition. Of particular interest are the effects of dietary fats and plant phytochemicals on vascular health, insulin sensitivity, lipid metabolism and the gut microbiome.
Professor Richard Cogdell is the Hooker Professor of Botany at Glasgow University in Scotland and Deputy Head of the College of Medical, Veterinary and Life Sciences.
His area of scientific interest is 'purple bacteria photosynthesis', trying to more fully understand the structure and function of the light-harvesting complexes. His research is highly interdisciplinary involving protein crystallography, molecular biology, ultrafast laser spectroscopy and single molecule studies.
Based at University College Dublin (UCD), Professor Grace Mulcahy researches the control of parasitic diseases of livestock, with a focus on developing novel vaccines and other non-chemical control methods.
Specifically, Prof Mulcahy has worked on understanding the biology of liver fluke infection in cattle and sheep, using transcriptomic, glycomic and immunological methods, with a view to improving the prospects for a liver-fluke vaccine to reduce anthelmintic use.
Professor Rodolfo M Nayga, Jr is Chair in Food Policy Ecomomics at the University of Arkansas. His research interests include the economics of food consumption, policy, and health. He has focused his work in critical issues such as poverty, nutrition, obesity, and novel food technologies.
He has examined issues related to how people comprehend and use food and nutritional labels and how these would then influence a number of important health-related outcomes. He has also analysed the effects of state (government) food programmes, providing crucial evidence and data sets on public-health outcomes.
Ecologist Professor Peter de Ruiter has retired from an academic career at the Institute for Biodiversity and Ecosystem Dynamics at the University of Amsterdam, but he remains working part-time, at the elite scientific hub Biometris, at Wageningen University and Research Centre, also in the Netherlands.
His great passion is soil – its food web structure, functioning and stability, and how this relates to ecosystem functioning, in terms of energy and nutrient cycling, productivity and the preservation of biological diversity.
A second line of research is concerned with ecological 'tipping points' and 'sudden shifts' in arid ecosystems leading to desertification and how phenomenon this impacts on food security.
Full biographies of Board members can be found at the bottom (scroll down) of our Governance section of the website.