Lorna's legacy to Queen's
Lorna Sloan, who began her studies in Medicine at Queen's University Belfast in 1973, travelled to South Africa on her elective – an experience that has left an indelible mark on her ever since. This is her legacy story…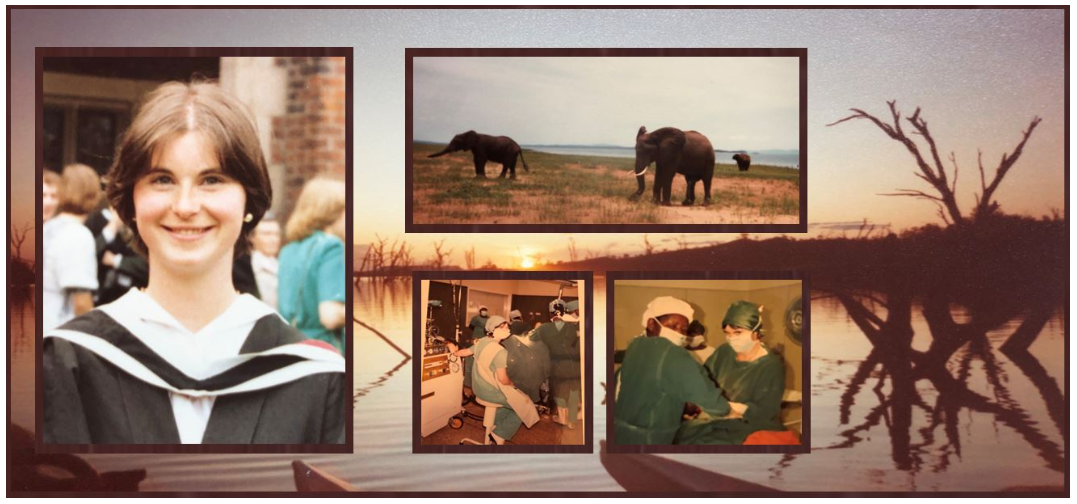 In fourth year at Queen's, medical students are given the opportunity to spend two months on an elective – a placement undertaken as part of their degree. Lorna, pictured above on her graduation day outside the Sir William Whitla Hall (1979), decided to travel to South Africa and applied for a travel scholarship to help her with costs.
"It turned out to be a remarkable experience," explained Lorna. "I learned so much, saw lots of amazing pathology, experienced wonderful hospitality, and had the opportunity to see beautiful parts of the country during the weekends."
Following her houseman's year at the Royal Victoria Hospital in Belfast, Lorna wanted to return to Africa so applied for a 12-month post in Zimbabwe. She ended up staying for three years!
"Zimbabwe had just become independent and there was a real feeling of hope in the air. I spent two years at the main teaching hospital in Harare working in Paediatrics, Anaesthetics, and Obstetrics and Gynaecology.
From Harare Lorna travelled to Lake Kariba for a year working as one of just two doctors in a small hospital.
"There was never a dull moment! All sorts of cases would present, ranging from snake and crocodile bites to animal tramplings. Malaria and bilharzia (an infection caused by a parasitic worm that lives in fresh water in subtropical and tropical regions) were also commonplace.
"During my stay in Zimbabwe, I was able to travel all around this beautiful country in my time off. I also made wonderful friends and we still keep in touch today," she added.
When she returned to the UK, Lorna studied Tropical Medicine in Liverpool, intending ultimately, to venture abroad again. In the end, however, she started GP training and spent her career in Cornwall, the Isles of Scilly, West Yorkshire and finally Stockton on Tees.
Currently enjoying retirement (she gave up work in 2014) and, until recently, the opportunity for more travelling, Lorna's thoughts turned to supporting her alma mater.
"During our last medical school reunion, one of my classmates recounted how he was sponsoring some students. I thought that was a lovely thing to do," said Lorna.
"Then, after witnessing a family illness, I updated my will and decided it would be a great opportunity to leave a legacy to support and encourage a medical student at Queen's to apply for a travelling scholarship, like I had, enabling them to work on their elective in a third world country like Africa.
"My hope for my legacy is that they will have a wonderful experience just as I did all those years ago," concluded Lorna.
Queen's Legacy Manager, Susan Wilson, welcomed Lorna's decision. "Supporting scholarships at Queen's through a legacy is hugely important. It is wonderful that Lorna – who clearly gained so much from her scholarship-supported elective over 40 years ago – is now making provision for a future student.
"Lorna's gift – the gift of travel – will ultimately impact not just on the life of the student beneficiary but on the lives of so many other people somewhere else around the world," said Susan.
Photo credit: Lorna Sloan