Have your say: A Net Zero University – Are you with us?
In early 2022, Northern Ireland set a target of net zero carbon emissions by 2050 in the Climate Change Bill. As a University, we want to help lead the way and demonstrate what is possible.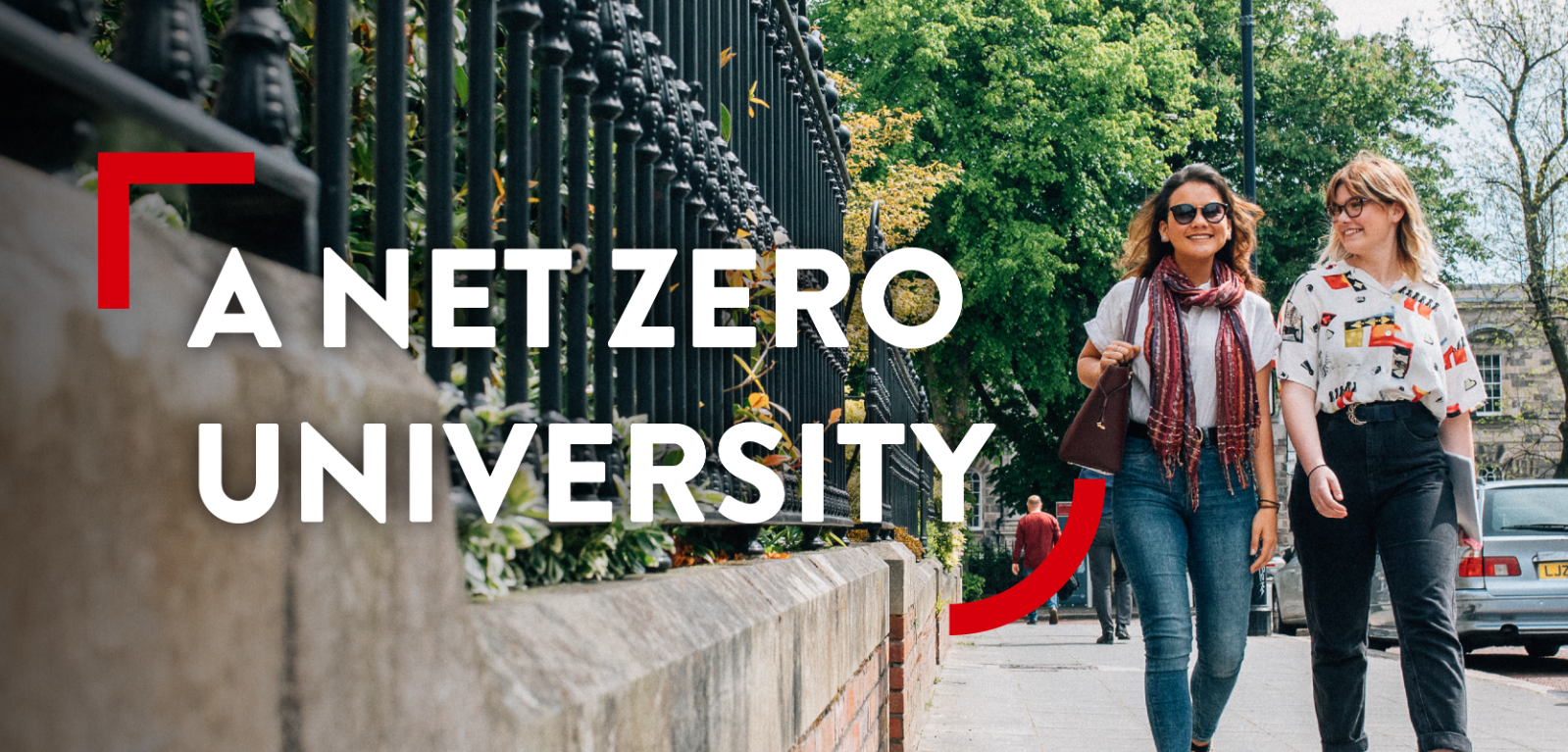 This is not a simple journey, but it is necessary and urgent.
We're preparing to develop a strategy to enable us to achieve these ambitions – to create a pathway and action plan to take us to net zero, and a plan for adapting to the impacts of climate change. To make sure this strategy is ambitious, credible and something everyone can get behind, the University has today launched a staff and student survey and engagement campaign to ask our staff and students for their views, priorities, concerns and ideas for action.
President and Vice-Chancellor Professor Ian Greer, commented: "At Queen's University Belfast, we are committed to social and civic responsibility and to supporting economic growth in an environmentally sustainable way. As part of Strategy 2030, we committed to embracing the Sustainable Development Goals across all our activities and to transition to a carbon neutral society. The development of a strategy to enable us to achieve these ambitions represents an important step forward.

"Achieving net zero will require all of us – students, staff, suppliers, and wider stakeholders – to work together. I therefore encourage everyone within the Queen's community to help shape our new strategy by providing your input and feedback, whether through completing the survey or by attending one of the various engagement events we have taking place over the coming weeks."
The new strategy will enable us to build on the significant progress the University has made as part of its efforts to combat the climate crisis. This includes an investment of £10M in over 80 energy efficiency projects over the last 12 years, resulting in the achievement of a 21% reduction in our carbon emissions across the institution to date.
Students' Union President Emma Murphy commented: "As students, we are particularly passionate about creating a positive future for our planet and its people. We are the next generation of leaders and change makers, so it is critical that student voices are heard and that we are part of the solution. I encourage all students to take part in the short survey and the student summit."

Commenting on the campaign, Sara Lynch, Head of Sustainability, Estates Directorate, said: "As a global institution, Queen's University Belfast has both a responsibility and an opportunity to take a lead on climate action. Our new strategy will set out our pathway and action plan to reaching net zero carbon emissions. To deliver on this strategy, we need input and buy-in from the whole University community. This is an important step on our journey towards net zero and I encourage everyone to take a few moments to complete the survey and have their say so we can work together to make it happen."
Complete the survey
The online survey launches today (Monday 9 January) and will remain open until midnight on Sunday 5 February 2023.
Other opportunities to have your say:
Students and staff are invited to join a webinar with the project team, including Professor Michael Alcorn, Associate Pro-Vice-Chancellor (Strategic Projects), and Sara Lynch, Head of Sustainability at Queen's,

on

Wednesday 18 January 12.30pm

– 1.30pm

. This will be an opportunity to learn more about the new strategy we are developing and ask your questions.

Register here.

All staff are invited to attend an

online Net Zero Staff Event

on

Thursday 26 January from 11.00am – 12.30pm. Staff will hear from the project team who are developing the new strategy and talk about priorities for climate action at Queen's. The event will include the opportunity to ask questions and share your views on what we collectively need to do as a University to reduce our carbon emissions. Register here.

All students are invited to attend a

Student Summit

on

Monday 30 January at 5.00pm in The Cube, Student Centre, One Elmwood. Hear from the project team and a panel of peers talking about priorities for climate action at Queen's, ask your questions and share your views. Pizza will be provided! Register here.


Further information
Learn more on our sustainability website.
Make sure your voice is heard, and together we can make net zero a reality. Are you with us?