A Net Zero University - Are You With Us?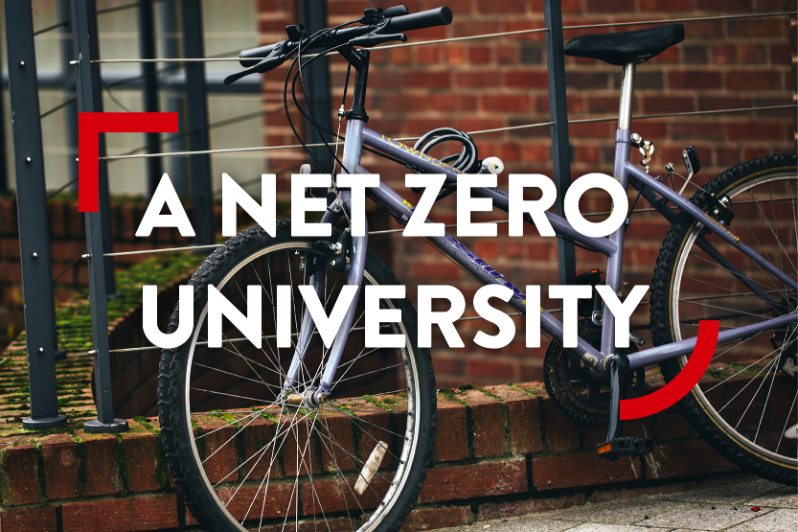 A NET ZERO UNIVERSITY: ARE YOU WITH US?
In early 2022, Northern Ireland set a target of net zero carbon emissions by 2050 in the Climate Change Bill. As a University, we want to lead the way and demonstrate what is possible.
This is not a simple journey, but it is necessary and urgent.
We're developing a strategy that will enable us to achieve net zero. To make sure this strategy is ambitious, credible and something everyone can get behind, the University has launched a survey and are hosting key events to gather views, priorities, concerns and ideas for action.
Make sure your voice is heard, and together we can make net zero a reality. Are you with us?
Net Zero Survey
Complete our climate survey to share your priorities, concerns and ideas for action with the university. Your input will help shape the path to Net-Zero.
The online survey launches on Monday 9 January and will remain open until midnight on Sunday 5 February.
Staff and students who complete the survey will be entered into a competition to win the following prizes: two first class tickets to Dublin; two tickets for Queen's Film Theater and two tickets for the Comedy Club in Mandela Hall.
Net Zero Webinar
18 January, 12.30 - 1.30pm
All staff, students and community members are invited to join our Net-Zero Webinar on 18 January from 12.30pm to 1.30pm. Learn more about Queen's new climate strategy, meet the project team and ask your questions.
Register for the Net Zero Webinar.
Net Zero Staff Event
26 January 2023, 11.00-12.30pm
This Queen's University Net Zero staff event is a chance to hear about the new strategy and talk about priorities for climate action at Queen's. The event will allow staff to ask questions and share views on what collectively needs to be done as a University to reduce our carbon emissions.
Register for the Net Zero Staff Event.
Net Zero Student Summit
Monday 30 January, 5pm, One Elmwood (The Cube)
Chaired by Cate Conway, BBC Radio Ulster Presenter, panel guests include:
Chloe Ferguson, National Union of Students (NUS) President and former Full-Time Officer (Student Officer Campaigns and Engagement) in Queen's Students' Union
Alix McDaid, PhD Student, Co-Founder of Endangered Ireland
Sara Lynch, Head of Sustainability, s.lynch@qub.ac.uk
Joe Ireland, PhD Student, jireland02@qub.ac.uk
Richard McLernon, Belfast City Council Climate Commission
Come along to hear your peers talk about priorities for climate action, ask your questions and share your views.
Register for the Student Summit.
Sustainability at Queen's