Colleagues recognised for their positive impact on society
Four world-class researchers at Queen's have been recognised for the positive impact of their work at the Vice-Chancellor's Research Prizes 2016.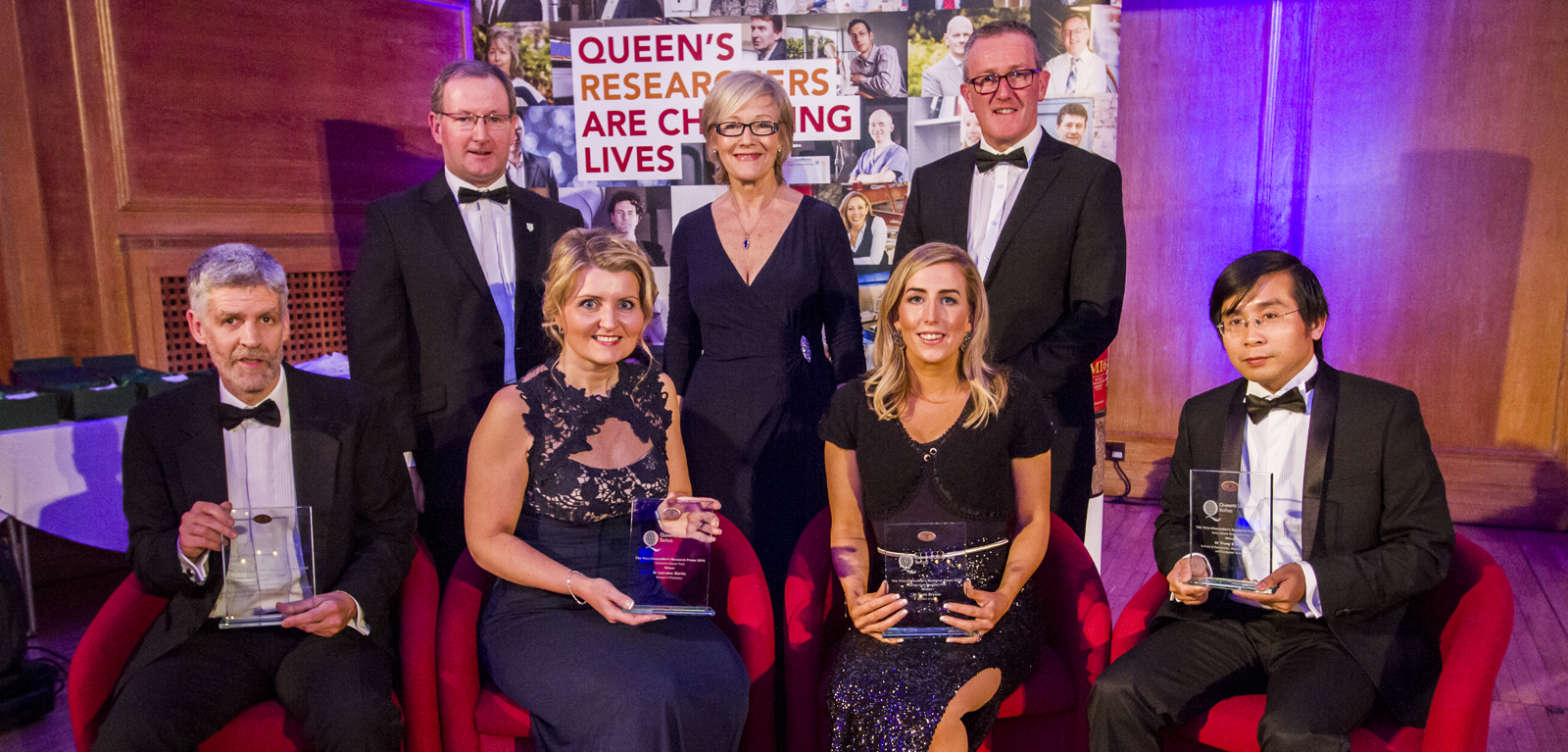 In total, twelve academics were shortlisted across four categories: Research Impact, Research Innovation, Post-Doctoral Research and Early Career Researcher.

Researchers who successfully made the prestigious shortlist attended the annual Chief Executives' Club Gala on Friday (November 18) at the University where the Vice-Chancellor announced the winners.

The Vice-Chancellor, Professor Patrick Johnston, said: "These awards celebrate the scope, ambition and success of research that is taking place at Queen's University. As a world-leading research institution we are proud to be 8th in the UK for Research Intensity. This is a credit to our academics, who continue to inspire and astound with ground-breaking research, which is making a positive impact right across society."

The winning researchers were as follows:
Dr Lorraine Martin (School of Pharmacy) – Research Impact
Dr Martin's research focuses on active proteases and their role in health and disease. She led the development of ProAxsis Ltd., founded in 2013. The company, which has customers in the US and European research groups, has arisen out of Dr Martin's innovative research developing patented technology to improve treatment of chronic respiratory diseases such as cystic fibrosis. Her work highlights how university research can lead to commercial success, as well as meeting clinical need and improving patient care.
Professor Christopher Marsh (School of History, Anthropology, Philosophy and Politics) – Research Innovation
Professor Marsh is renowned for creating one of the most innovative projects in the humanities to date, compiling a 'top of the pops' in early modern English society, and framing them as multi-media artistic productions. In his work, he has brought together historians, rock musicians, folk singers and others. His work has featured on BBC4 and Radio 4 programmes presented by Diarmaid MacCulloch, William Dalrymple, Lucy Worsley and Len Goodman.
Anna Bryson (School of Law) – Postdoctoral Research
Dr Bryson has worked with colleagues from Queen's University, Ulster University, the Committee on the Administration of Justice, and a former senior Foreign and Commonwealth Officer lawyer, to develop a Model Bill for the 'Dealing with the Past' elements of the Stormont House Agreement. The Model Bill was formally launched at an event at the House of Lords in October 2015.
Dr Trung Q Duong (School of Electronics, Electrical Engineering and Computer Science) – Early Career Research
Dr Duong is recognised as an international leader in signal processing and wireless communications. Through his mathematical modelling research, he is working to create capacity in wireless communication networks that will allow for the next generation of cellular networks.