Staff Survey 2019 now live
The 2019 Staff Survey launched on Friday 29 March 2019 and will be live for three weeks until Thursday 18 April.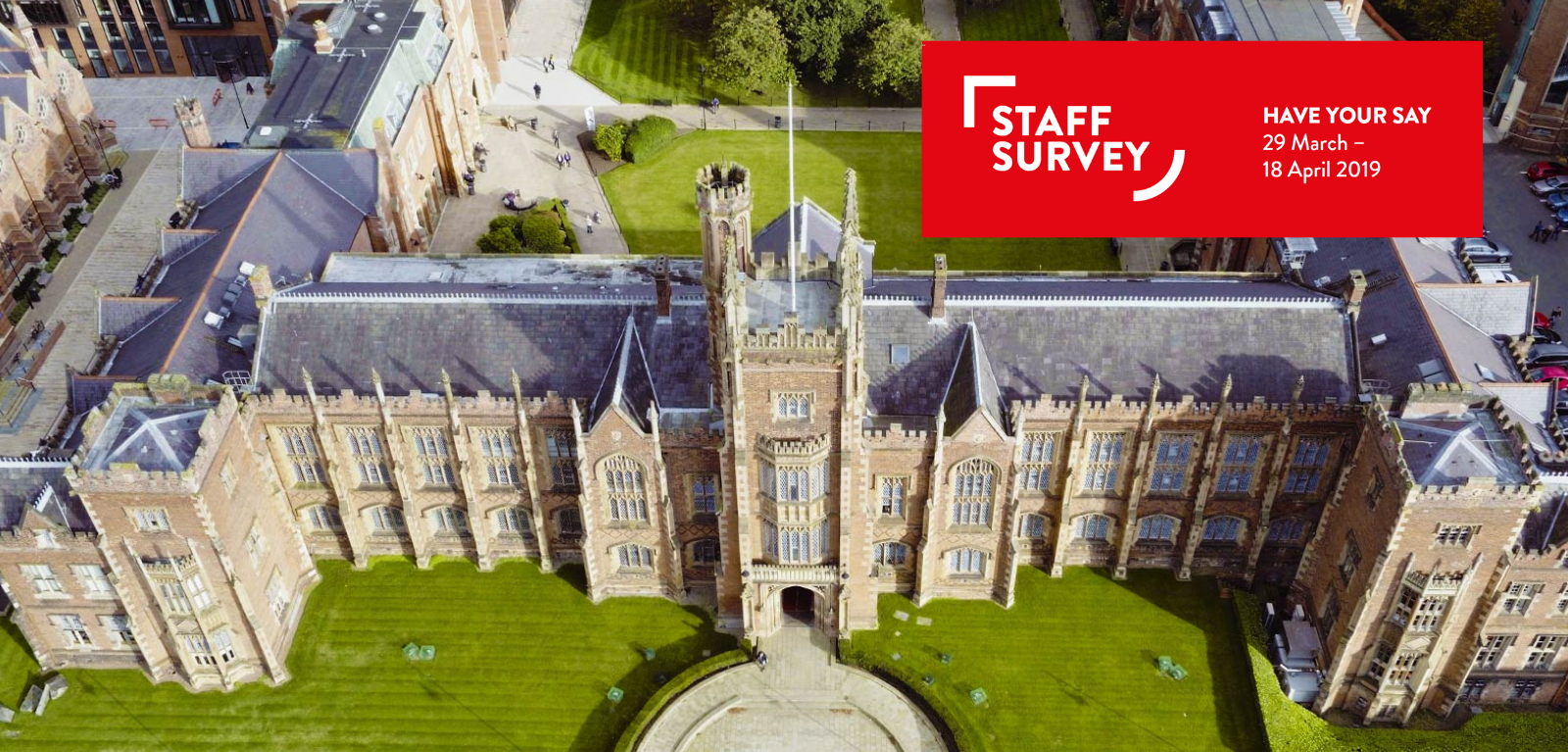 The survey provides staff with an opportunity to have their say on how we are doing overall, how the Employee Experience has changed over time, and how Queen's is performing when compared with other institutions within the sector. It is administered by an independent research agency, ORC International on behalf of Queen's University.
Announcing the 2019 Staff Survey in early March 2019, President and Vice-Chancellor Professor Ian Greer said:
"Through our People First strategy, we have made a commitment to become a true listening organisation. This involves listening to your feedback and working together to create an enjoyable employee experience and positive culture at the University.

"Our Staff Survey plays a vital role in achieving this, allowing you to provide anonymous feedback on all aspects of life at Queen's which can feed into action planning and effect real change to the employee experience. There has been a considerable amount of action taken since the 2016 Survey which I hope you have witnessed.

"I encourage you to complete the Survey. It is only by providing your honest feedback that we can continue to work with you to shape the employee experience at Queen's."
Completing the survey
ORC International will email staff directly on Friday 29 March in relation to completing the Survey.
Information provided in response to the Survey is strictly confidential and cannot be traced back to staff individually. Answers to some of the questions will be regarded as personal data, and ORC International's Privacy Policy tells explains how ORC International keeps personal data safe and who to contact to exercise rights of control.
Additional support for staff
If you have questions about the Survey, you can access Frequently Asked Questions on the People and Culture website. If you are still unsure about any aspect of the Survey process, please contact your Staff Forum Representative who should be able to help. You can also email haveyoursay@qub.ac.uk with any queries.
2016 Staff Survey progress
In April 2016, Queen's University launched its first ever Staff Survey, an important step in our journey to become a true listening organisation. Staff were asked to provide their honest feedback about their experience at work. With a high response rate of almost 70%, a range of comments were provided from across all areas of the University and relating to every aspect of working life - reflecting the diverse employee experience at Queen's.
A clear message emerging from the Survey was the need to recognise and value our people, putting them at the centre of everything we do. This led to a new People and Culture Strategy, People First, which was launched at an All Staff Event on 27 March 2018.
Read more about progress since the 2016 Survey here.