Queen's University partners with local residents to create tree nursery
Queen's University has partnered with the San Souci Residents Association and environmental charity The Conservation Volunteers (TCV) to create a Tree Nursery on Queen's property.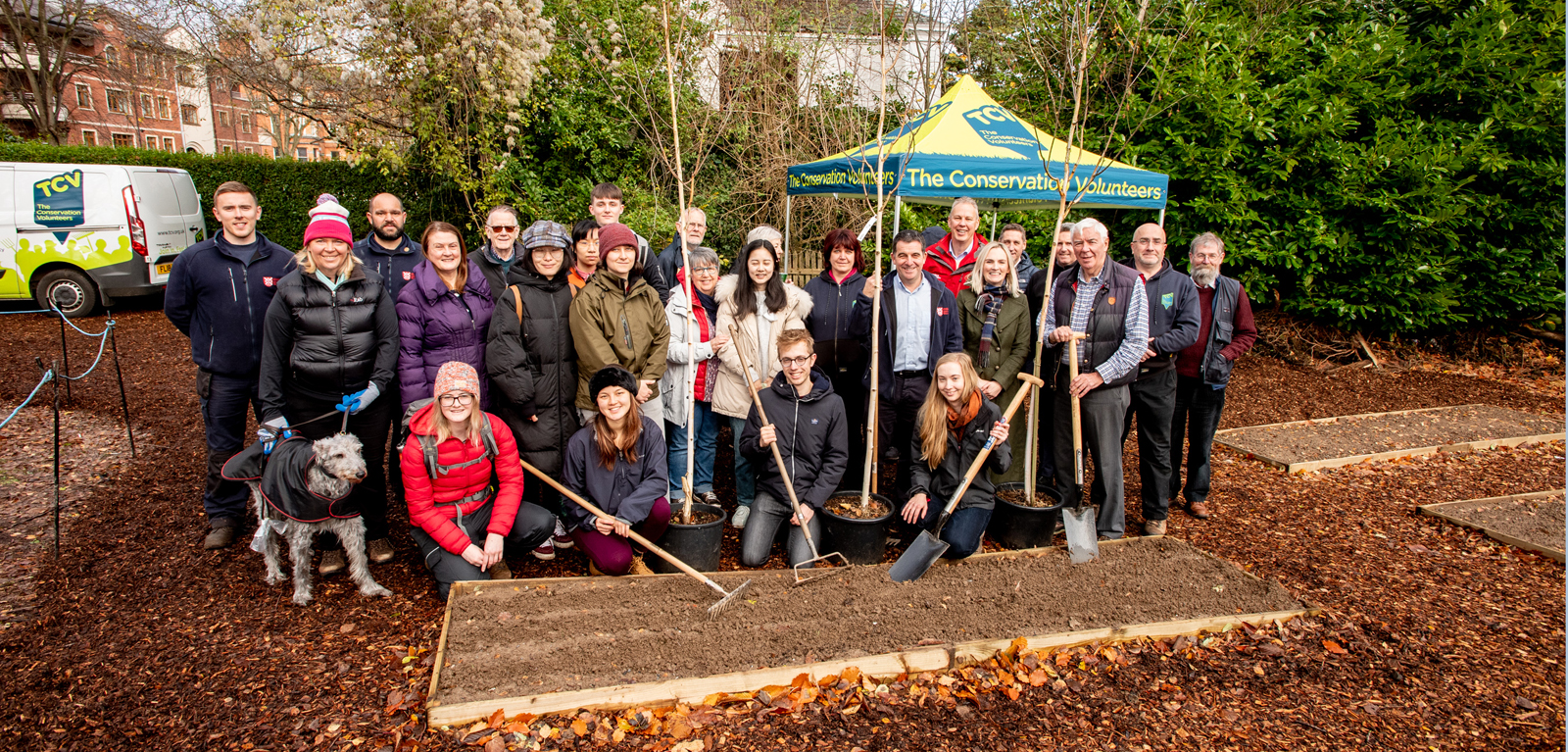 Staff and student volunteers have worked with local residents to transform a vacant site into a flourishing tree nursery, which will grow native trees from locally collected seed – producing up to 1,000 trees over the next two years.
Trees grown on the University site will be donated for urban planting to provide a range of positive impacts on the city environment, including absorbing carbon, increasing biodiversity and filtering out harmful air pollution. Access to green spaces has also been linked to improvements in wellbeing and good mental health.
The work to gather seeds and prepare the ground has been taking place over recent weeks and culminated in a special opening celebration and planting day on Wednesday 13 November 2019.
Damien Toner, Director of Estates at Queen's University, said:
"We are delighted to work closely with our neighbours in the Sans Souci Residents Association, with help and guidance from The Conservation Volunteers and our own gardening team, to help enhance green urban space and create a healthier and more sustainable society.

"The Lennoxvale Tree Nursery project is a wonderful example of Queen's students and staff working in partnership with our neighbours and local community groups to make a positive change that will bring benefits for our environment and for the wider community in terms of health, wellbeing and community engagement."
Eileen Sung, Chair of the Sans Souci Residents' Association, said:
"Local residents welcome the transformation of this vacant site and particularly the engagement with skilled staff and willing volunteers, from all generations and backgrounds. We benefit enormously from the interactions and we will continue to work wholeheartedly with the partners in supporting the Lennoxvale Tree Nursery.

"The Tree Nursery stands beside a main arterial road, with constant passing footfall from Elms Village and residents. Queen's University and the Conservation Volunteers have shown exceptional environmental leadership in creating a green oasis to help maintain the green corridor, improve air quality and soften the streetscape for pedestrians and local residents."
The Lennoxvale Tree Nursery is just one of a number of 'Nurture and Grow' initiatives taking place across the University which bring together staff and students and members of the local community in projects aiming to increase local biodiversity and support nature in an urban setting. For further information visit the Sustainability at Queen's website.