Queen's wins prestigious national award for 'Best Race Initiative'
Queen's University's Black, Asian, Minority Ethnic and International Staff Network, 'iRise', has won 'Best Race Initiative' at the Northern Ireland Equality and Diversity Gala and Awards 2020.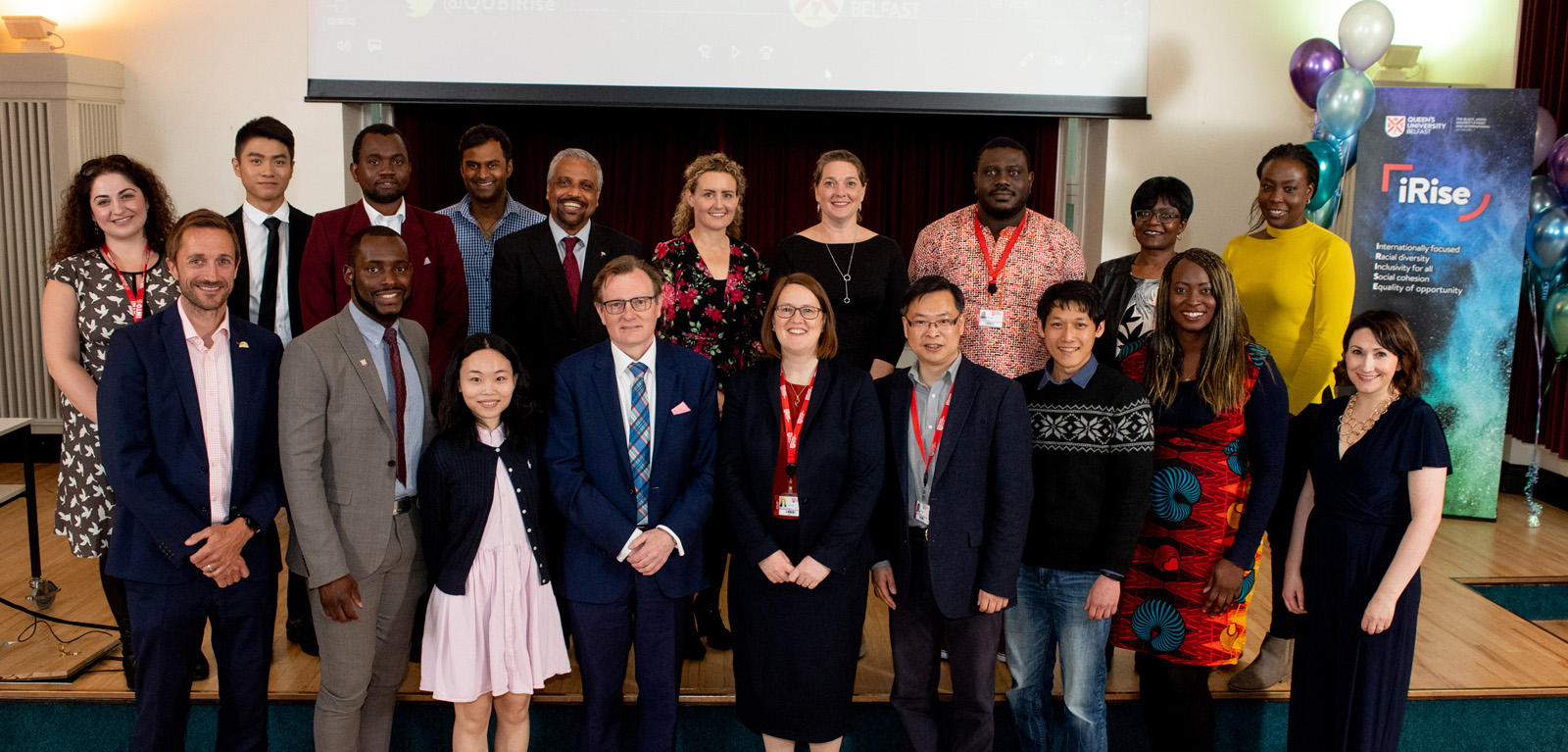 The award, which recognises the work and impact of the iRise staff network, was announced at the 2020 Legal Island Equality and Diversity Awards ceremony held virtually on Wednesday 9 September.
The annual Legal Island Equality and Diversity Awards recognise Northern Ireland's top employers and workforces in a range of equality and diversity categories. Queen's has previously won Legal Island Equality and Diversity awards for Best Employer (Large, Public Sector) and Best LGBT+ Initiative.
Formally launched in June 2019, iRise has delivered a wide range of events on campus to promote awareness of racial equality and celebrate, connect and engage with the University's diverse community of students and staff, including delivering an impressive and wide-ranging programme of events and celebrations to mark Black History Month in November 2019.
Barry Phillips, Legal Island CEO, commented on Queen's award submission:
"The Legal Island Awards Judging Panel were particularly impressed by the range of race initiatives now going on at Queen's University. It noted that the university actively contributed to Black History Month including a range of musical performances, academic discussions and speeches, art exhibitions, panels on intersectionality and gender diversity and film screenings at the QFT. The development of iRise is a very positive initiative which looks set to thrive in the future."
Supported by the University, staff and students held nine events during Black History Month 2019, including musical performances, academic discussions with external speakers such as Professor Kevin Hylton, an art exhibition in the Naughton Gallery tackling issues around diversity and inclusion within a sports context and highlighting ground-breaking sporting figures such as Simone Biles, Colin Kaepernick and Serena Williams.
iRise also organised panels on intersectionality and gender diversity and film screenings at the QFT such as 'Absent from the Academy', which sought to trace and uncover the impact the lack of Black professors has on life in the UK. The screening featured contributions from Professor Paul Gilroy, Professor Hakim Adi and Dr Denise Noble and was followed by a panel discussion centred on the Black experience and representation in Higher Education today.
Dr Michael Isichei, Lecturer in Queen's Management School and Co-Chair of iRise, said:
"We were all very pleased to hear the good news. The award is reflective of the positive impact that iRise has had both within and beyond Queen's University Belfast. As a Co-chair, I'm particularly pleased that iRise is leading the way in terms of BAME staff networks within third level education on the island of Ireland. It's been my pleasure to speak to colleagues from other institutions about our journey as they seek to set up similar staff networks in their own institutions."
Conor Curran, Head of Queen's Diversity and Inclusion Unit, which submitted the entry of behalf of the University and iRise, added:
"Whilst still in its infancy, having only been launched just over 12 months ago, iRise has demonstrated its capacity to bring together staff and students of different nationalities, ethnicity and backgrounds with a common purpose. To develop friendships on campus, relationships with ethnic minority communities off campus, to celebrate and promote racial and ethnic diversity through arts, music, lectures, film and to help shine a light on how and where the University can make meaningful systemic change to policies, processes and university life. This award is due recognition of the hard work iRise have undertaken over the last year, and I know they will use this award as a springboard to promote the network further, and help the University move forward with new and impactful projects."
VIDEO: Watch the award announcement.
How to join iRise
iRise is an acronym for:
Internationally focused

Racial diversity

Inclusivity for all

Social Cohesion

Equality of opportunity
The network's purpose is to promote the University as a welcoming place to work for BAME and International members of staff, providing a forum for networking and a means of peer support and representing the interests of BAME and International staff to the University.
The network also supports a range of training and development opportunities, run a social programme, communicates information and updates to BAME and International colleagues and liaises with other staff networks and student societies.
If you would like to join iRise, please email irise@qub.ac.uk or visit the iRise website to find out more information.
Alternatively, follow iRise on Twitter @QUBiRise for information on upcoming events and other activity.