Queen's staff encouraged to sign up to the Deep River Rock Queen's 3k and 5k runs
Queen's Sport and the University's Staff Wellbeing Unit have joined forces to offer 30 free spots to staff who sign up this week for the Queen's 3km or 5km run, taking place on Thursday 23 March.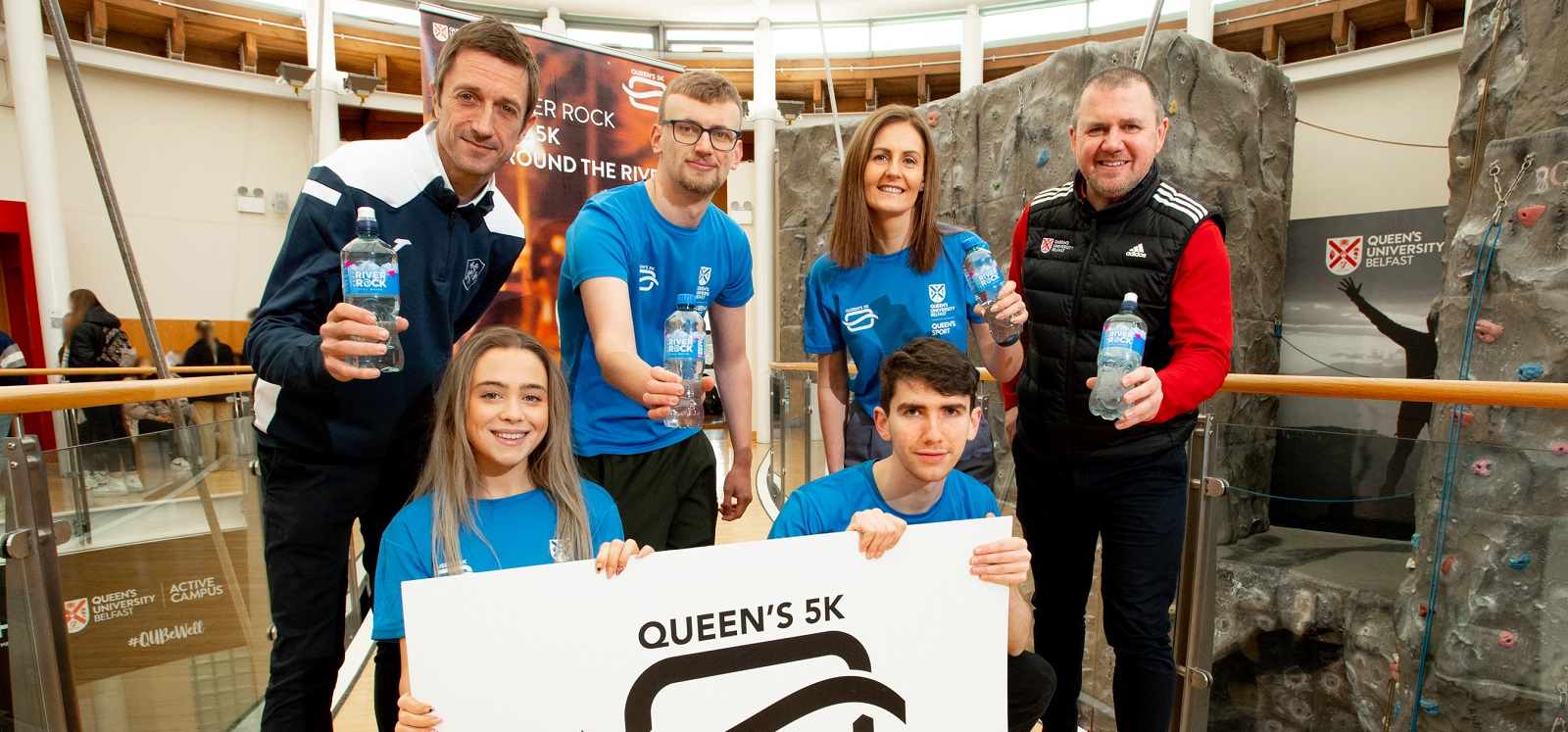 During the recent Wellbeing Week (2-9 March) staff and students took time out from work and study to look after their health and wellbeing through a number of events, discounted Gym Membership and Physiotherapy, Physical Activity Classes, Cycle+ Scheme and Active Campus Programme.
Commenting on this activity and the forthcoming Queen's 3k and 5k races, Karl Oakes, Head of Queen's Sport and Physical Wellbeing, encourages staff and students to keep going:
"We know sport and exercise have a transformative power and contribute to a healthier campus and community spirit. The evidence that physical activity can improve mood, reduce stress and anxiety, and generally help to boost positive mental health is strong.

"Our recent Wellbeing Week was a chance for us all to promote the benefits of physical activity but it's important to encourage the building in of positive habits all year round.

"The Deep River Rock Queen's 5K is a milestone event for many staff who regularly take part in so-called entry-level activities such as our Couch to 5K or weekly Queen's Park Run based at our Upper Malone venue."

"It is a great way to draw more people into campus activities, across all areas of the Five Ways to Wellbeing model."
Conor Curran, Head of Diversity, Inclusion and Staff Wellbeing at Queen's, is a keen runner and will be representing Ireland over 1500m at the World Masters Indoor Championships in Torun, Poland later this month. Ahead of the event, Conor encouraged all Queen's staff to consider participating in Queen's 3k or 5k runs:
"As we move into Spring, it's great to start into new, positive habits and to promote our health and wellbeing programme for staff. We hope that by paying the entry fee for 30 members of staff, this might be the kick start they need to start new, healthy habits.

"We are very conscious of the cost of living pressures for many people and hope that the free entries are welcomed. In addition, we are offering a number of £25 voucher spot prizes, generously provided by local businesses for all Queen's staff participating in either the Queen's 3k or 5k runs."
Conor Curran @QUBEqualDiverse and Kevin Murray @QueensSport encourage @QUBstaff to take part in Queen's 5K and 3K races

#LoveQUBstaff https://t.co/Q0tXBPfsrr pic.twitter.com/uzBUXoAQCg

— Queen's Staff (@QUBstaff) March 13, 2023

How to get involved
Entries for this year's Queen's 5km run (and 3km Fun Run) close on Friday 17 March at 4.00pm.
Any member of staff who wishes to avail of a free entry to the Queen's 3km or 5km is asked to complete this form: Queen's 3km Fun Run / 5km (Thursday 23rd March 2023)
The first 30 members of staff to enter via the form will receive a free entry to either the 3km Fun Run or the 5km, which takes place on Thursday 23 March. Applications will be considered on a first-come, first-served basis.
Staff are asked to email Wellbeing Officer Gary Kane (gary.kane@qub.ac.uk) if they have any queries.