Queen's Accommodation: Your questions answered!
Residential Assistant, Cat Rafferty, is here to answer some of your frequently asked questions about living in Queen's Accommodation.

Cat is a 3rd-year engineering student at Queen's. She has lived in Elms BT9 (formerly Elms Village) throughout her time studying here and for the last two years, she's been a Residential Assistant (better known as an RA – a sort of peer mentor for Elms). She's here to answer some of your frequently asked questions about living in Queen's Accommodation.
With bills – what's included?
There's quite a lot included: your room and room key (obviously), 24-7 security, Wi-Fi, hot water, kitchen/common area, heating, electricity, a TV in the communal area, any maintenance repairs, the Residential Life Team (or RLT), and free tea and coffee provided by the RLT (because we are awesome). Starting in September, an off-peak gym membership with Queen's Sport is going to be included too.
When you first move in, you get a "Dig-In" box which is a bit like a small care package with free samples of different products.
The Treehouse, the main social hub at Elms BT9, also provides extra services, for example they can provide you with an air bed if you have friends or family staying over.
Will I have TV and internet?
Yes. There will be a TV in your kitchen/common area, and the TV licence is included – but if you want a TV in your room, you'll have to pay for the licence yourself. As for the internet – it's also included as part of your rent. You can pay an additional fee to have faster ethernet connection too (available in your bedroom).
How easy it is to find my way around i.e. from the airport to halls and from halls to uni?
Getting around campus is pretty easy – and even if you get lost there are loads maps around campus to show you where everything is. Elms BT9 is on the Malone Road, about ten minutes' walk from the main campus. Across from Malone Road is the Lisburn Road, where you will find a Tesco. On the other side of Malone Road you will arrive on Stranmillis Road. Both Stranmillis and Malone roads converge to give you University Road. The majority of Queen's Buildings can be found on one of those four roads.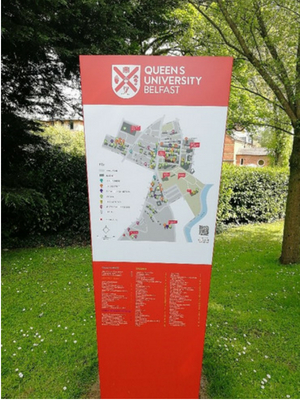 As for getting from the airport to halls, if you are an international student you can avail of our meet and greet service or get a taxi. Buses are available but with all your luggage, they probably won't be ideal. Value Cabs (028 9080 9080) are the only taxi company that can come straight on to the accommodation's premises, whereas other taxi services have to park at the security gates. Still want to get a bus? If so, get the bus from the airport to Europa Station. Once you arrive there walk through the bus centre to Great Victoria Street and get the 8B bus to Elms.
Bonus tip: you can take the 8B from Elms and it will take you to city centre to do your shopping.
Is there anyone to show me around?
Yes! When you move in there will be members of the Residential Life Team to show you around. We'll probably be wearing some sort of hoodie so we're easy to spot.
Additionally, the Student Centre has a number of Welcome and Induction Guides each year who will be able to show you around the beautiful campus.
I've heard all Northern Irish (NI) students go home at weekend - will I be lonely?
That will depend on how many NI students are in your flat and whether they choose to go home frequently or not. I'm the only NI student in my flat this year and I don't.
That being said, your flat might get quiet but there's no reason to be lonely because the Residential Life Team run trips and events at weekends for students who don't go home. There is always something on, see our great programme of events.
On top of that, a number of clubs and societies meet or train at the weekend, and Belfast City itself has loads of activities to do. Need inspiration? See our blog on festivals and events in Belfast.
It really depends on how much you want to get involved. If you do find yourself seeking out company the Treehouse is always open.
How will I make friends?
Well – you'll be sharing a kitchen (and maybe a bathroom depending on your chosen room type) with around ten other people. It would be slightly difficult not to make friends. It's surprisingly one of the most enjoyable parts of living in halls; meeting all the weird and wonderful people. If you struggle despite this, get in touch with your RA, and they can help you get involved with the stuff the Residential Life Team are running and you can make friends through that.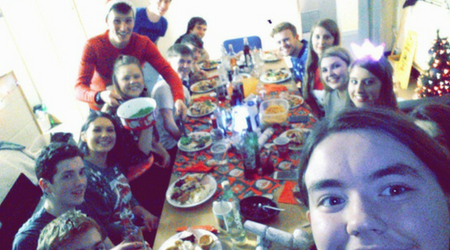 How safe will I be?
Very. We have 24-7 reception and security available. Only people that live on site or have guests signed in can get into Elms after 11pm and if there is an issue there is always someone at the end of phone.
In the recent Queen's Accommodation survey 95% of students said they felt safe in their accommodation and 95.40% said they thought the Safety Team was effective in dealing with situations.
If my parents are worried about my safety is there anyone who can reassure them on the phone?
If your parents phone up with cause for concern, reception can send a member of staff down to ask you if everything is alright and then ask you to get in touch with your parents.
Who can I turn to if I have a problem?
Your RA. Your RA is there to help you with pretty much anything. Feeling isolated? Come have a chat and a cuppa. Don't know how to report that the bulb in your bedroom light has gone out? Ask, we'll show you how to use the Online Maintenance Request. Issues with noisy flatmates? Email us and we will work hard to sort any issues. If there is something we can't help you with ourselves, we will know who can.
Who are the Residential Life Team (RLT) and how can they make my uni life amazing?
The RLT are the best part of living in Elms (I'm definitely biased though).
When residents first move in, we have welcome and induction meetings that residents should attend – it's basically a crash course on the little nuances that are different about living in university accommodation.
We also provide a free tea and coffee service every weekday night. It's such a great way to meet people and make new friends. We've loads of board games, pool tables, and ping-pong tables too. We occasionally (at events) have free pizza available too.
Most importantly though, the RLT (your RA in particular) is a first port of call for any problem you have at all. We're made up of a team of students (the RAs) and staff (the RLCs). We RAs come from a variety of backgrounds, countries, belief systems, but the thing we all have in common is that we are all students too. We understand what you are going through in university when you have a problem.
And if you like the RLT enough, you can apply in the next recruitment window to become an RA for a whole host of amazing benefits, including free accommodation.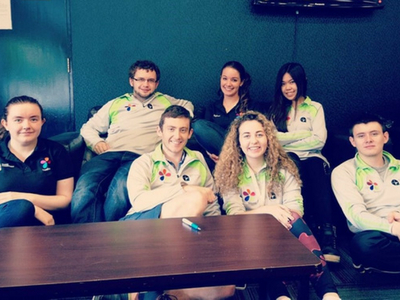 What kind of things do the residential life team do?
We do all sorts of things. We organise loads of different events, everything from Milkshake and Colouring Events, to Halloween Parties and tours of the Game of Thrones sets. We even sit down and watch the Eurovision together!
We organise welcome meetings, help you settle in, and make sure everyone in your building is having the best experience we can give them.
Unfortunately, we are also the people who have to organise the fire drills at the start of the year, and you may hate us for that if you get caught in the shower – we can all hope that doesn't happen!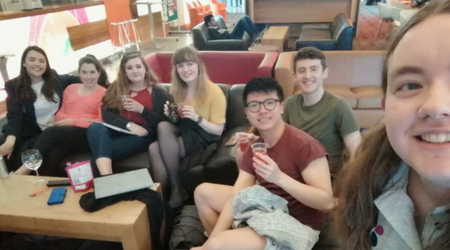 Are there any events at the weekend/evenings?
Want to go to Dublin? Want to go trampolining? Want to visit the Giant's Causeway? We do lots of things! Even if you just want to chill out, our free tea and coffee bar is open at the weekend or you can play some pool in the Treehouse.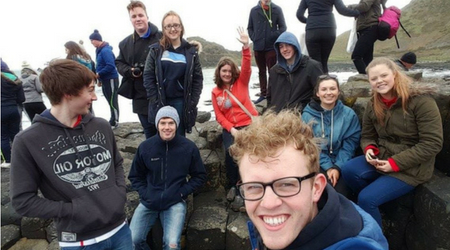 We have day trips to places like Derry and take residents on hikes up places like Cave Hill. We have events in the evenings like movie marathons and cooking demonstrations. We take residents to pantomimes, to the cinema (which is a lot cheaper in Belfast than in England), to the zoo, and out bowling.
And if you have any ideas for events you would like to do or see, then if you get in contact with your RA then they might be able to organise something for you. Find out more about all the great events and activities in Queen's Accommodation.
What do I need to buy for my room?
You will need to buy your own bedding (duvet cover etc), and kitchen utensils (pots, pans, plates, etc). Queen's Accommodation offers kitchen and bedding packs – but they'll cost extra when you arrive. Buying the packs though is quick and easy.
You'll also have to buy your own dish soap and cloths/scourers. If you have an en-suite room, then you'll have to buy your own toilet roll too.
I would recommend buying some sort of laundry basket, an extension lead, and an over the door hanger/hook.
How will my room be furnished?
That'll depend on if you are living in en-suite, standard, or premium standard. All rooms will have a bed, bed frame, wardrobe, desk, shelving, mirror, sink, chair, and pin board. Premium rooms have more shelving, a larger mirror, are brightly painted, and have more sockets. En-suite rooms (which are all considered premium) all have a shower and toilet in them too.
Can I personalise my room?
Within reason. It's in the terms and conditions that you can't rearrange the furniture. You can pin photos and posters to the pin board in your room, you can buy a rug, or a throw for your bed. You can basically do what you want with your room providing you don't damage anything.
You aren't allowed candles or fairy lights though, as they are considered to be a fire hazard.
What types of rooms are available?
Standard, Premium Standard, En-suite, and Studios. In standard, premium standard, and en-suite rooms; you'll share a kitchen with somewhere between three and thirteen other people (depending on where you live). In studios, you'll have a small kitchen to yourself. In standard and in premium standard you'll also be sharing a shower and toilet.
Some people choose to live with a "lifestyle choice" as well. This can mean alcohol-free, single-sex, or quiet living. There are dedicated blocks for all of these preferences.
Do I have to walk down a corridor in my towel if I want a shower?
Not if you have opted for an en-suite room. Just kidding. The shower room has a proper shower in it with a proper shower tray, so if you are genuinely uncomfortable with walking down the corridor in your towel, it is possible to get changed in the shower room without your clothes getting destroyed.
So, I hope that's cleared up any questions you have about what it's like being a student living in Queen's Accommodation.
If you have any other questions; you can get in contact with Queen's Accommodation by e-mailing acccommodation@qub.ac.uk or phoning 028 9097 4525.
Get a room in Queen's Accommodation!
---
21 events and activities in Queen's Halls that will make you want to move in immediately
9 things to know about Queen's Accommodation - from someone who's lived there
Cat Rafferty
Guest Blogger, Residential Assistant