Alcohol-Free Fun in and Around Belfast
There's so much more to Belfast than the bar scene. Here's Georgia's top seven fun things to do in and around the city!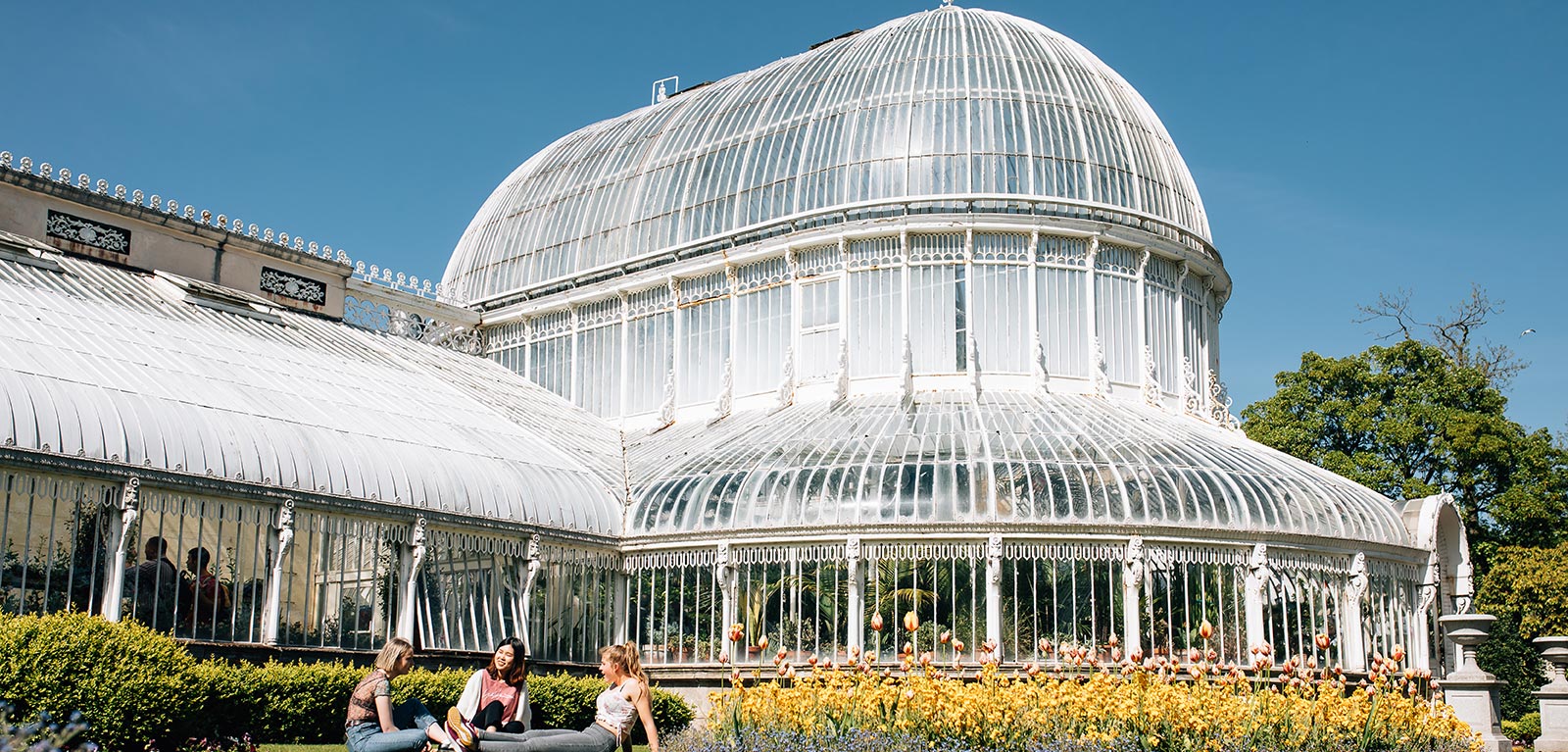 1. Shop 'til your drop
If you're anything like me then you're a shopaholic… living in Belfast doesn't help with so many amazing shopping centres nearby including; CastleCourt, Victoria Square, Abbey Centre and City Side!
You could have a whole day shopping especially in the city centre. Nip to Primark early when they've restocked overnight (my top tip if you're a size XS in pyjamas is to go early in the morning they usually have lots of smaller sizes in stock as these seem to sell out quickly!).
Followed by some lunch in CastleCourt's Food Hall with so many places to choose from (Auntie Anne's, Beleaf, Burger King, Costa Coffee, Del Piero's, KFC, Melter, Mitsuru, Shakeaway, Starbucks, Subway, Synge & Byrne Del, Yangtze) you're bound to find something that'll tickle your fancy.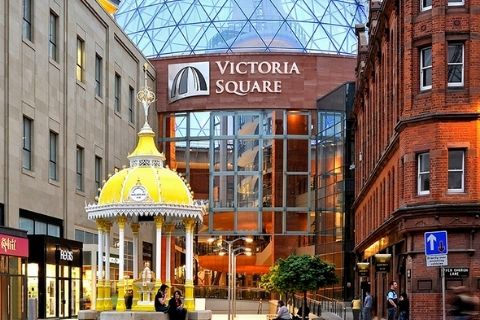 Victoria Square Shopping Center
Afterwards, head to Victoria Square for more shopping! Locally owned BTY is definitely one to pop into if you're into skincare and makeup and of course you need to have a look at House of Fraser if you're a window shopper wishing you could afford the expensive items in Flannels!
You can finish the day with a trip to the cinema at the Odeon in Victoria Square (one of the few cinema's that still do Tango Ice Blasts!).
2. Picnic in Botanic
Now the weather is getting warm again I recommend grabbing a Tesco meal deal and heading to Botanic Gardens with your friends and a blanket for an afternoon out. If you've a dog, bring your furry friend with you. I sometimes bring my Shih Tzu, Daisy and she loves the day out getting fresh air and a few treats too of course.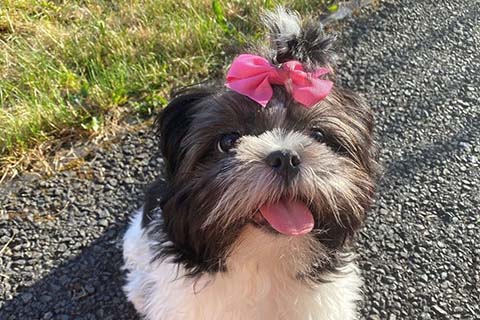 Daisy the Shih Tzu recommends Botanic Gardens
Botanic Gardens is the perfect place for fresh air during exam time too. Coming here to sit or check out the plants and flowers in the glass Palm House is a nice way to de-stress for half an hour before heading back to the books in the McClay Library which is right next door.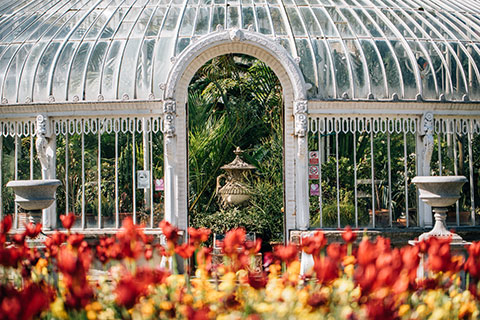 Tulips in bloom at the Palm House
3. Hit the beach
One thing about Belfast is you're never too far from the beach. A short train takes you to Helen's Bay or a short bus takes you to Newcastle. These places are lovely to grab a disposable BBQ with your friends for a day/evening trip.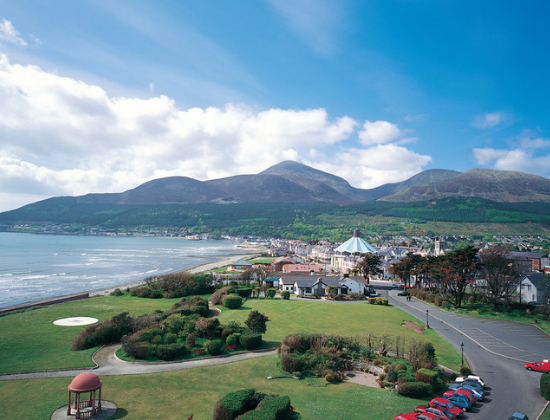 Newcastle, Co.Down
Again, being near the ocean is quite relaxing so this is a nice way to wind down and take in the scenic views around you which we take for granted. Newcastle Promenade has a Nugelato which is one of the best places for ice cream. This leads me into my next category, going for ice cream!
4. Grab an ice cream
Grabbing ice cream or dessert with my friends is another favourite thing to do, some of my favourite places to go are Cafe Mauds (Lisburn Road/Ballyhackamore), Sticky Fingers Desserts on the Lisburn road and Fusco's Ice Cream Parlour in Andersonstown (they have a Harry Potter flavour ice cream which is the best ever!).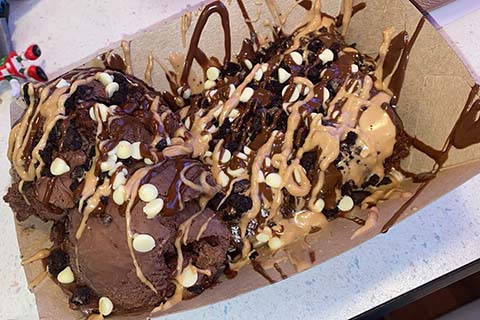 Loaded brownie tray from Nellie Jays
I'd also recommend Nellie Jay's which is new on the Stewartstown Road in West Belfast; their loaded brownie trays are to die for! Del Piero's is a fab place for ice cream and desserts too!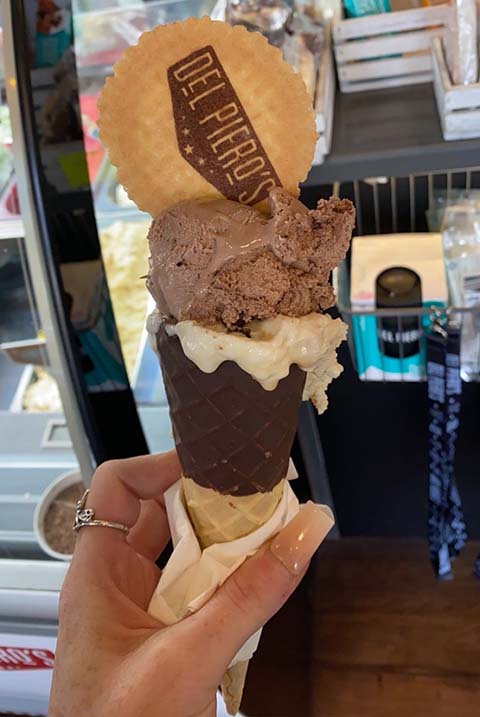 Ice cream cone from Del Piero's
5. Enjoy a Staycation in a Glamping Pod
Since the start of the pandemic everyone's been doing staycations locally, I've recently been to Cuan Mor near Comber which was brilliant, such good value for money and a beautiful place to stay! We had a private hot tub, double bed, kitchenette and a bath with a beautiful view of the lake.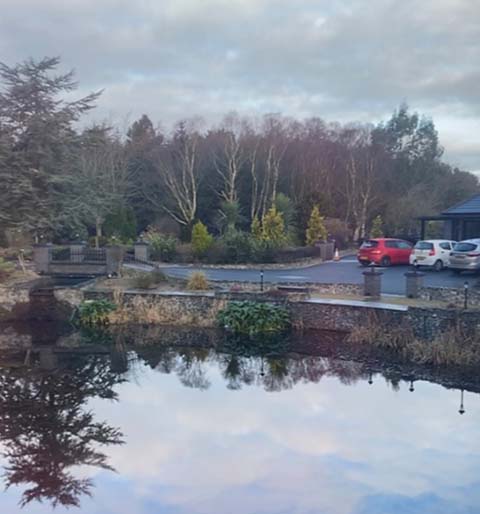 The view of the lake from the Cuan Mor glamping pods
This glamping experience isn't as far away as some others so it's more easily accessible than most! Another close by here is The Pods at Streamvale farm which also looks amazing!
6. Try a new Activity
City Side Retail and Leisure Park has The Lost City Adventure Golf, the virtual reaclity arcade VR City, Black Axe Throwing and the Movie House Cinema all in one place so here is fab for exciting days out, for a group of people!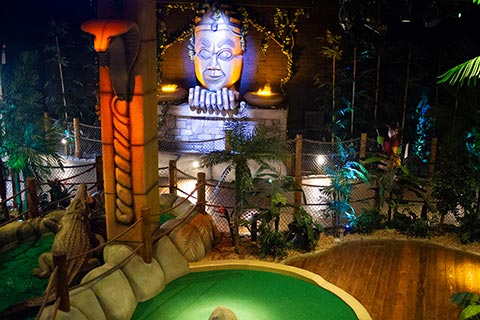 Lost City Adventure Golf
7. Treat Yo Self in one of the Many Great Restaurants
My favourite place for dinner is definitely Sugar Rays in Dundonald. They do amazing burgers, beef and chicken, the best American fried chicken you'll ever have and delicious loaded fries! Definitely not a place to skip, they also do deals for a two dinner, a drink and a cinema ticket for £21 with Dundonald Omniplex so it's ideal for a date night or a night out with your friends!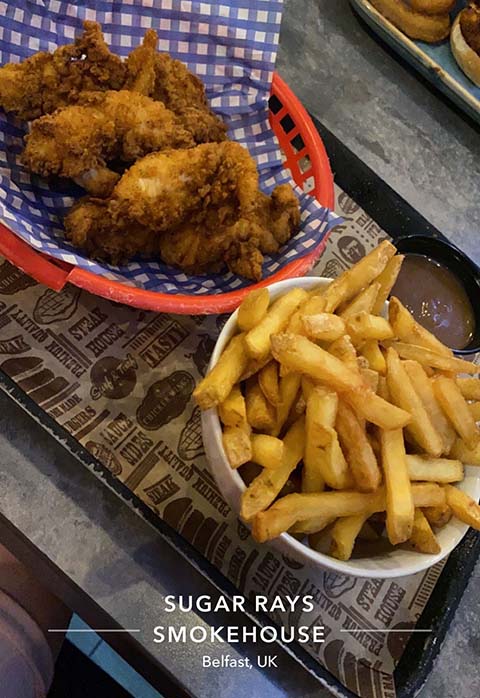 The BEST chicken and chips from Sugar Rays
Their sister restaurants Wolfes Burger Diner and Blue Chicago Grill are good as well. Also Yo Burger on the Lisburn Road and in Bangor deserves an honourable mention as well as Del Piero's Urban, a new restaurant in Newtownards which is delicious for chicken, burgers and garlic bread pizza. They have a drive through option which is great for food on the go!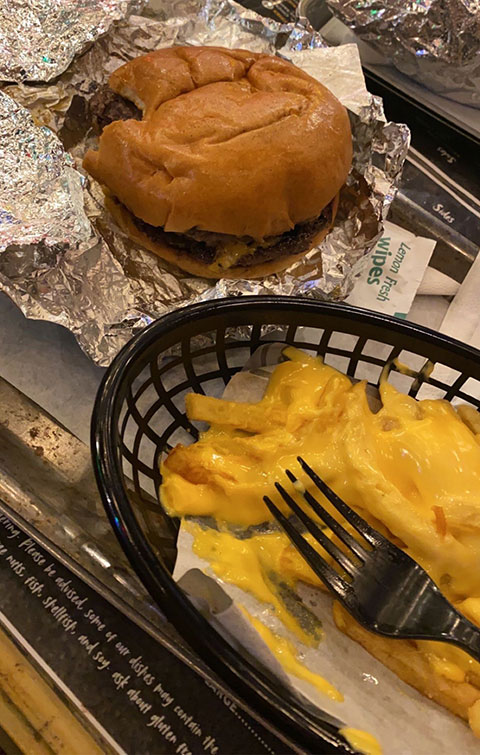 Burger and chips from Del Piero's Urban
Something more central, I'd recommend Bootleggers, they do amazing loaded fries (and good non-alcoholic cocktails too!) also Tony Macaroni's in Victoria Square if you're a lover of Italian food.
I hope you find this guide useful, I'm not a big alcohol drinker or partier myself so I've had a good look around to find some fun things to do without alcohol involved!
TOP TIPS: Getting there
Does that all sound great but you're worried you'll miss out because you don't have a car? Don't worry, we've got you covered on public transport.
To get to City Side take Bus 563e (towards Duncairn, Yorkgate Station) from Pottingers Entry High Street (10 mins).
To get to Helen's Bay take the NIRailways train from Lanyon Place (towards Helen's Bay)(22 mins).
To get to Newcastle take Bus 237 (towards Newcastle, Newcastle Bus Station) from the Europa Buscentre (1hr 15mins).
To get to Dundonald you can take the Glider G1 (towards Dundonald, Ulster Hospital) from Chichester Street or Custom House Square (30mins). This Glider bus also passes Stormont where you can alight and take a walk around the grounds and interior of Stormont aka the Parliament Buildings.
To get to the Abbey Centre take Bus 2d (towards Greencastle, Abbeycentre) from Pottingers Entry High Street (20 mins).
To get to the Stewartstown Road you can take Glider G1 (towards Andersonstown, Shaws Road) from College Square East (30mins).
Find out more
Translink Travel Timetables - Get planning your day out, find timetables and buy tickets. 16-23 year olds can get a free yLink card that offers 1/3 off bus and rail travel.
Beyond Belfast - More ideas for day trips
Belfast and NI Blogs - See more days trips and find out what our other bloggers have said about Belfast and Northern Ireland
Georgia Thornton-Smith

BSc Business Management | Undergraduate Student | Belfast, UK

I am a 21 year-old from Belfast and I'm currently in my third year at QUB on placement with ICC Belfast. I have acquired Degree Plus from my work with the Management Society at Queen's and my work with the Pathway Opportunity Programme. When I was completing my A-Levels I was a Pathway student myself and I thoroughly enjoyed it. It helped me get my place at Queen's University! I have many interests which include going to the cinema and travelling. I'm trying to get as many city breaks in this year as possible, before returning to university for my final year in September 2022.