Belfast's Best Pub Crawl
The large number of bars and clubs in Belfast means you're never too far away from a pint or two. Tobias takes you from one end of the city to the other on one of the best Bar Crawl routes in Belfast.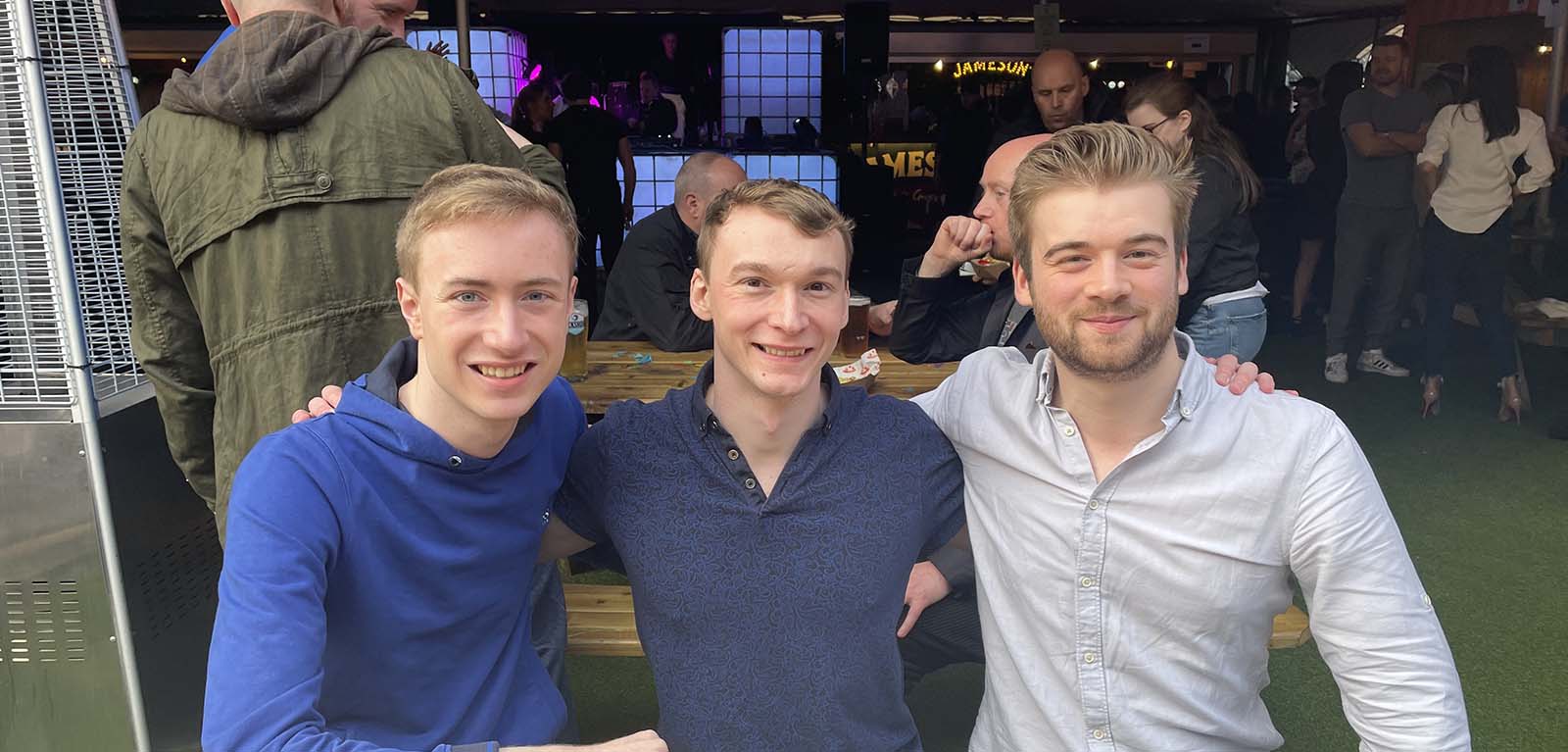 Stop one: The Botanic Inn
This is a first great stop for students as it's only a 10-minute walk away from Elms village and it's easily accessible from popular student residential areas such as Stranmillis. The Botanic Inn or better known as 'the Bot' within the student community offers traditional pub vibes and is a great spot in the summer with its beer garden.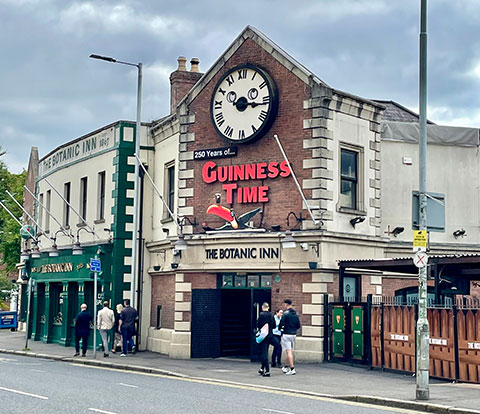 The Botanic Inn
They also occasionally host club nights which can be great for those in first year at Elms Village if you don't want to head into the city centre for a night out.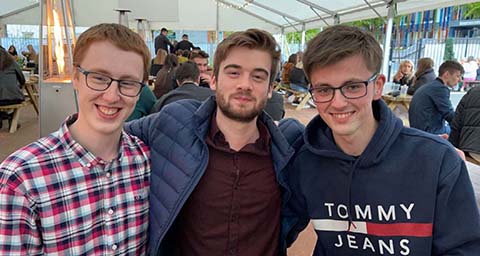 Tobias and his friends at The Bot
Stop two: The Union Bar, Parlour
Just a short 5-minute walk down from The Botanic Inn you'll find the Parlour, and the new Student's Union opposite campus (The new SU is set to open for the next academic year, 2022-23). You can either visit both bars at this stop or the one that takes you fancy!

The new SU bar will open in One Elmwood soon!
The Parlour is a great stop if you want something a bit quieter than an SU Bar with a more relaxed environment. They also do great pizza and regularly have drink promotions meaning you can great deal for an affordable price. Live music is also performed regularly.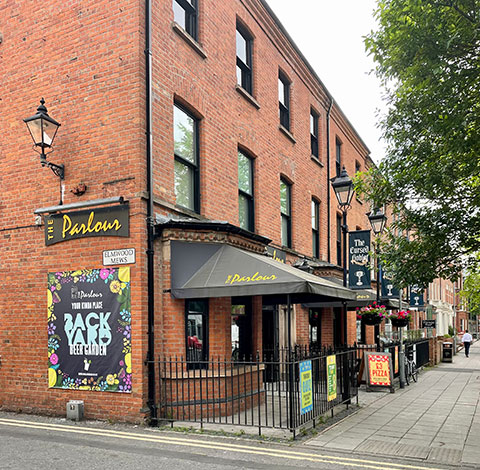 The Parlour Bar
Formally at The Speakeasy, the Union bar will be moving into the new Student's Union ready for the next academic year (2022-2023). I'd highly recommend checking out the Union bar when it opens as it's a great place to meet fellow students and likeminded people.
The Union bar will also have various events hosted each night such as Bingo, Quizzes, and club nights all in the new SU. Drinks also tend to be a lot cheaper at SU bars, so this is a great stop if you want to save some money but also have fun.
Stop Three: Lavery's
A short 8-minute walk from The Parlour and The Union Bar, Lavery's is the perfect stop before you head into the city centre. Being one of the biggest bars in Belfast, Laverys comes in the form of a traditional bar, a pool room, large smoking area and a roof terrace. They also host a club night every Saturday upstairs if you want to end your night here instead.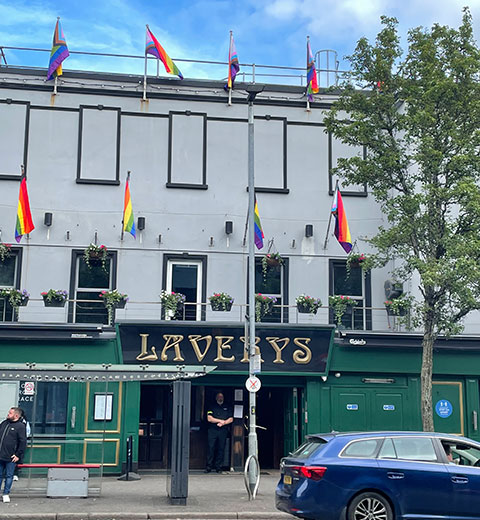 Lavery's
You'll find this place at its busiest on the weekends but is always a popular spot any night of the week.
Stop Four: The Filthy Quarter (Filthy's) and The Points
Situated on Dublin Road opposite each other Filthy's and The Points are never empty.

Filthy McNasty's
Filthy's offers both bar vibes and club nights, having a downstairs bar and night club upstairs. Downstairs offers live music often whilst upstairs offering regular club nights. One of the most popular nights for students is Tuesday's Craic's 90.
The Points offers a cosy Irish Pub atmosphere, with regular Irish folk music performances. The Points also has a substantial whiskey collection, so if whiskey is your thing definitely check it out.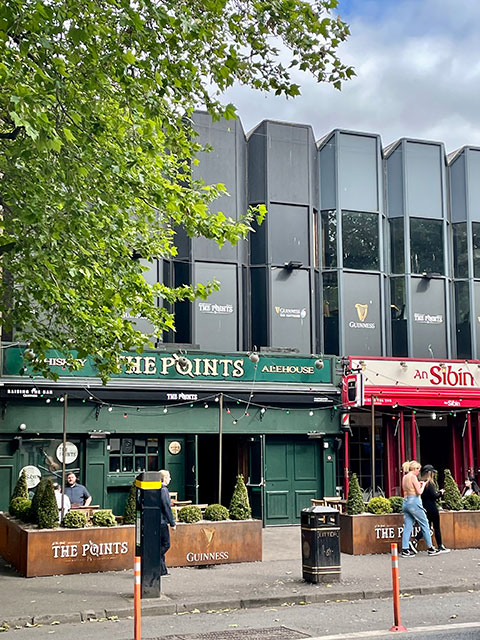 The Points bar
Stop Five: Bone Yard
Although on the more expensive side, Bone Yard provides a not-to-be-missed night. Their unique set-up consisting of an open indoor-outdoor space with shipping containers and pods to sit in, makes it a great spot to go in the summer; especially if you are out celebrating something.
I highly recommend you check out their Bank holiday parties as well; they are usually hosted every public holiday. Bone yard is situated next to Wetherspoon's, opposite Nando's just up from Filthy's.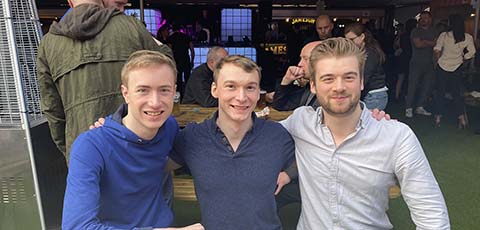 Tobias and friends at The Boneyard
The City Centre
At this point on your bar crawl, you'll be within walking distance to all of Belfast's city centre drinking spots and nightclubs. Below I highlight some of the best spots in the city centre for nightlife.
Thompson's: A nightclub that offers various club nights and is a popular city centre spot. I recommend this spot if you want a proper club night and want to get in the dancing mood as the atmosphere is one of the best in Belfast. The club consists of an indoor dance floor with an overlooking wrap around balcony and drinking area as well as an enclosed outdoor smoking area and terrace.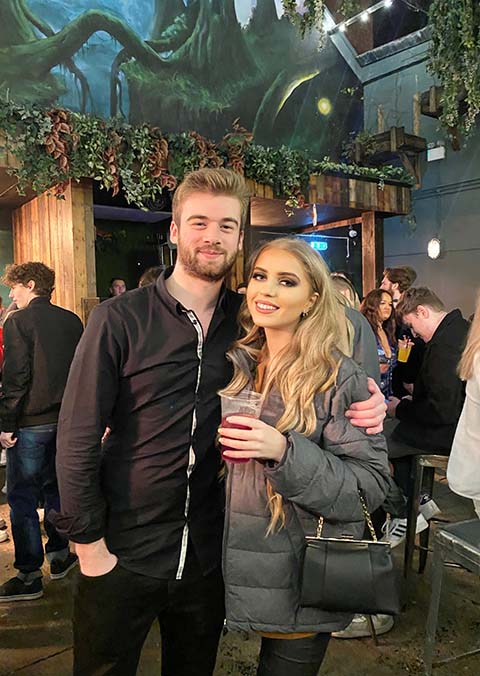 Tobias and Claire at Thompson's
The Limelight: Being one of the largest clubs in Belfast, Limelight's club nights usually offer two different rooms of music, a bar in the middle room and two smoking areas. Limelight typically hosts club nights on Monday, Wednesday, Thursday, Friday, and Saturday.
The National: This is a great spot for those coming towards the end of their time at university or on placement year as you'll find this place packed with young professionals on both Friday and Saturday nights. The National consists of a downstairs bar going into a beer garden and a drinking tent out the back. Upstairs consists of various floors with different types of music and a roof terrace. I highly recommend you check out this spot on the weekend if you are looking for an older crowd to mix with.
The Cathedral Quarter
Belfast's Cathedral Quarter is home to a wide variety of pubs which can be great if you want to check out more than one pub in one night as they are all close to each other. Some popular spots include:
The Sunflower Pub
The Duke of York
The Dirty Onion
The Thirsty Goat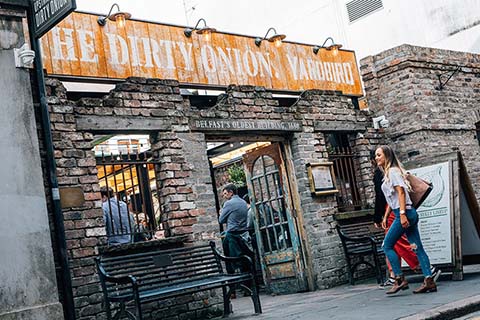 The Dirty Onion
From gin joints to beer tents, there's something to suit everyone's tastes in Belfast.
Find out more
Tobias Hunter-Tod

Computer Science | Undergraduate Student | England

I am a 21-year-old undergraduate student from Herefordshire, England. I've always had a passion for technology and business which led me to study computer science at university. In my spare time you'll find me developing apps or on a night out in Belfast! I lived in Elms BT1 in 1st year and now currently live in the Stranmillis area. In terms of Societies, I am a member of the Wine and Cheese Society and Queen's Computing Society. My interests/hobbies include, app development, travelling, socialising/networking and Enterprise SU events/competitions.