Student Life - A Saturday in Belfast
As an international student, I had some worries about where I could spend my days off from school, but as I have found, there are a million things to do in Belfast on the weekends. Here's a typical Saturday for me...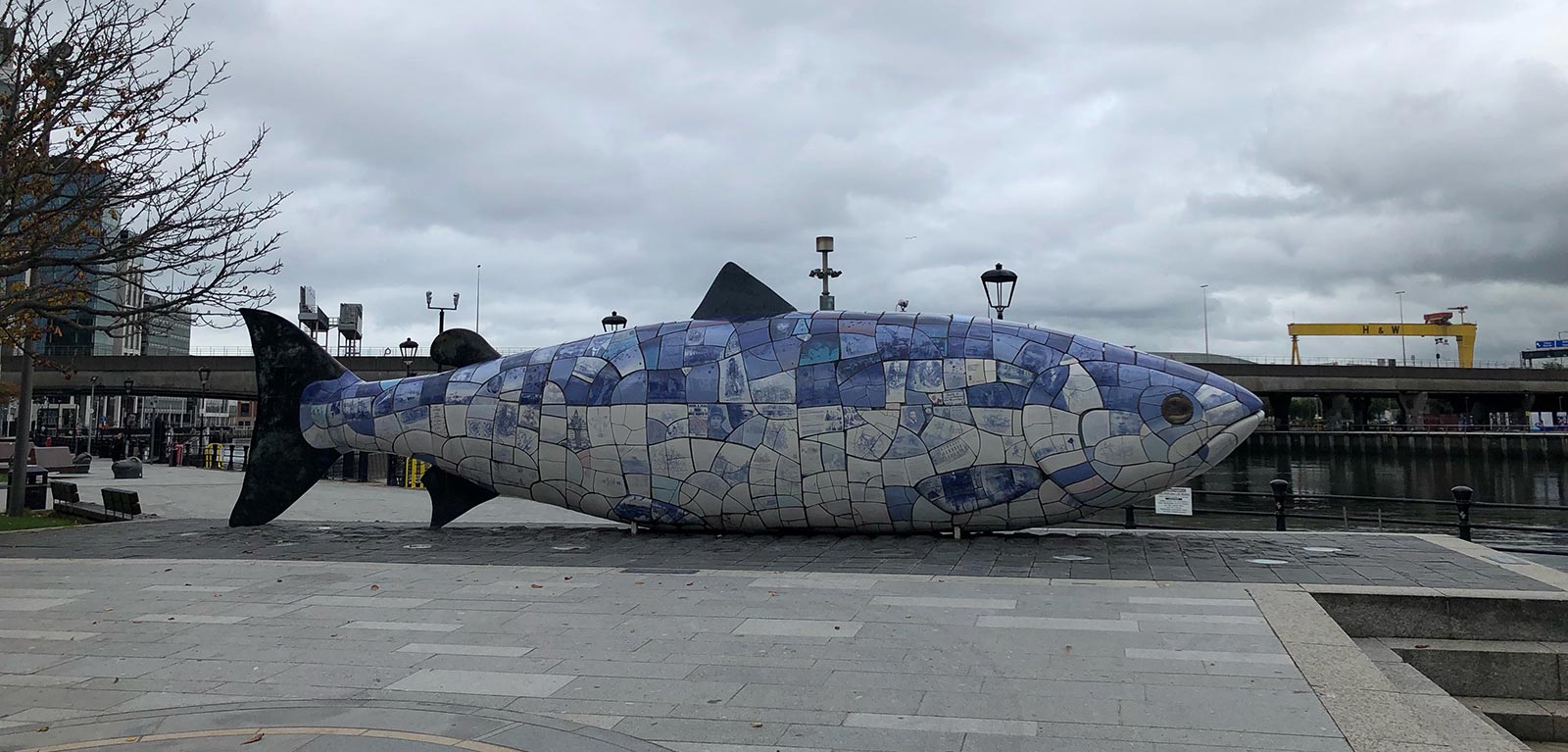 9am-11am - Wake up and Breakfast
On weekends I like to sleep in a little. Since I don't have class on Saturdays I can take my time making breakfast: my go-to breakfast is usually waffles or an omelette since they don't require a lot of appliances.
Tip: Queen's Accommodation doesn't provide waffle makers or griddles but they are very easy to pick up at either a TK Maxx or Primark for very little money.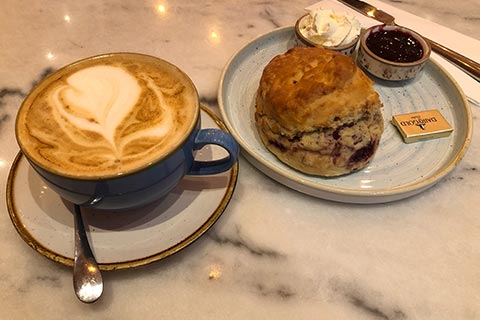 Lovely big scone and a coffee
11am-1pm Trip to Victoria Square
Victoria Square is located near city centre and is the perfect place to do some weekend shopping. You can easily take a bus into town from Queen's, but on days with nice weather I love to walk and take in the city.
The city centre has shops for just about anything you could think of. I always like to start my afternoon by grabbing a coffee. Close to Queen's, Sinnamon Coffee makes wonderful flat whites and their meals are affordable for someone on a student budget. Closer to Victoria Square, Dilly and Dolly's on Ann St has a beautiful shop where they make fresh pastries and coffees (It's also a great place for a photo opp!).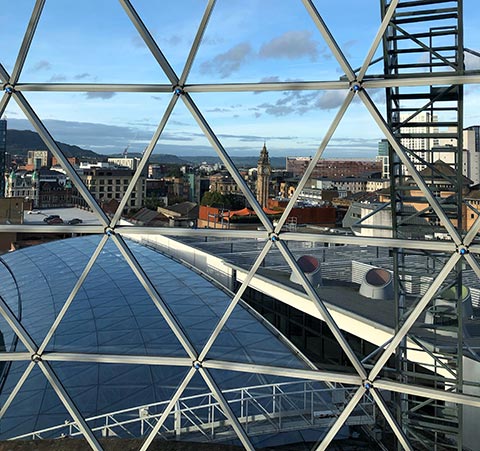 View from the top of Victoria Square
Victoria Square is my favourite place to shop. With four levels of stores, restaurants, and even a movie theatre, it always has something to offer. The mall itself is half indoors and half open air with an observatory tower in the middle. No matter what time of day, the views from the top are pretty amazing.
Tip: The mall gets extra busy at Christmas time but it's well worth a trip to see the lights on display there.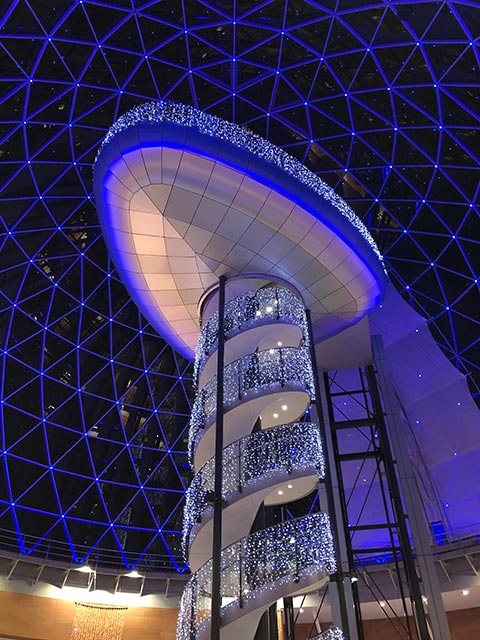 Christmas lights at Victoria Square
1pm-2pm Taking in the Local Sights
If I'm up for some sightseeing, I'll head towards the Lagan riverside. A short walk from the mall is the Prince Albert clock dedicated to Queen Victoria's husband. It actually sits at an angle and many locals have told me it's like the Belfast tower of Pisa.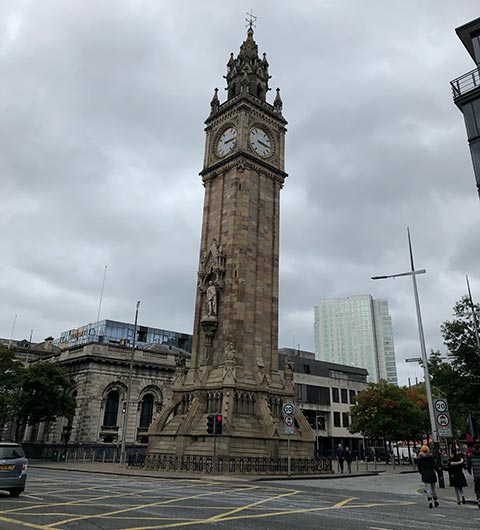 The Albert Clock, Belfast
Continue walking and you'll be greeted by a large blue and white fish sculpture known as the 'Big Fish'. Its scales contain pictures and news clippings about Belfast and it sits at the start of the river walk. Belfast used to be famous for its shipping industry and there are a lot of history tours one can do on that side of town. You can even walk a bit further and tour the Titanic museum's immersive exhibits.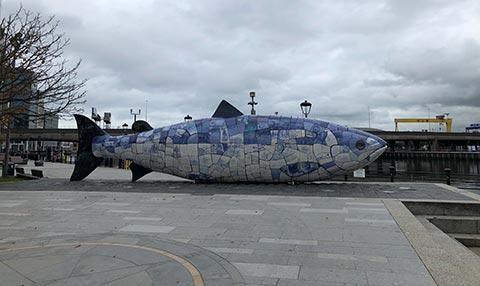 The Big Fish, Belfast
2pm Grab some Lunch
On the way back to my apartment I like to stop for brunch. My two favourite spots are Maggie May's on Stranmillis Rd and Cafe Melrose on Lisburn Rd. Both have a large range of lunch and dinner items, but I go for the all day breakfast food. You can get a full Ulster fry at Maggie May's (a local staple) and each cafe serves an array of Irish inspired dishes along with some UK favourites.
7pm- Head out for Dinner and Drinks
After taking a rest and getting some school work done, Saturday evening is spent finding new restaurants for dinner and some craic in the evening.
Tip: 'craic' = the Irish word for good fun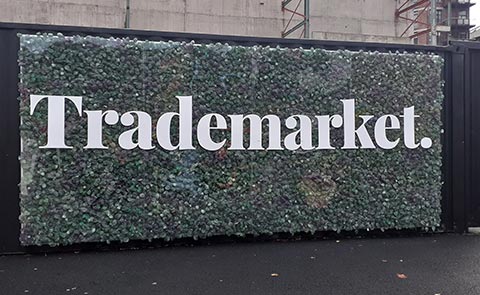 Trademarket on the Dublin Road is great for food and drinks
For some unique food and good drinks, I like to go to Trademarket. It's an outdoor market with many local vendors. They also do signature cocktails, my favourite being the Aztec hot chocolate. It's a wonderful treat on a cold night out.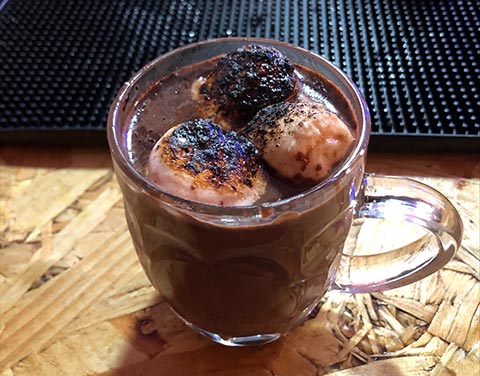 Aztec hot chocolate at Trademarket
There are lots of places in Belfast to go in the evenings. If you're looking for live music, pubs like the Thirsty Goat or Hellcat Maggie's host lots of local musicians. The Cathedral Quarter has lots of pubs and an amazing display of umbrella lights near The Duke of York pub.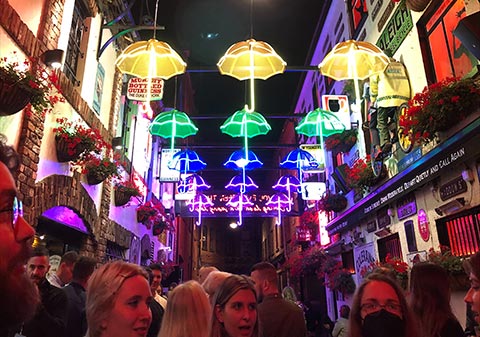 Commercial Court in the Cathedral Quarter = VERY instagrammable
If you're in the mood to dance, you can head to Cuckoo, a combination bar and club that even has Mario Cart and other arcade games as well as a karaoke lounge. My friends and I love going dancing and often find ourselves at the Students' Union bar in One Elmwood which hosts special music events, quiz nights, and karaoke.
Options are endless...
This is just one way you can spend a Saturday in Belfast. There are many other museums, activities, and restaurants to try out and I try to go to new places as often as I can. Since the city is so walkable, you can explore without really knowing where you're going (plus the locals are super helpful and always willing to give directions!)
Belfast has so many hidden gems that one weekend can hardly cover them, but that just means every weekend brings something new!
Find out more
Molly Elspas

MA Public History | Postgraduate Student | Maryland, USA

I am currently in my first year of a Postgraduate MA in Public History here at Queen's, but I am originally from Frederick, MD in the United States. This is my extended period of stay outside of the US and I love exploring a new city and the many cultures that come along with it.

I live in a 3 person Willow Walk apartment and I like to spend most of my time either traveling the city or exercising at the gym. I am very into food and to either bake/cook at home or trying new cafes each time I go out. When I'm not studying or writing papers, you could find me out on a hike or catching up on the latest movies at the Queen's Film theatre.