Career Support at The Graduate School
At the Graduate School at Queen's, you can avail of high-quality, transdisciplinary training and development to help you stand out in a fast-paced, global job market. Hear about the highlights in PhD student Sreyashi's blog.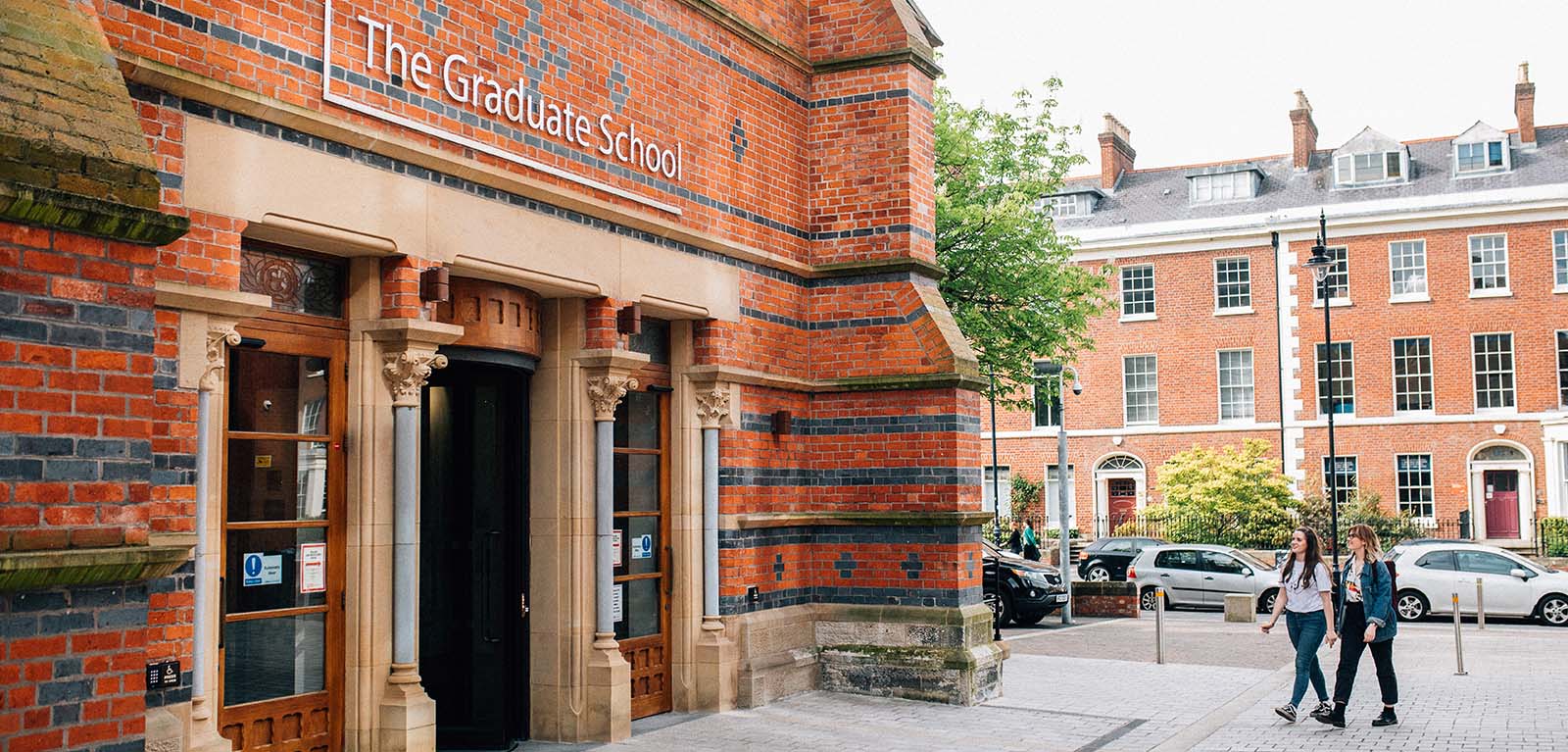 One of the reasons, why I choose Queen's to pursue my PhD in Biological Sciences was mainly because of its fame as a Russell Group institution and also for the high quality of research education and infrastructure.
But what I didn't anticipate before coming here is the varied range of free workshops and training opportunities that one can avail of while at Queen's. Surely, this was something that I believe is not there in any other institution, at least not to this extent.
From career support training such as CV building skills, effective applications, acing interviews, career and recruitment fairs, to general mental wellness and rejuvenation workshops, Queen's has it all covered.
Let's dig a bit deeper into the kind of graduate school opportunities that Queen's has to offer.
1. Academic Writing Series
The graduate school organises a series of workshops related to academic writing conducted by Dr. Abbie Edgar, Researcher Development Consultant at the Graduate School. These workshops, targeted at graduate students mainly focuses on development of their academic writing skills using techniques that could also be implemented in the long run.
Some of the topics that were covered in the past few weeks were:
How to write a critical review

How to avoid Plagiarism

How to write an abstract and introduction

What to include in methods and results

How to write a critical discussion and conclusion
Really interactive in nature, these workshops are very effective at providing an additional career support to graduate students.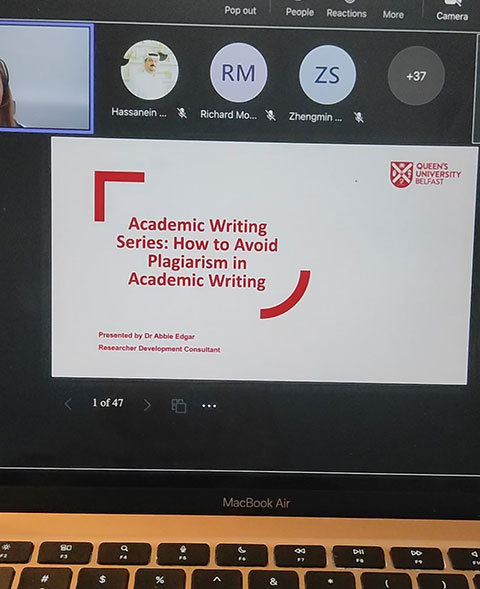 How to avoid plagiarism workshop
2. Future Ready Launchpad
The Future Ready Launchpad program, as the title says, is a series of workshops, each four hours long, designed to prepare students for competitive real world scenarios.
Conducted partly in person and partly online, some of the topics covered include;
Job search and effective career planning
Effective networking and how to start your LinkedIn profile
CVs and Cover Letters for non-academic and academic jobs
Competency based applications and interviews
How to prepare for interviews for academic jobs
Building your Emotional Resilience etc
These workshops, conducted the Postgraduate Employability and Careers Consultant at the Graduate School, really live up to their name "The Future-Ready programme", in terms of their efficacy.
The students who undertake all the workshops in this series are automatically considered for the Researcher Plus Award, which is a little added bonus for your CV.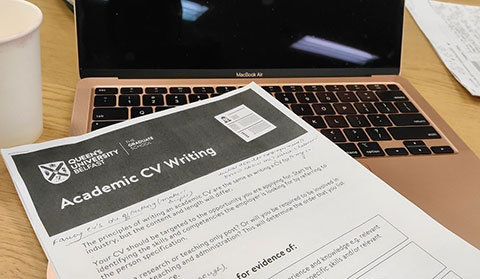 Academic CV writing workshop
3. Careers Fairs
Apart from training programmes, Queen's also organises career fairs, which are some of the biggest recruitment events of the year. With more than 300 participating companies, it was a great opportunity to connect with employers that are actively looking to offer Queen's students a wide range of graduate, placement and internship opportunities.
In addition, the fairs allow students to get an idea about the best companies currently hiring in their field of studies and how to enhance their profile to attract employers who are using the platform to source their ideal candidates.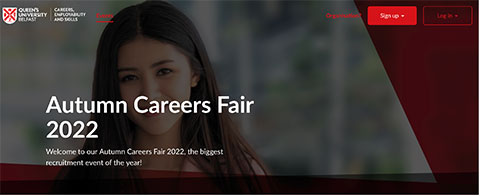 Make sure you attend the careers fairs!
4. Study Abroad Career Fair
Once a year Queen's hosts Go Global Week in October where they run a series of in-person workshops, where students get to chat to organisations that can offer an experience of a lifetime to study, work or volunteer abroad during your degree.
This year, they had many stalls representing different countries such as Canada, Australia, USA, Italy etc., where students had the opportunity to enquire about the various opportunities available.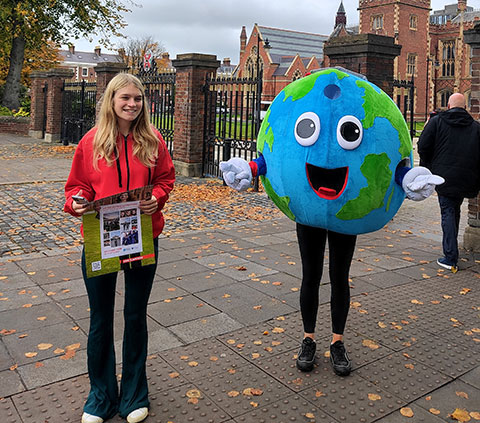 Look out for Go-global week!
5. Careers, Employability and Skills 'Spotlight on' Series
The Spotlight On Series, is a really helpful one that will help you explore how can you apply your interests to a fulfilling career with the help of an interactive and informal session with key employers. From courses related to biopharmaceutics, to business and general engineering field, there were industry professionals from all sectors present discussing the factors influencing the working world for students and graduates in this vibrant sector.
There were plenty of opportunities to ask questions, or just sit back and take it all in.
You often get a free lunch when you attend these events (another bonus point for me!)
6. Rejuvenation yoga, Mindfulness and Stress Reduction
Career development is not just all about improving study skills and building your CV. Maintaining a healthy balance in life along with a calm mind to tackle stressful situations is equally important in order to progress one's career.
With this in mind, Queen's also runs workshops to improve your mental wellness through various sessions consisting of rejuvenation yoga and mindfulness programs.
Personally speaking, these programs have really helped me to maintain a positive attitude and good general mental wellbeing.
The series of interactive mindfulness sessions focusses on a different topic each month based on the foundations of mindfulness–practice and last 20-25 minutes and the yoga class is conducted by a qualified yoga teacher and yoga therapist.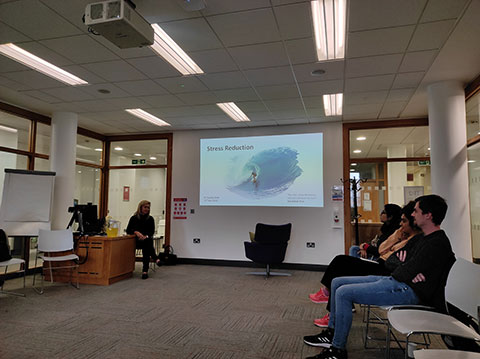 Stress reduction and mindfulness workshop
7. Graduate Bootcamp Series
The Graduate School also organises various workshops to enhance postgrad productivity. Workshops such as effective reading, note taking, writing effectively, and proofreading forums are some of the topics included.
In addition, the Graduate School also provides one-to-one consultations for students who require some guidance in terms of academic writing and how to improve their editing and proofreading skills.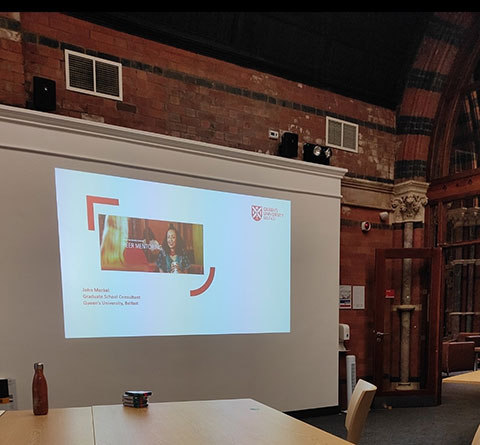 Bootcamp series workshop at Graduate School
Attending all of these workshops organised by the Graduate School has really proved to be beneficial in terms of supporting my career, enhancing my productivity and my overall skill development and their usefulness have completely exceeded my expectations.
Find out more
Training and Development at Queen's
PhD Biological Science at Queen's
Careers, Employability and Skills at Queen's
Sreyashi Acharjee

Biological Sciences| Postgraduate Research Student | India

I am a first year PhD student in the School of Biological Sciences at Queen's. Apart from my love of research, I am also someone who enjoys creating content for social media. Currently a Queen's student ambassador and a course representative, I love getting myself involved in various sorts of voluntary work and as an international student, even though I am still getting used to many things here, I would really be happy to extend my help to fellow students like me.