Top 4 Weekend Walks
The clocks have just gone back. It's properly autumn now - the perfect time to take a walk on the weekend and see a bit more of Northern Ireland. Here's my top 4 walking jaunts:

1. Lagan Towpath
This one is probably the best easiest to do. The Lagan Towpath is an 11 mile long path alongside the River Lagan. It runs right from the city centre up to Lisburn. With it being so flat, it's also a great cycle/jogging if you're feeling fitter than I ever do!
The towpath always gives you lovely views, both of the city and its suburbs. I can also recommend Cutter's Wharf - a bar near Stranmillis along the river. The views from there are extra nice and especially in the summer when you can sit outside in the sun with a refreshing beverage.
2. Cavehill
Want a good view of all of Belfast then this one is the one for you! I went up there on a summer's morning and it was absolutely stunning. It's only about a 40 minute walk from the car park for Cavehill Country Park which you can easily get to with a cheap taxi.
3. North Down Coastal Path
Here's my first coastal walk. It takes you along Belfast Lough out to Bangor and it's a banger of walk - apologies - terrible pun I know. Pun aside, this really is a good walk around to do and all you have to do is get the train out Hollywood (yes Northern Ireland has its own Hollywood!)
You finish the walk in Bangor where I can recommend stopping off in the Bob & Berts for lunch before getting the train home. I always like when you fly into Belfast City Airport and you fly alongside Belfast Lough so you get to see exactly where you've walked.
4. Causeway Coastal Path
This one is a little further away but definitely worth it! This walk goes alongside the world famous Giant's Causeway which is certain worth seeing whilst you're at Queen's. Here on the North Coast you'll also find Carrick-a-Rede rope bridge which hangs 30 metres above the sea.
The views out over the Atlantic Ocean are simply stunning from the huge cliffs and on a clear day you can see out right to Scotland. The easiest way to get up to the North Coast is to get one of the regular trains up to Portrush - the seaside resort of Northern Ireland - you've got to go to amusements when you go to Portrush otherwise you can't officially say you've been to the seaside!
Like getting out and about in the fresh air? Check out more parks and green spaces in and around Belfast.
Find out more about Peter's course, English and Linguistics, at Queen's.
Peter Moor

English with Linguistics | 2nd year | Huddersfield, England

I am 19 year old Yorkshire lad, born and bred but now studying English with Linguistics at Queen's. I decided to come to over to Northern Ireland after many holidays visiting family across the country. I am part of the university politics society and the debating society. This semester I'm also doing a French language course - wish me luck! I'm a keen swimmer which is certainly needed when this country has so much good food to offer!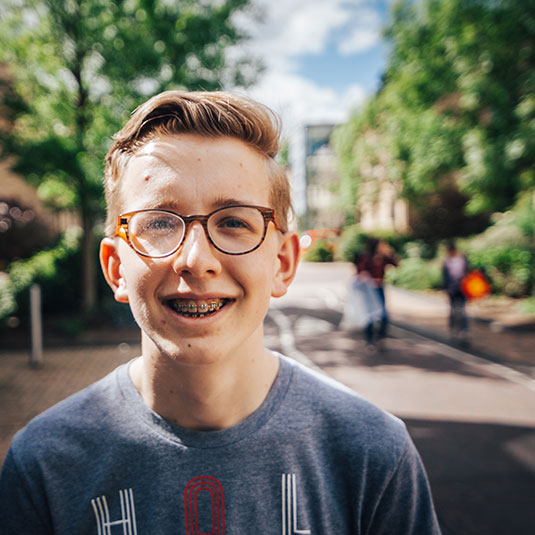 Peter Moor
Student Blogger, BA English and Linguistics