Q&A: My experience of postgraduate study at Queen's
Thinking about coming to Queen's from the Republic of Ireland for postgraduate study? Rebecca McGettigan, MA History, from Donegal, tells you everything you need to know.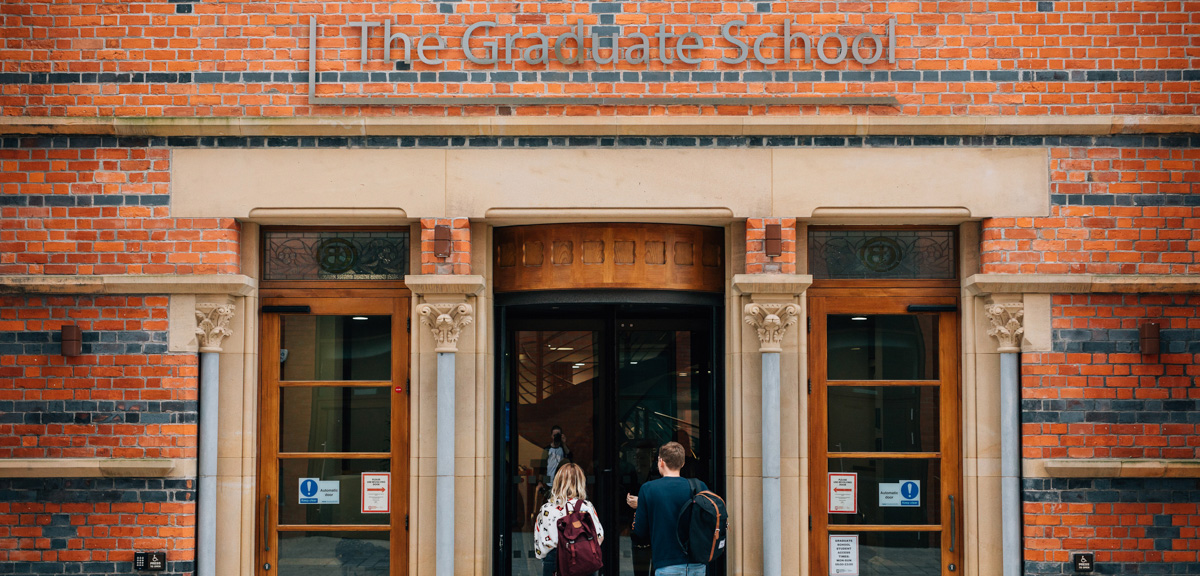 Q: Why did you choose Queen's for your postgraduate degree?
A: Upon finishing my undergrad degree in Galway, I wanted to explore somewhere new, outside of my comfort zone. I was apprehensive about moving to a bigger city like Dublin or Cork, and after researching I found Belfast was exactly the change I was looking for. Compact in size, I knew that Belfast wouldn't be too daunting for me, but that it would still provide enough opportunities for me to grow. Since I was in secondary school, I knew of Queen's prestige and was excited to be part of such a university. I also found that in comparison to some other postgraduate programmes in the ROI, Queen's had a placement module that has allowed me to receive hands-on experience in my field and grow vital skills that I will need next year as I enter into the job market.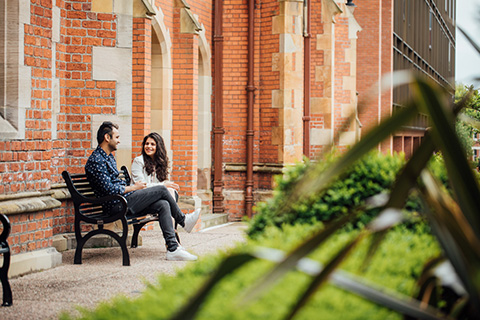 Q: What sets Queen's apart?
A: Located in a safe and affordable city, Queen's truly is a great university. My modules are extremely interesting and innovative; different to any structure I had previously encountered as an undergrad. I truly feel as though I am growing each day as a historian, and am becoming more and more employable. My lecturers and tutors are extremely helpful and responsive when anyone has a query, and we are challenged in a positive way with each assignment. I have also found the standard of student to be truly impressive. All of my classmates are clearly intelligent individuals which prompts me to work harder and prove my own skills further.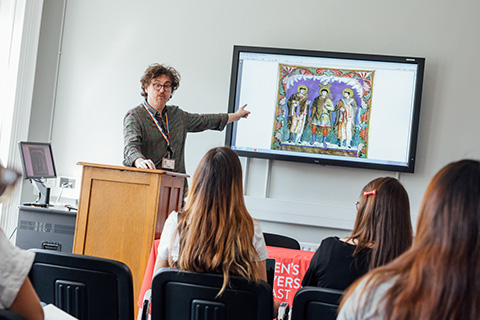 Q: In what ways have you found the Graduate School helpful?
A: As a postgraduate student, I can take part in events run by the Graduate School that allow me to become more employable and to engage with future employers. I had previously thought these events were better suited to business, engineering or science students, but Queen's has done an excellent job of orchestrating the events so that they suit a wide range of postgraduates, regardless of their discipline. They also host research workshops, mixer and social events, job search workshops, career consultations, amongst many other events.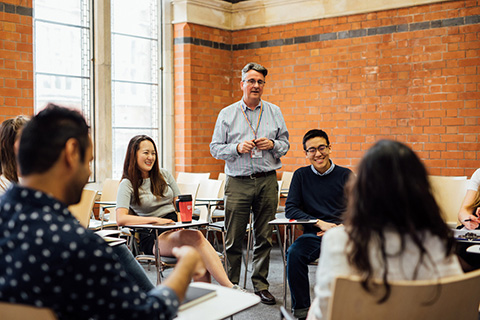 Q: In what ways have you developed personally and professionally as a PG student at Queen's?
A: As a postgraduate at Queen's, I have begun to truly think of my future and the necessary steps I need to take to achieve my goals. Queen's has helped me understand the importance of employability. I am a student ambassador here at Queen's, which has allowed me to engage in supervisory roles, adding an array of new skills to my CV. This has encouraged me to form a new sense of independence, and to engage in an activities outside of my comfort zone. In semester two, I will be taking part in a 14-day placement in a museum in Dublin. This will help me become more engaged with my craft, and explore history in a new form, outside of academia.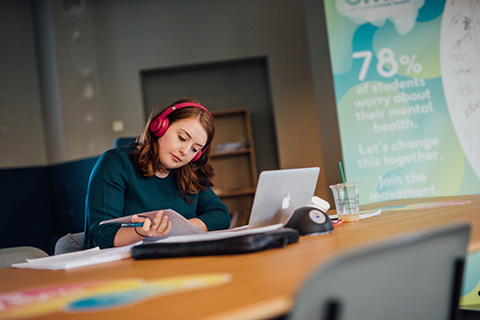 Q: How have the staff at Queen's supported you?
A: The staff at Queen's have been extremely helpful. When faced with any kind of query, I have been met with quick and insightful responses. Particularly when I was attempting to obtain a museum to take my placement in, our course coordinator was extremely helpful in what approaches to take and condensed all the necessary information into PowerPoints and documents. The library staff are also extremely helpful when I have had any issues or needed access to the Special Collections section of the library.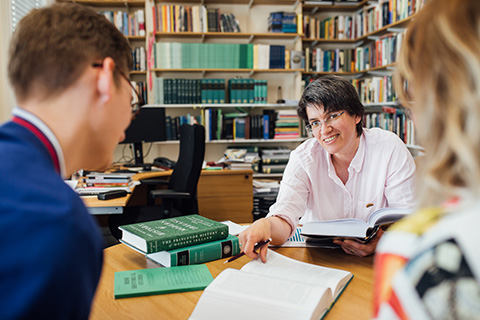 Q: Can you describe the postgraduate community at Queen's?
A: I was pleasantly surprised by how quickly I managed to form a bond with my postgraduate peers. With a consistent workload, I thought I would struggle to find time for socialising. We have great working relationships with our lecturers and can truly engage with them both on a personal and academic level. As peers, we also communicate as friends, and make sure to find time to get library trips together, as well as trips to the Student Bar after our late classes. Through my peers, I've found a great balance between work and play. We've all really connected with each other and our lecturers/tutors to form a great sense of community.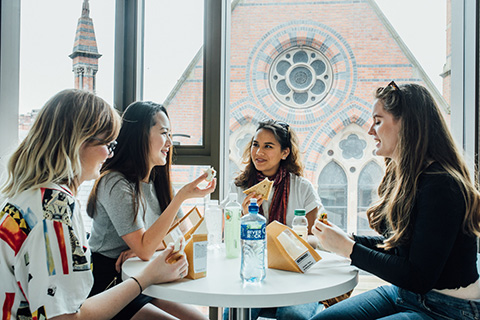 Q: How has that community inspired you?
A: From encouragement from my peers and mentors, I have really been inspired with regards to assignments and projects. I have been encouraged to travel further afield to Dublin for placement and archive trips, and to receive expert advice. My lecturers have given me excellent historic resources that have really helped me in my dissertation. I've also received a lot of guidance from my postgraduate peers, as they've all studied at different universities to myself and so can provide me with a fresh insight and an intellectually stimulating discussion.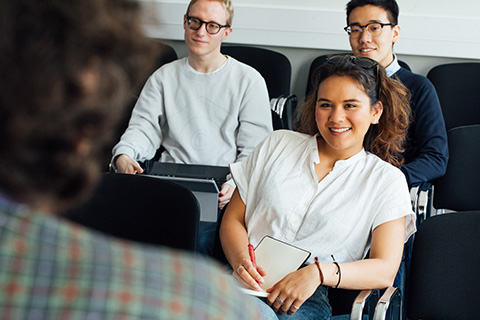 Q: How has your future employability been supported?
A: Through career workshops, talks, and classes I have been able to truly engage with the idea of myself as a prospective employee and what makes me employable. I have been shown how to best use my skills and qualifications. Furthermore, I have been given guidance on my career in history, both within and outside the realm of academia. We have received many talks on PhD funding and the accessibility of it, with lecturers being very helpful to all students thinking of going down this path.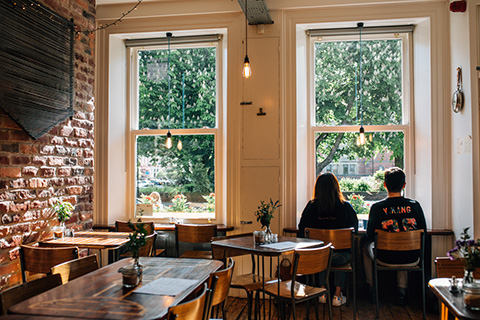 Q: In what ways have your career prospects changed?
A: Before attending Queen's, I wanted to be a university lecturer. Whilst this is still my end goal, I have been made aware that there are options for me as a history graduate outside of academia. I now plan on working in some form of public history or museum work for a few years before taking the step towards a PhD. I have realised through this degree that I have acquired many unique skills that made me a very worthwhile employee. I am no longer frightened of coming out of university; I am excited at my career prospects and the various ways in which I can put my research and analytical skills into use.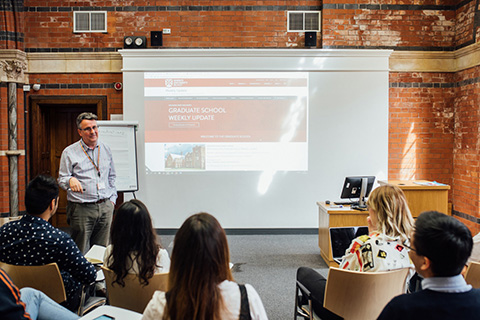 Q: How did you fund your PG degree?
A: One of my main reasons for choosing Queen's was the funding options made available to me. In the Republic of Ireland, there isn't a system in place like the Student Finance NI scheme. By choosing to study in Northern Ireland, I have been able to avail of a tuition fee loan which has covered the majority of my university fees. Being a ROI student able to avail of this has significantly helped me on my academic journey; without Student Finance NI, I wouldn't have been able to begin my MA programme this year.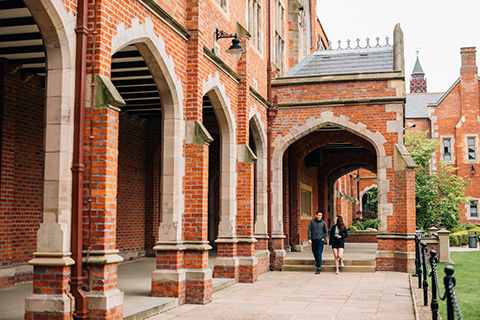 Q: What is your favourite thing about student life in Belfast?
A: The compact nature of Belfast makes it an ideal student city. I am lucky enough to live a five-minute walk from campus and a fifteen minute walk from the city centre. Being so close to Queen's, I can really get involved with student life by taking part in late evening Student Ambassador activities and by staying in the library until later in the evening. I can also enjoy going to The Speakeasy with friends, or I can go into the city centre for other social activities. This has made my time in Belfast extremely easy and accessible. Even as a postgrad, I have been able to engage with my new university like any first year would.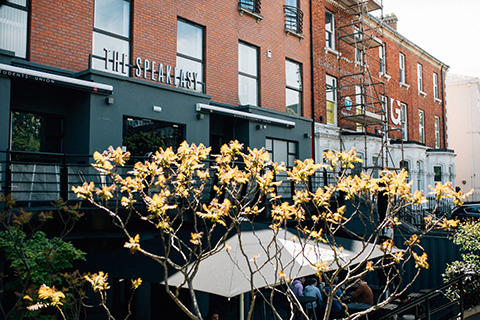 Q: What is your experience of Queen's Accomodation?
A: I was quite uncertain where to live in my first year at Queen's, as I did not know anyone and the idea of finding people to house share with was quite daunting. I live in Mount Charles, which is only a 5-minute walk from campus. As I had been so used to the price of living in the Republic of Ireland, I couldn't get over how affordable accommodation was at Queen's. The student accommodation is very cheap and equipped with all the facilities you'd need. Mount Charles is also aimed at returning students and postgraduate students. This was ideal for me, as entering my masters I didn't want to be living with students much younger than me or students who would be coming home too late each night. It really fit my very sensible needs! It's extremely friendly and comfortable and close to campus and an array of restaurants, takeaways and shops.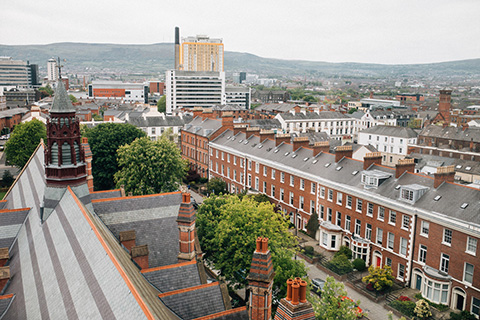 Interested in postgraduate study? Find a programme.
Forget Dublin's rental squeeze: you won't face a scramble for a safe, affordable place to live in Belfast. Belfast vs Dublin Cost Comparison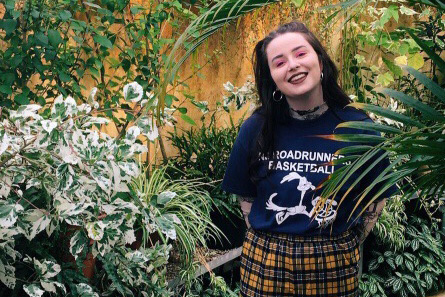 Rebecca McGettigan, MA History