A Day in the Life of Liang: Diary Of A Law Student
Malaysian Student Blogger, Liang shows you what it like is to be a law student at Queen's University Belfast.
Being a law student ultimately boils down to one thing: self-initiative. It's the passion that flows from the lecturer and the quality resources made available at Queen's that encourages me to push myself harder every day.
That said, welcome to a day in my life as a law student at Queen's.
On top of being a law student, I also juggle my studies with the various responsibility that I shoulder: I am the Assistant Director for the London International Model United Conference next year and a Media and Communication Executive for a Student Union looking after the interests of Malaysian Law Students in Malaysia, UK and Northern Ireland.
Here is how a typical day looks:
8.00 AM – Freshen Up
Your schedule in the School of Law depends on what kind of modules you're taking each Semester. This Semester, I'm studying Equity and Trust, European Constitutional Law and Public International Law.
This means that my classes usually start at 9 in the morning.
I couldn't agree more. After a quick round of breakfast, I usually begin my daily routine of walking to my classes on campus. Walking with a friend makes the distance seem half as long and if weather permits, you will get some lovely views like this on the way to school.
10.30 AM – Break in between Classes
After my European Constitutional Law class at 10, I'll usually be in the library or at the Main Site Tower to review the content we have gone through in class.
This is also a good opportunity to catch on the sleep (if necessary) that we've lost for those early morning classes.
1 PM – Lunch
Although I usually grab my lunch a little earlier, I unexpectedly managed to check out the Graduate and Recruitment Fair that was taking place at the front of the main Lanyon Building.
I highly recommend that final year students take this opportunity to connect with future employments or to have a quick wee chat: for law students, that could mean asking on vacation scheme or internship opportunities during the Winter or Summer Break.
Also, nothing beats a delicious free student lunch! We're particularly lucky in Belfast as they happen quite frequently but you have to keep your eyes peeled.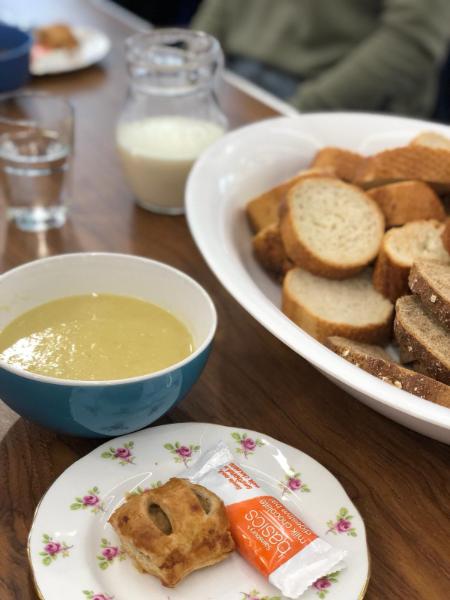 Who can resist soup and a sausage roll?
3.30 PM – Library
After lunch, classes resumes with Equity and Trust from 2 till 3 in the afternoon. Once I'm done with that, I am done for the day.
However, that's not usually the case for me (and a lot of law students) as readings are an essential part of a law degree at Queen's.
On today's agenda, I killed about 2-3 hours in the library doing a bunch of things: reading up more on what has been taught in class, updating my learning materials and also replying to a bunch of emails (such as inquiring about my Briefing Paper topic with my Public International Law lecturer).
Point is, I am always busy.
7PM – Dinner, Rest
After a long day, I usually head home and rest. On today's agenda, there's free toast and tunes at Elms BT1 - one of Queen's Student Accommodation options.
The Residential Life Team at Queen's plan a range of social events each week for the residents to ensure we have enough down time to relax after a rigorous day in University. It's also a great way to make new friends and go on trips to different tourist destinations. This week for example is the annual Game of Thrones trip.
There's always something going on every week.
I live at Elms BT2 which is only a 5 minute walk away from BT1 and you can attend the events at the different accommodations if you are a resident. My nights usually end with a shower and heading to sleep.
Concluding Thoughts
Life as a law student while attempting to juggle other responsibilities can be tough. Without the proper mind set and support, I would have fall behind. To that, I am immensely grateful for what Queen's offer its students to support them in their studies and facilitate their growth.
Want to join Liang and his pals? Find out more about studying Law at Queen's or look at what Queen's Accommodation has to offer.
Hew Hoong Liang

LLB Law| 3rd year |Malaysia

Hi there! I am a 21 year old Malaysian pursuing my final year of law degree in Queen's University. Nature lover, part time geek and a passionate writer. My passion for writing started to developed into a skill when I served as writer and journalist of a legal tech startup back in Malaysia. Now, I am casual blogger looking to share my experiences and thoughts in Queen's through my writing. I hope my blog serves as a unique point of interest for Malaysian students like me who are studying at Queen's or thinking about coming here!

Fun fact: I am trilingual and I love to explore and get lost in different cultures and traditions.

‌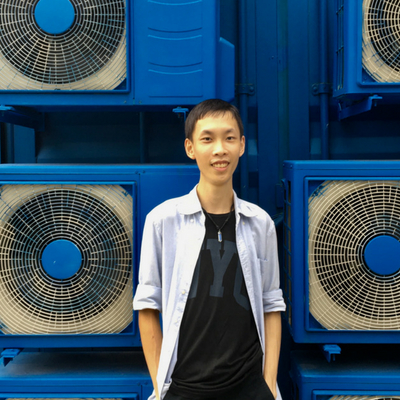 Hew Hoong Liang
LLB Law I 3rd Year