Where to Find Academic Resources for Studies
The secret to a good University project or essay is making sure you have relevant sources to back up your points. Carmen is sharing her favourite places to start with when she's searching for academic resources.

Being able to find relevant and quality academic resources is an important skill when you want to do well in university, as it is all part of the independent learning curve. But don't worry, you won't have to look too far. Here are some places where you can look for academic resources at Queen's. They are a good starting point for most subject areas.
Library
The McClay Library is equipped with many books of different subjects. It is so convenient to look for any book you want by referring to the library computer system or just the librarians if you could not find the book you wanted. It is not an exaggeration that you could possibly find any relevant academic books in the library. The shelves are well-labelled in which you would be able to find the books you want with ease!
The QOL Library system
Queen's Online is basically a content management system where students like us could make use of to find resources. Simply click on the Library Resources and hence, you would be able to find the articles for your assignment. It is definitely very convenient and accessible.
Westlaw
For law students, this is the online platform for you to research on cases, journal articles and legislation. This could be assessed through the Library system on Queen's as well. It's all funded by Queen's so you do not have to spend any money when you conduct research on the platform.
Google scholar
Instead of typing into a Google search bar, why not try typing into Google scholar instead? It definitely narrows down your research to academic writing and relevant articles that could be pertinent to your assignments or exams questions.
I definitely hope these academic research tools are of relevant use to you. All the best in your exams and assignments!
Carmen Chen Chinq Lih

LLB Law| 3rd Year |Malaysia

Greetings, I'm Carmen and currently a final year law student at Queen's University. I enjoy blogging and reading and I also do have my own personal blog in which I do write on when in my spare time. I love meeting new people and getting to know their cultures and interests. From my blog posts, I hope that you may find some useful tips for when you are thinking of pursuing studies overseas in Queen's University. Especially when you're an international student. It's always great craic to be able to experience life studying overseas, and now you get to know more through an international student's perspective! Do stay tuned for more blog posts.

‌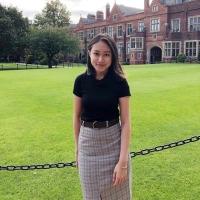 Carmen Chen Chinq Lih, LLB Law
Student Blogger